The holidays look a little bit different for everyone and one way you can make it extra special this year is by throwing a Friendsgiving. Get all of your people together, make good food, and enjoy each other's company!
Here are 10 Friendsgiving ideas to make this year's Friendsgiving fun and EASY!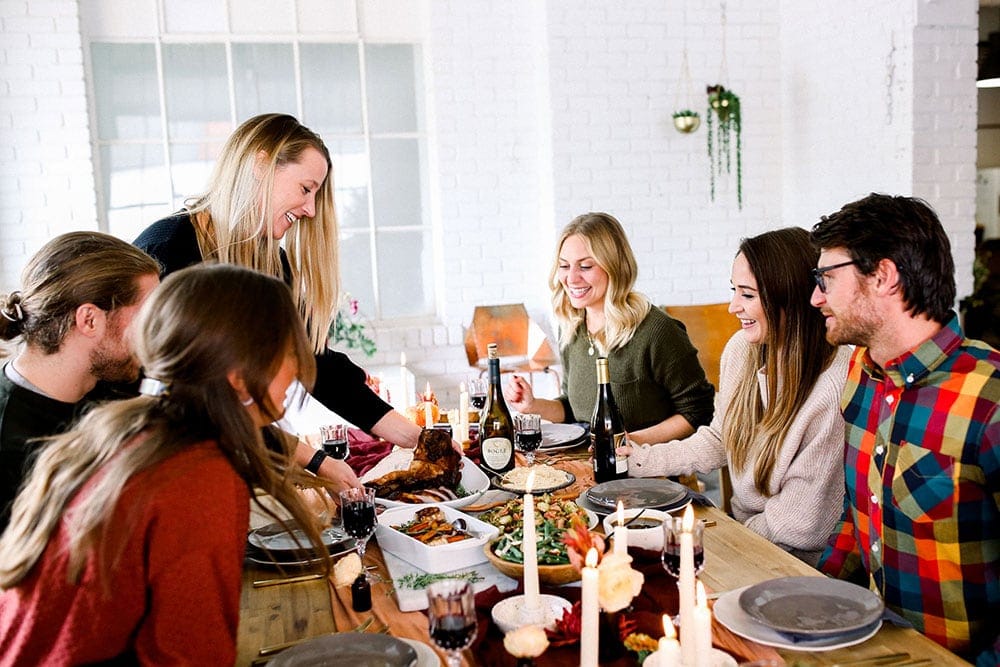 What is Friendsgiving?
If you've landed on this post and you're like, girl, what the heck is Friendsgiving? No fear, we'll give you a quick rundown!
What is Friendsgiving? Friendsgiving is a combination of friends + Thanksgiving. Figuratively and literally, Friendsgiving is when you come together with your best of friends to celebrate not only thanks but each other's company.
Typically Friendsgiving is an informal party where all that are invited celebrate potluck style. This means everyone brings a dish to share! Some people even celebrate Friendsgiving the day after Thanksgiving and bring leftovers from the night before.
In past Friendsgivings that I've hosted or been apart of, often times we bring leftover food from our actual Thanksgiving the night before.
Celebrate Your Way
There are no rules when it comes to throwing a Friendsgiving get together! In fact, there are no rules when you throw any party. Remember the whole point of throwing a Friendsgiving celebration is to bring people you love together and to celebrate life.
Other reasons you may throw a Friendsgiving party may be…
You can't go home for the holidays and want to throw a gathering of friends in the area who are also staying in town.
Maybe you want to throw a Friendsgiving to get to know new friends!
This could be the year to start a new tradition with your closest friends.
And don't forget, you can have a small Friendsgiving celebration with your two best friends or a bigger one with 20 people!
10 Friendsgiving Ideas
After you've decided that you are throwing a Friendsgiving, it's time to plan! Keep in mind that simplicity is underrated when it comes to throwing holiday parties, so whatever simple means to you, head in that direction!
Here are 10 planning tips to make your Friendsgiving a major success!
1. Make a guest list
Sometimes it is hard to decide who to invite to a Friendsgiving. If you are itching to meet new people, go ahead and make a Facebook event or send out an email and lets friends invite friends. Just be sure to ask for an RSVP.
If you are hoping for a more intimate night, make a list of people and decide how you would like to invite everyone! A phone call or text is always easy. Or you can always take invites a step further and make a fun evite or even send paper invitations!
tip!
Make your own adventure! Just be sure to set an RSVP date so you can plan a menu and have enough seating for everyone!
2. Menu Planning Potluck Style
The thought of making every single part of a Friendsgiving meal can be a bit daunting! Do yourself a favor and assign people dishes to bring!
Start off by deciding on a theme (traditional Thanksgiving meal, Spanish inspired dishes, soup bar, etc.) and then assign people appetizers, main dishes, side dishes, and everything in between!
3. Do a little meal prep
One thing you can do to make the day of your Friendsgiving easy is to do a little meal prepping before the day of! If you have dishes you are in charge of, try to prep them the day before!
Boil potatoes, sous vide meat, mix up dips, or do all of your chopping the day before so that all the messy work is out of the way. Then you can enjoy the process of cooking with guests when everyone starts to show up.
4. Friendsgiving Decor
If you are all about decor and have your holiday Rubbermaid's labeled and ready to go, you go girl! If you feel inspired by a pin you saw with elaborate tablescapes, you should go for it!
Decorations can also be simple and beautiful! Our favorite thing to decorate with is seasonal flowers. Head to Trader Joes or your local farmers market and purchase a couple of bouquets of flowers.
From there, disperse the bouquets into small and large mason jars or vases and spread them out throughout the house. I even love to put a little bouquet on the top of the toilet- people seem to love it!
5. Tablescape decorations
If the meal is the main focus of your Friendsgiving you can make a simple yet festive tablescape by using your flowers and different colored dishtowels or linen napkins like these to set the harvest mood! Check out our tablescape below.
6. Delegate
You don't have to do everything alone! It may surprise you, but people like to be a part of the action. Don't try to make everything perfect before guests arrive.
Delegate some chopping or stirring as well as drink refills to guests! Some people would be thrilled to have a job!
7. Do a Quick Clean
To clean before guests arrive or to not clean? That is the question! My rule is to wipe all surfaces down and make sure the bathroom is clean. Other than that, no one will notice!
Save the cleaning for after the party and treat yourself to a deep clean after everyone leaves!
8. Make the house smell good
When the flowers are set out and you feel good about where you're at before guests arrive, bring 3-4 cups of water, orange slices, cinnamon sticks, star anise, and cloves (or any other mulling spices) to a boil about an hour before guests arrive.
Turn the heat to simmer and let the divine scent fill your home! It will set the mood for a cozy evening!
9. Set the mood with music
The last thing we do before our friends arrive for Friendsgiving is set the mood with a stellar playlist. If you got the time, custom playlists are the best. You can even create a shared playlist on Spotify with your friends so that everyone can add a song or two that they love.
If you're in a pinch, just search Friendsgiving or another theme on Spotify, and they will populate some great options for you.
10. Leftovers for everyone!
Have guests BYOT (bring your own Tupperware) so they can enjoy leftovers from the night for days afterward! And? It will leave room in your refrigerator when guests leave!
Friendsgiving Food Ideas
The options are endless when it comes to the menu for Friendsgiving! Of course, you can go for a classic Thanksgiving meal of turkey, mashed potatoes, and stuffing. Or you can mix it up and do a pizza night!
All that matters is that you are excited about the menu! Below are some great options for drinks, appetizers, main dishes, side dishes, and desserts for your Friendsgiving. Pick and choose or mix and match to make a healthier Friendsgiving meal that everyone will love!
Drinks
The minute your guests walk in the door, hand them one of these festive cocktails or mocktails! All of these Thanksgiving cocktails can be made into a mocktail or a cocktail!
More Ideas
Appetizers
One thing to get the party started is to have appetizers all ready sitting out when guests arrive (unless they are in charge of bringing them). This will ensure that guests will have something to graze on if dinner takes a bit longer than expected! And? It keeps guests entertained!
We love setting out a big charcuterie board with fruit, nuts, and cheeses along with a classic meatball appetizer or warm dip! You can't go wrong if you have enough crackers to go around!
More Ideas
Main Dishes
Whether you decide to make the main dish or have one of your guests bring it, there are so many delicious and healthy main dishes to choose from.
We love doing a good old fashion soup bar (have everyone bring a soup) or using a sous vide to free up the oven is another great option!
Here are our favorite main dish options- you can't go wrong!
More Ideas
Side Dishes
Side dishes make a meal (in my opinion)! Whether you want to go classic side dishes or mix it up, we have vegetarian side dishes, slow cooker side dishes, and everything in between!
More Ideas
Desserts
Let your sweet tooth shine for Friendsgiving! Pumpkin anything makes a great Friendsgiving dessert or something simple like a cake batter dip! As long as your guests have something sweet to nibble on, you're safe!
More Ideas