Get inspired to make a delicious and healthy dinner! With these healthy dinner ideas organized by protein, you'll be ready to cook in no time.
From chicken casseroles to pork roasts to beef burgers to seafood kebabs to turkey chili to tons of vegetarian options, these 100+ healthy dinner ideas are easy to make and packed with ingredients you can feel good about. Enjoy!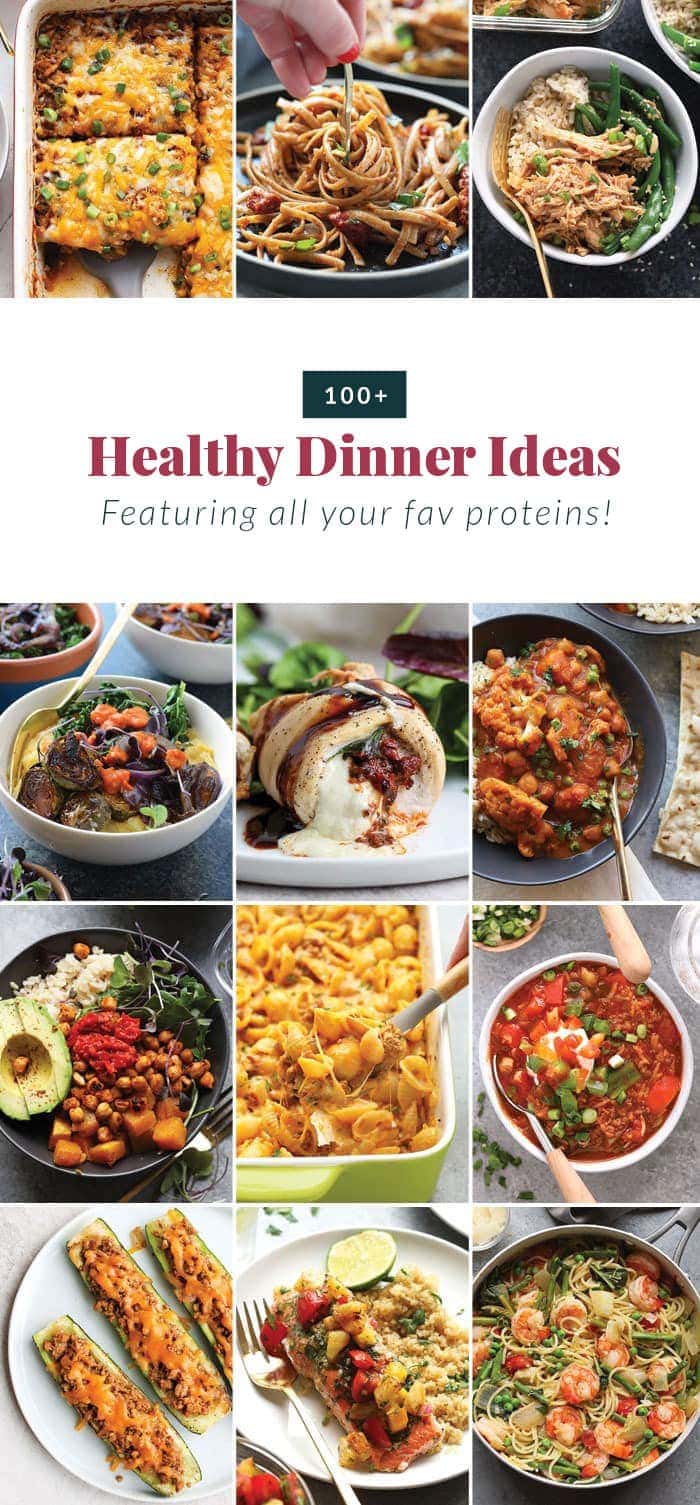 Choosing Healthy Dinner Recipes
The internet is an overwhelming place when you're looking for inspiration and healthy dinner ideas, isn't it?! So overwhelming with so many choices that sometimes it seems almost impossible to nail down what you're making for dinner tonight — let alone planning the entire week's meals!
So, what does a healthy dinner actually look like? We strive to include at least 3 or 4 of the following food groups into our dinners to help create that optimal balanced and healthy meal.
Protein
Protein, people! This will help keep you feeling full through the evening and allow your body enough energy to recharge through the night. This can be a meat protein, such as chicken turkey or seafood, or a plant protein, such as beans, broccoli or brussels sprouts.
Vegetables
All of the healthy dinner recipes here include vegetables or offer recipe pairings packed with vegetables! We love incorporating nutrient-rich veggies into our dinners, whether they're fresh, steamed, grilled, sautéed, baked — you get the idea.
Getting a full serving of vegetables at dinnertime not only boosts the fiber content (as well as the entire nutrient profile) of your meal, but will help nourish your body without adding empty calories.
Grains / Complex Carbohydrates
Whole grains and nutrient-dense carbs are our friends! You'll find us incorporating these into healthy dinner recipes due to their high fiber, B vitamins and iron content. You'll find many healthy grain and carb options throughout these recipes.
Dairy (or a Calcium Alternative!)
If you're not getting much calcium elsewhere throughout the day, dinner is the perfect time for a glass of milk or a small serving of your favorite cheese! If dairy isn't part of your life for whatever reason, other great sources of calcium include: non-dairy milk or cheese, tofu, almonds or chia seeds.
Good Fats
Don't be afraid to eat fat! We love incorporating healthy fats, such as olive oil, avocado, eggs, nuts and seeds, and hummus to our dinners.
Kitchen Essentials for Easy Dinner
Meal Prepping Healthy Dinners
Great news! Many of these recipes are super easy to prep ahead of time and then reheat throughout the week. Why do we make so many recipes like this? Because not everyone has time to completely prep and cook a meal every evening (ourselves included!). And, there's nothing better than being able to come home and quickly pull a healthy dinner together for yourself, your roommates or your family.
If you're new to the meal prep game, our Guide to Meal Prepping is a great tutorial to help you get started with pantry staples, kitchen essentials and some of our favorite meal prep recipes on Fit Foodie Finds.
And before we get into these 100+ healthy dinner ideas, let us introduce you to an simple and easy stovetop chicken breast with roasted potatoes — one of our go-to health dinners:
Healthy Dinners with Chicken
Winner winner, chicken dinner recipes! These healthy recipes are perfect if you haven chicken breasts, wings, drummies, or heck, even a whole chicken on hand!
1 serving of chicken = 3-4 oz.
Fav Chicken Dinner Recipe
Since chicken recipes are some of the most popular healthy dinner ideas we have on Fit Foodie Find, we thought we'd share one of the easiest, fan-favorite recipes we have!
Stovetop Chicken Breast with Roasted Potatoes pack in protein, healthy fats, and carbohydrates. Not a fan of regular potatoes? Swap them out for sweet potatoes!
This healthy dinner recipe features pan seared chicken breast that's flavored with a homemade chicken seasoning and easy roasted red potatoes.
Healthy Dinner Ideas: Stovetop Chicken Breast with Roasted Potatoes
This stovetop chicken breast with roasted potatoes is one of our favorite healthy dinner ideas to make for a balanced meal that's ready in no time!
Prep: 15 minutesCook: 30 minutesTotal: 45 minutes
Fat 10 Carbs 28 Protein 37
Yield 4–6 servings 1x
Ingredients
Stovetop Chicken
1.5

lbs. boneless skinless chicken breast (3–4 chicken breasts)

1 teaspoon

garlic powder

1/2 teaspoon

chili powder

1/2 teaspoon

cumin

1/2 teaspoon

dried thyme

1/2 teaspoon

ground mustard

1/2 teaspoon

dried basil

1/4 teaspoon

ground pepper

1/4 teaspoon

red pepper flakes

1/4

teaspoon sea salt

1/4 teaspoon

paprika

1/2 teaspoon

brown sugar

2

–

3

tablespoons butter or olive oil (

1 tablespoon

/breast)
Roasted Potatoes
2

lbs. red potatoes, quartered

1.5 tablespoons

olive oil

1/2 tablespoon

garlic powder

1 teaspoon

dried oregano

1/4 teaspoon

coarse sea salt

1/4 teaspoon

ground pepper

1/2 teaspoon

chili powder
Instructions
Roasted Potatoes
First, preheat oven to 425ºF.
Then, wash and pat dry potatoes. Slice them into quarters and place on a large baking sheet.
Drizzle olive oil on top of potatoes and toss. Then, Mix together spices in a small bowl and sprinkle on top of potatoes. Toss together making sure all potatoes are covered.
Roast at 425ºF for 30-40 minutes. Toss after 15 minutes, and again at 30 minutes. Depending on the size of the potatoes, an additional 10 minutes may be necessary. You know your potatoes are done cooking when they are crispy and golden brown on the outside and soft on the inside.
Stovetop Chicken
While the potatoes are roasting. Prepare chicken breast.
Mix together all of the spices in a small bowl and set aside.
Then, place chicken breast on a large cutting board and cover with a piece of plastic wrap. Use a meat tenderizer to pound chicken until the thickness is even throughout.
Then, season chicken breast on both sides with the chicken seasoning.
Heat 1/2 tablespoon of butter in a pan over medium/high heat. Once the butter melts, place chicken breast on the pan. Sear for 2-3 minutes or until golden brown. Flip the chicken breast, and optionally add another 1/2 tablespoon of butter to the pan and cover. Turn the heat down to medium and cook for around 6 minutes or until the chicken breast reaches an internal temperature of 165ºF.
Let the chicken breast rest for 5-10 minutes before eating.
Nutrition Facts
Serving Size: 1/6 recipe Calories: 290 Sugar: 0 Sodium: 236 Fat: 10 Carbohydrates: 28 Fiber: 6 Protein: 37 Cholesterol: 87
Category:
Chicken
Method:
Oven
Cuisine:
American
Keywords: stovetop chicken breast
Healthy Vegetarian Dinners
These easy vegetarian meals pack protein, veggies and SO. MUCH. FLAVOR. If you're looking for easy ways to get your veggies in, these vegetarian dinner ideas (and bonus! Some are even vegan) will keep you inspired for dinners all week long.
1 serving of vegetables = approximately 1 cup
Healthy Dinners with Beef
Whether you have ground beef, steaks, shredded beef (hello, carnitas!!), or a roast, the dinner options are endless! Peruse these delicious and healthy dinners with beef, and get inspired to cook your new favorite dinner. 1 serving of beef = 3-4 oz.
Healthy Dinners with Turkey
Turkey dinners are not just for Thanksgiving! From tacos to soups to burgers and more, enjoy these easy and healthy dinners with turkey all year long!
1 serving of turkey = 3-4 oz.
Healthy Dinners with Pork
As one of the most versatile meat proteins, the options for healthy dinners with pork never end! From bacon to pork roasts to pork chops and pulled pork, dinner is served with these healthy recipes. 1 serving of pork = 3-4 oz.
Healthy Dinners with Seafood
Seafood lovers! You don't need to go out for an expensive meal to enjoy a delicious and healthy fish or seafood dinner. From Salmon burgers to tuna poke bowls to shrimp kebabs, dinner's covered here!
1 serving of seafood = 3-5 oz.
Here you'll find healthy seafood recipes with:
Shrimp
Salmon
Tuna
Tilapia
Cod