Make tonight Italian night with this amazing crockpot lasagna! This lasagna is made with a flavorful meat sauce, a delicious cheese mixture, and is super easy to make. Make it for the family tonight or meal prep it for the week!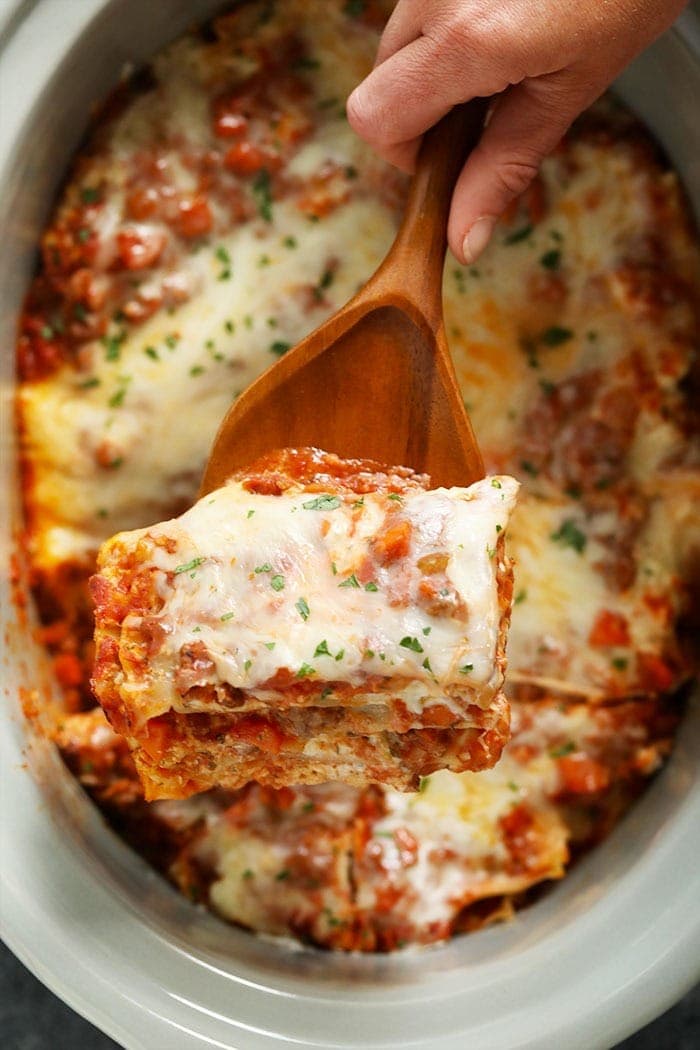 Who loves pasta? WE DO. There are so many delicious healthy pasta recipes on FFF. Just to name a few more of our favorite dishes; Healthy BLT Pasta, Creamy Tomato Vegan Pasta, and this Vegan Pasta Bake!
The Easiest Healthy Lasagna
Lasagna gets a bad rap for being a time consuming Italian recipe that, though delicious, has too many steps to make for a quick meal during the week. I am here to tell you that you can have your cake (or lasagna) and eat it, too!
This crockpot lasagna recipe is easy to assemble and even easier to cook! Who knew that you could throw lasagna ingredients into a slow cooker and have it turn out just like a lasagna out of the oven?
We love this amazing crockpot lasagna recipe because it is easy, but also because it's texture and dynamic flavor are out of this world!
Classic Lasagna Ingredients
One thing we strive for in all of our recipes is to use quality and whole ingredients. That doesn't mean we don't buy canned or jarred goods, but we make sure every product we use is made with whole ingredients and low in sugar, too.
Here's everything you'll need!
Lasagna Noodles- We used classic uncooked lasagna noodles for this recipe. Any brand will do. Some lasagna noodles are longer than others (we used shorter noodles) and any variety will work for this recipe. Just know you may have to break your lasagna noodles to fit your crockpot.
Feel free to use regular lasagna noodles or whole wheat noodles. We have NOT tested this recipe with gluten-free noodles, but that is another option for you!
Ground Beef- Quality beef is important to us! We try to buy 80/20 organic beef and as local as possible. Using quality beef will really take your lasagna to the next level!
Marinara Sauce- Marinara can sometimes get a bad rap! As long as you choose a marinara sauce that uses whole ingredients like tomatoes, water, and spices you'll be good to go! Watch out for marinara sauces that have added sugar.
We love adding organic marinara to recipes because they are usually stacked with delicious flavors!
Tomato Sauce- We use both marinara sauce and tomato sauce because we wanted a really saucy lasagna sauce that had both flavor and enough sauce to cook the noodles! If you want your lasagna to be even saucier than this one, feel free to add more tomato sauce!
Carrots + Celery- Every good Italian recipe is made from a base that contains carrots and celery. Carrots and celery add complex flavor AND crunch to this tasty lasagna recipe.
Onion + Garlic- We used one full onion and delicious garlic to flavor the meat sauce. Trust me, you won't regret the onion and garlic in this recipe!
Cheese Mixture- Say hello to the most delicious cheese mixture known to man! This cheese mixture is made with ricotta cheese, mozzarella, parmesan, and our favorite Italian seasoning!
here's a tip
What Italian Seasoning you use does matter! We get our favorite Italian Seasoning at a local grocery store. It's technically called Tuscan Italian Seasoning.
Why is it our fav? It is mixture of dried minced onion, dried minced garlic, red pepper flakes, coarse salt and pepper! If you don't have access to your own, feel free to make your own with a combination of these delicious ingredients!
Ingredient Substitutions Options
We understand that everyone is different and that you may need to make substitutions to your crockpot lasagna recipe! Here are some easy substitutions to make this lasagna your own!
Ground Beef—> ground pork, ground chicken, or ground turkey
Tomato Sauce–> Alfredo sauce or cashew cream sauce
Carrots + Celery –> sweet peppers, zucchini, squash or eggplant
Onions–> shallot
Cheese —> vegan cheese, dairy-free cottage cheese
Crock Pot Lasagna 101
Before you start mixing up your crockpot lasagna, check out these most commonly asked questions, tips, and tricks for making crockpot lasagna!
How long does it take to make lasagna in the slow cooker?
This crockpot lasagna takes about 2 hours on high to cook! You will want to double-check that every layer of the lasagna is cooked before turning the slow cooker off and cutting the lasagna into pieces.
Do I have to cook the noodles before putting them in the slow cooker?
No, you do not have to cook the lasagna noodles before putting them in the slow cooker! That is one thing we love about this recipe!
Here's a tip–> Make sure that all the lasagna noodles are covered in sauce or they won't cook all the way!
How do I keep the lasagna from sticking to the crockpot?
Before layering the lasagna in the crockpot, be sure to spray the crockpot with non-stick cooking spray or wipe it with olive oil! This will ensure that your lasagna will not stick to the sides or the bottom of the slow cooker.
Can I freeze this crockpot lasagna?
Yes, you can freeze crockpot lasagna. To freeze crockpot lasagna–> cook lasagna by following the directions in the recipe card. Let the lasagna cool completely and then cut it into pieces.
Place the lasagna into freezer-safe containers and mark them with a 'eat by' date that is 3 months from the day it was made. Place the lasagna in the freezer.
To thaw and cook the lasagna after freezing–> let lasagna thaw in the refrigerator and then place it in the microwave for 3-5 minutes or warm it in the oven at 350ºF for 10-15 minutes.
Can I make this crockpot lasagna vegetarian?
Yes, you can make this lasagna vegetarian by cutting the ground beef from this recipe and using extra vegetables, sofrito, or shredded jackfruit.
Healthy Pasta Recipes
Amazing Crockpot Lasagna Video
Amazing Crockpot Lasagna
Make tonight Italian night with this amazing crockpot lasagna! This lasagna is made with a flavorful meat sauce, a delicious cheese mixture, and is super easy to make. Make it for the family tonight or meal prep it for the week!
Prep: 30 minutesCook: 2 hoursTotal: 2 hours 30 minutes
Fat 25 Protein 32
Yield 8 servings 1x
Ingredients
Cheese Layer
15 oz

. ricotta cheese

1 cup

shredded mozzarella cheese

1 cup

shredded parmesan cheese

1 tablespoon

Italian seasoning
Meat Sauce
2 tablespoons

olive oil

1

medium white onion, finely diced

1 tablespoon

minced garlic

2

large carrots, finely diced

2

large celery stalks, finely diced

1

lb. ground beef

1

24-oz. jar marinara sauce

1

15-oz. can tomato sauce
Other
12 oz

. uncooked lasagna noodles

1/2 cup

shredded mozzarella cheese (for topping)
Instructions
First, make your cheese layer. In a medium bowl, combine 15 oz. ricotta cheese, 1 cup mozzarella cheese, 1 cup parmesan cheese, and 1 tablespoon of Italian seasoning.
Mix well and set aside for later.
Next, make the meat sauce by heating olive oil in a large pot or saucepan over medium/high heat.
When olive oil is fragrant, add onions, carrot, and celery to the pan. Saute on medium/high for 5 minutes.
Next, add ground beef to the pan and cook for about 4-5 minutes until the beef is almost cooked fully.
Add marinara sauce and tomato sauce to the pan and mix until all ingredients are combined. Bring to a boil and then immediately remove from the heat.
Now it's time to assemble the lasagna in the slow cooker. Begin by greasing the slow cooker with olive oil or cooking spray.
Using a 1/3 cup scoop, scoop 1/3 cup of the sauce onto the bottom of the slow cooker. Spread sauce around evenly.
Next, place two lasagna noodles onto the bottom of the slow cooker, lengthwise. Break a separate lasagna noodle into fourths and place 1/4 of a noodle at each end of the long lasagna noodles.
Spoon 1/4 cup of the cheese mixture over the top of the noodles and spread it out evenly over the noodles using a spoon or spatula.
Finally, add 2/3 cup of sauce over the cheese. Spread sauce evenly over the cheese and noodles.
Repeat this process until all of the sauce, cheese, and noodles are gone. Make sure that the last layer is a layer of sauce and that the noodles are fully coated. If you let the noodles cook without sauce on top, they will end up hard.
Cover the slow cooker and cook on high for 2 hours. With 30 minutes left, add the last half cup of mozzarella cheese to the top of the lasagna.
Uncover the slow cooker and cut the lasagna into even lasagna pieces and enjoy!
Nutrition Facts
Serving Size: 1/8 Calories: 537 Sugar: 5 Fat: 25 Fiber: 4 Protein: 32
Category:
Dinner
Method:
Slow Cooker
Cuisine:
Italian
Keywords: crockpot lasagna