Marinate your chicken in this delicious and easy balsamic chicken marinade! You can make balsamic chicken for dinner or meal prep balsamic chicken and freeze it for later.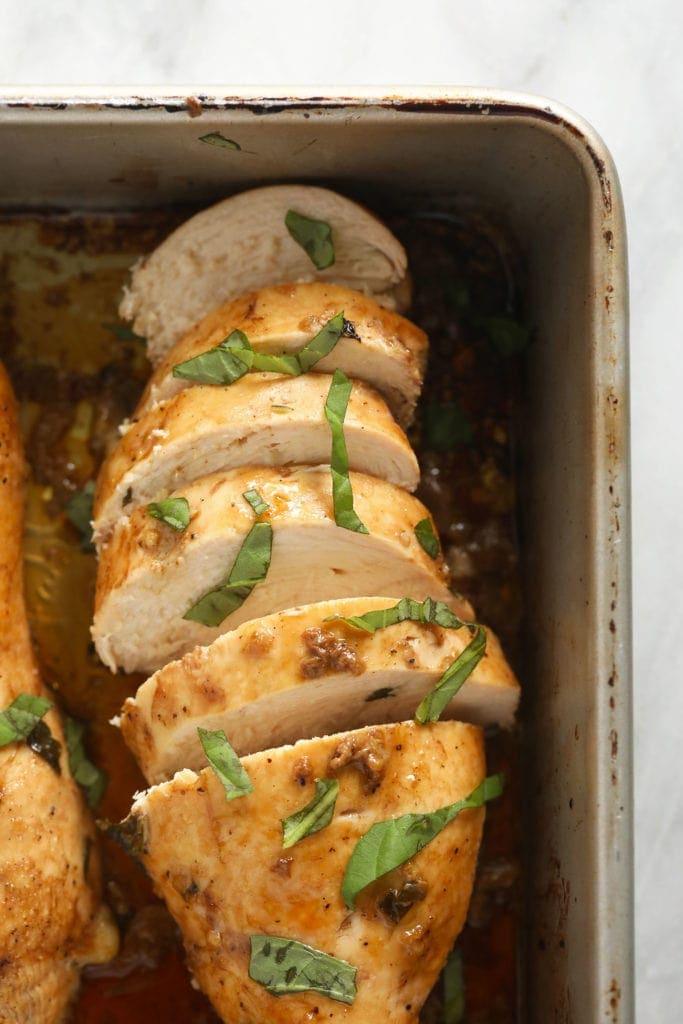 Best Balsamic Chicken Marinade
Say hello to the best balsamic chicken marinade! It is honestly one of our favorite marinade recipes because it goes so well with so many dishes.
You can marinate chicken in this delicious marinade, chop it up, and serve it with a salad or pasta! It compliments so many dishes and adds a good serving of protein to any of the meals below.
What You Need
This marinade packs a ton of flavor for using only a few ingredients! One important thing to remember about marinades is that the higher quality ingredients you use, the more flavorful it will be!
Here's what you need:
Boneless skinless chicken breast
Olive oil
Balsamic vinegar
Salt
Pepper
Garlic cloves
Fresh basil
here's a tip
If you are running low on ingredients or don't have certain ingredients in the recipe, it's ok to substitute! Don't have balsamic? Use red wine vinegar! If you are low on basil, use another fresh herb like oregano or thyme!
How Long to Marinate Chicken Breasts
The longer you marinate your chicken, the more flavorful and tender it will be! We recommend marinating your chicken for 24 hours for optimal flavor.
However, if you are running short on time 20-30 minutes of marinating your chicken in the marinade will still leave you with delicious chicken!
All the Ways to Cook Chicken
There are countless ways to cook your chicken after it is marinated. You can prepare your chicken on the grill, oven, Instant Pot, slow cooker, or sous vide! What you serve it with after is also a fun adventure! Peruse recipes here!
How to Freeze Marinated Chicken
Did you know you can freeze marinated chicken? We are all about freezer meals on FFF(check out these freezer meals) They make life so easy. Freezing marinated chicken is a secret meal prep tip that will change your life.
Prep 1 meal, 2 meals, or 5 meals all at once to have easy access to Italian marinated chicken any day of the week.
Balsamic Chicken Marinade
We love this balsamic chicken marinade so much because it keeps things simple with olive oil, salt, pepper, garlic, balsamic, and fresh basil. Yum!
Prep: 24 hoursCook: 0 minutesTotal: 24 hours
Fat 16 Carbs 4 Protein 40
Yield 4 1x
Ingredients
1

–

1.5

lbs. boneless skinless chicken breast

1/4 cup

olive oil

3 tablespoons

balsamic vinegar

1/4 teaspoon

salt

1/4 teaspoon

pepper

2

cloves garlic, minced

1 tablespoon

fresh chopped basil
Instructions
Place all ingredients for the balsamic chicken marinade (minus the chicken breast) into a medium bowl and whisk to combine.
Place chicken breast into a glass container or gallon-size bag. Then, pour the marinade on top of the chicken, making sure it is covered.
Let chicken marinate in the refrigerator for at least 30 minutes, or for best results, overnight.
Nutrition Facts
Serving Size: 1/4 Calories: 316 Sugar: 2 Fat: 16 Carbohydrates: 4 Fiber: 0 Protein: 40
Category:
Dinner
Method:
Oven
Cuisine:
Italian