Make our amazing Crock Pot Chicken Wings for your next game day appetizer. These crockpot bbq chicken wings are made with 4 ingredients and are so easy to make.
Serve your slow cooker chicken wings with a homemade dip such as Ranch or Greek Yogurt Blue Cheese.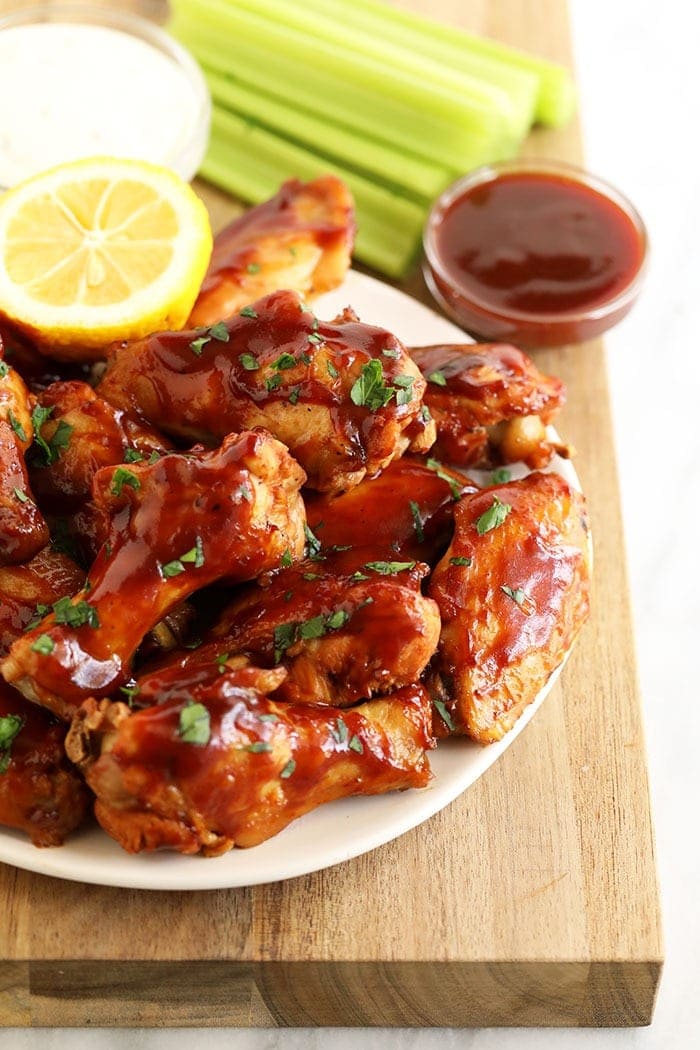 Crock pot chicken wings might actually be the easiest appetizer of all time. These incredible bbq chicken wings are made in 4 simple steps and require little to no effort on your part.
Fresh or Frozen Wings?
First things first. Fresh or frozen wings? There are lots of options out there when it comes to chicken wings and we have some good and bad news for you:
Good news: You can buy either frozen or fresh chicken wings at the grocery store and either will work. Actually, we recommend buying them frozen because you're more likely to find a drummies + wings combo frozen than fresh!
The other nice thing about buying them frozen is you're more likely to be able to find the drummies and wings already separated than having to do it yourself, which is a mess. We know this from experience.
Bad news: if you buy frozen wings, we recommend thawing them before cooking them in the slow cooker. No worries, all you have to do is let them thaw in the refrigerator overnight and you're ready to go!
The reason why we suggest thawing them first is to make sure you eliminate any kind of food borne illness from happening.
Are chicken wings bad for you?
Chicken wings get a bad wrap because they are classically breaded and fried. If you make them at home, like in the slow cooker, for example, they are much better for you!
So, if you're hoping to make a better-for-you wing, use this recipe!
How to Make Crock Pot Chicken Wings
The slow cooker might actually be the easiest method to cook chicken wings. It's a set it and forget it kind of method and I totally dig it.
Follow the following steps to make the most delicious crockpot bbq wings on the planet. Plus, we'll share other flavor ideas such as buffalo sauce and honey garlic!
Step 1: Season
Before tossing your uncooked wings into the slow cooker, season them up with some salt and pepper on both sides. Be generous here.
We decided to stick with salt and pepper because the bbq sauce is the main flavor of these wings, but if you'd like, you can use other seasonings too. Here are some ideas:
Once, they're fully seasoned, spray the bottom of your crockpot with cooking spray and place them inside your slow cooker.
Step 2: Sauce
Now it's time to pour in about 1/2 cup of your favorite BBQ sauce. You can either use store-bought BBQ sauce or make your own at home. Give the wings a nice stir to make sure everything is fully coated in BBQ Sauce. Don't worry, you'll use more sauce later.
tip
Make sure that you use a bbq sauce that you LOVE. The bbq sauce is the main flavor the wings take on. So you have a choice to make these: spicy, smokey, sweet, or savory.
Our Favorite BBQ Sauces
Looking for BBQ sauce suggestions? Here are some of our favs:
Other Sauce Ideas
An awesome thing about this crock pot chicken wings recipe is that this method works for ANY kind of flavor, not just bbq sauce. Love buffalo wings? Use buffalo sauce! Love teriyaki sauce? Make them teriyaki chicken wings.
Whatever sauce you choose, use around 1/2 cup. Here are more sauce ideas:
Step 3: Slow Cook
Now it's time to let your slow cooker do its work! Cover your slow cooker and cook on:
high for 2 hours
low for around 4
You know your slow cooker chicken wings are done cooking once they reach an internal temperature of 165ºF.
Your wings will be extremely moist once they're done cooking, but don't worry, we'll teach you how to crisp them up a bit!
Step 4: Brush & Bake/Grill/Broil
Want to eat your wings as-is? GO FOR IT! Since they've reached an internal temperature of 165ºF, they are safe to eat and ready to go.
Want to crisp them up a little bit and caramelize the bbq sauce? Remove slow cooker chicken wings from the crockpot and place them on a pan. Brush both sides of all the wings with more sauce. By brushing the wings with sauce before you cook them again, the BBQ sauce will caramelize and become super delish.
Now it's time to dry them out a little bit and give them that delicious texture. Depending on the season or what you have available, we've got options here. Our favorite way? GRILLED!
Bake: Bake wings at 400ºF for 15-20 minutes, flipping halfway.
Grill: Grill wings at 450 for 1-015 minutes, flipping halfway.
Broil: Broil on high for 2-5 minutes, flipping halfway.
As always, feel free to add more sauce or bake longer, if desired. We wanted to make a note that because you aren't frying your chicken wings, they won't get super crunchy like at a restaurant.
We've found that the higher the heat, the more restaurant-like they will be. Remember, they just sat in a crockpot for 2 hours and are super moist!
Step 5: Dip it!
What would a chicken wing be without the sauce? Just a piece of meat if you ask me! Serve your crock pot chicken wings with your favorite sauce such as:
How do I cook a lot of wings?
The best way to cook a lot of wings is actually in the slow cooker! Good news for you, you're already on a recipe that cooks 3 lbs. of wings. Scroll down to the recipe card to learn how to do so!
Storage Suggestions
Let chicken cool completely. Then, store in an airtight container in the refrigerator for up to 3 days.
To reheat: place on a microwave-safe plate and reheat in the microwave for 60-90 seconds.
Can You Freeze Slow Cooker Wings?
Yes, you can freeze crock pot chicken wings. If you plan to freeze your chicken, we recommend freezing immediately after cooking in the slow cooker.
Once fully cooked, let cool for 30 minutes. Then, transfer into a freezer-safe gallon-size bag and remove as much air as possible and seal closed.
Freeze for up to 3 months.
BBQ Crock Pot Chicken Wings
Seriously delicious BBQ Crock Pot Chicken Wings that are super tender on the inside and saucy on the outside.
Prep: 15 minutesCook: 2 hoursTotal: 2 hours 15 minutes
Fat 25 Carbs 6 Protein 29
Yield 6–8 1x
Ingredients
3

lbs. uncooked chicken wings (fresh or frozen)

1 cup

BBQ Sauce, divided (or more if desired)
Salt and pepper, to taste
Instructions
Begin by prepping chicken wings. If frozen, thaw chicken wings in the refrigerator for at least 4 hours or overnight.
Then, season uncooked wings with salt and pepper, to taste.
Spray the bottom and sides of your slow cooker with nonstick cooking spray and place chicken wings on the bottom. Pour in 1/2 cup of bbq sauce and mix until chicken is fully coated
Cover slow cooker and cook on high for around 2 hours or low for around 4 hours. You know your wings are done when they reach an internal temperature of 165ºF.
Once fully, option to eat immediately. Or, we recommend caramelizing sauce and crisping them up a bit. Remove chicken wings from slow cooker and place on a greased baking sheet.
Brush on an additional 1/2 cup of BBQ sauce to both sides of the chicken wings.

Bake: Preheat oven to 400ºF. Bake chicken wings for 15-20 minutes, flipping halfway.
Broil: Preheat oven to high broil. Broil on high for 2-5 minutes (depending on how hot your oven gets), flipping halfway.
Grill: Preheat grill to 450ºF. Grill chicken wings for around 10-15 minutes, flipping halfway.

The goal for baking, broiling, or grilling your wings after is to create a caramelized coating of bbq sauce. This should also harden the skin a bit so it's not so moist from the slow cooker.
Let cool for 5 minutes and then eat with your favorite sauces.
Tips & Notes
Nutrition information is for 8 servings and uses Annie's Organic BBQ Sauce.
Nutrition Facts
Serving Size: 1/8 Calories: 365 Sugar: 4 Fat: 25 Carbohydrates: 6 Fiber: 0 Protein: 29
Category:
Appetizer
Method:
Slow Cooker
Cuisine:
American
Diet:
Gluten Free
Keywords: crock pot chicken wings