'Tis the season! We're sharing all our favorite lululemon jackets and outerwear that will keep you warm from the transition months to the coldest months, whether you're working out or out on the town.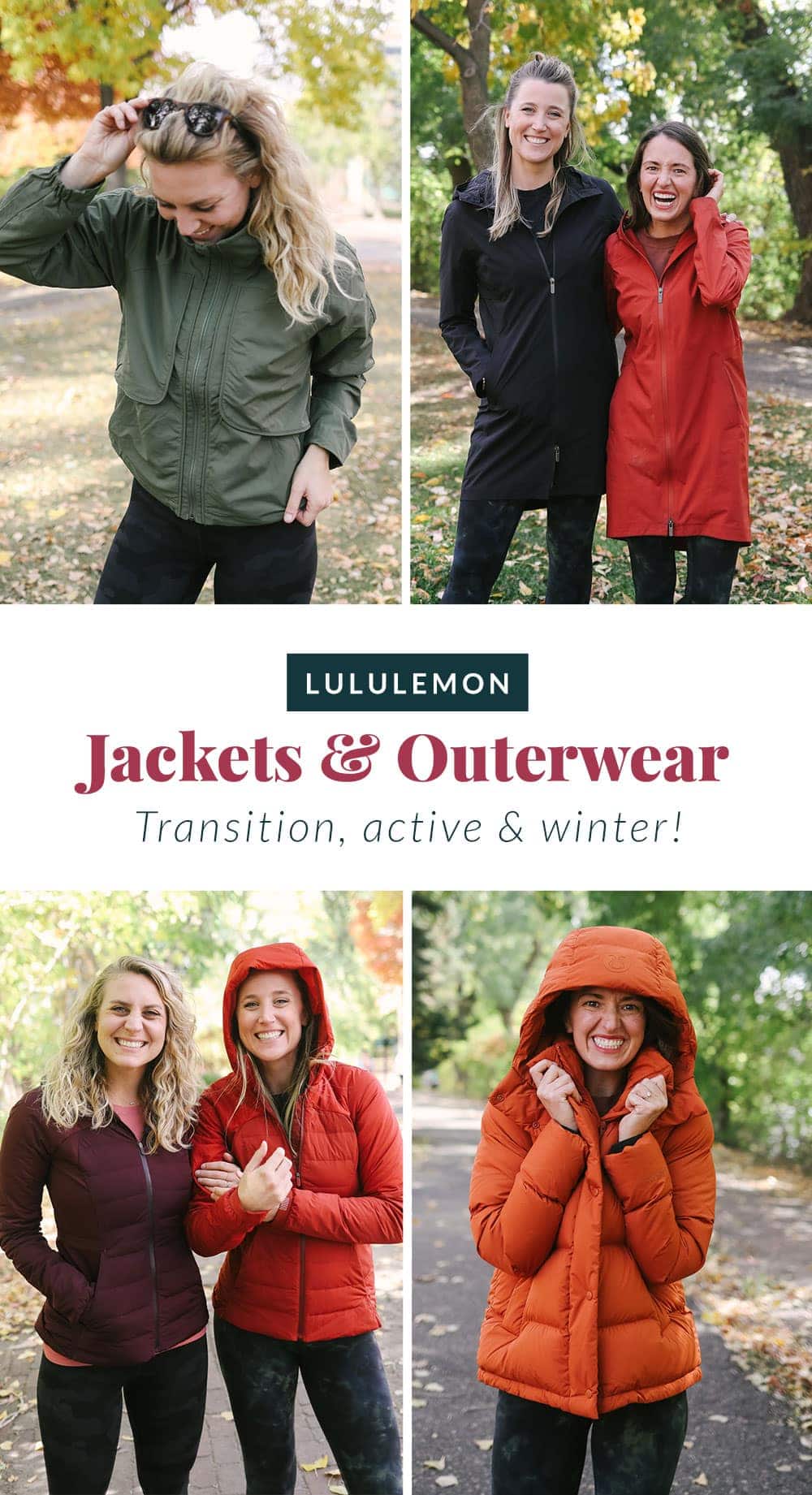 Pictured: Always Effortless Jacket, Rain Rebel, Down for it All Jacket, and Wunder Puff Jacket
All Our Favorite lululemon Jackets
We tried on all the jackets and outerwear at lululemon this fall, and rounded up all our favorites! Living in Minneapolis means we need jackets that will keep us warm throughout the cooler fall weather + jackets that can withstand below zero weather.
Oh, and we like to workout outside year round (hellooooo winter running, cross country skiing, and hiking!), so we made sure to try on lululemon's active jackets as well.
Transition Jackets
Transition jackets are perfect for cool fall weather (and even springtime showers!), and lots of our favorites can be dressed up or dressed down depending on the occasion. Our favorites include:
Pictured: Oh So Sherpa
Active Jackets
We're big fans of enjoying all winter has to offer, but that requires winter gear that keeps you warm and dry while hitting the ski trails or hiking and running trails. Here are our top picks for an active winter:
Down For It All Jacket: The Down For It All line is our go-to for winter running and skiing! This jacket packs so many pockets (perfect for stashing snacks, chapstick, your phone, etc. without a bulky feel), and blocks the wind so well. We recommend sizing up if you're going to wear a few layers underneath on extra cold days. (Lee and Emily: size 8, Linley: size 4)
Down For It all Vest: Conditions too warm for the Down For It All jacket?! Cue: the Down For It All vest! Our go-to for winter running and warmer weather days on the ski trails. (Lee and Emily: size 6, Linley: size 4)
Define Jacket: This dry fit jacket is perfect for warmer fall days. The material is super soft and breathable, and because it's so light, you can easily tie it around your waist and continue on your run if you get too warm. (Lee: size 6)
Pictured: Down for it All Vest
Winter Jackets
It's no secret that midwestern winters get cold and snowy, and we're firm believers that there's no such thing as too cold or too snowy as long as you have the right gear! These true winter jackets will keep you warm and cozy all winter long.
Wunder Puff Jacket: The Wunder Puff line is so fun, and SO warm! This jacket is a shorter option for cold winter days. Oh! This also comes in a cropped version for an even shorter look. And did we mention there is a vest, too?! (Linley: size 4)
Wunder Puff Long Jacket: If you're looking for something a little warmer than the shorter Wunder Puff jacket — this is it! We can't wait to wear this on the coldest Minnesota winter days. (Lee and Emily: size 6)
Winter Warrior Long Parka: We've been looking for an extra long, super warm winter jacket for a few years, and THIS IS IT. (Emily: size 8)
Pack It Down Jacket: This jacket packs down to basically nothing, while still packing so much warmth! We love that this jacket is a little more fitted than other winter jackets. (Lee: size 6)
Pictured: Winter Warrior Long Parka
Disclaimer: This post is sponsored by lululemon. We were compensated and all opinions are our own. Thank you for supporting Fit Foodie Finds!