This 7-ingredient Pork Rub recipe will quickly become your go-to pork dry rub. Whether you're making chops, ribs, loins or a roast, you'll love this savory and sweet dry rub. Mix up a batch today!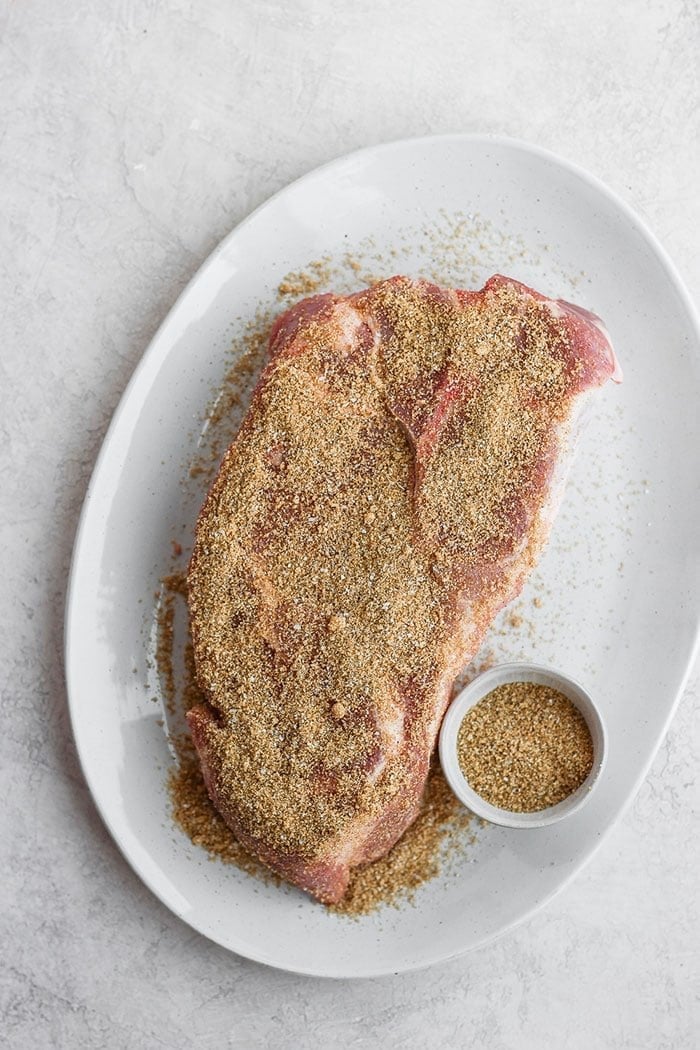 The Best Dry Rub for Pork
This incredible pork rub…
is the perfect amount of savory and sweet
doesn't require you to run to the store and buy a bunch of spices you'll never use again
is 100% is our favorite pork rub for ALL cuts of pork.
Plus, it's only 7 ingredients — and bonus, you probably have these all on-hand at home already.
7-Ingredient Pork Dry Rub
Yay for pork dry rub ingredients you can pronounce! And yay for ingredients you likely have on hand already!
Nobody likes having to spend $30+ on spices that you'll use infrequently to create a dry rub recipe at home, especially if it doesn't end up tasting as flavorful as you'd like.
This pork rub recipe is both flavor-packed and includes SEVEN simple, easy to find ingredients, including:
Brown sugar
Garlic powder
Onion powder
Coarse salt
Cinnamon
Dried thyme
Ground Pepper
Now, you'll see in the recipe card the exact amounts of each of these spices and seasonings, but feel free to tweak the amounts if you like it a little more peppery (amp up the pepper) or a little sweeter (amp up the brown sugar and cinnamon by a 1/4 teaspoon each).
And feel free to sub coconut sugar for the brown sugar. If you like things REALLY hotty hot hot, add a pinch of cayenne or red pepper flakes. Make this rub your own!
how much pork rub should I use?
Per 1 lb. of pork —> use around 2 tablespoons of dry rub.
What cuts of pork can I use this pork rub on?
Good news, you can use this dry rub on any and every cut of pork AND even use it on chicken or beef, too! Check out all of our pork recipes here. Here are some recommendations:
Pork Roast
Pork roast is definitely the most classic pork recipe to use a rub with. In fact, we used this very rub in every single pork roast recipe on Fit Foodie Finds! Check them out below.
Pork Chops
Next up we have pork chops! Whether you make them in the Instant Pot, on the grill, or in the oven, this rub is fantastic on both bone-in and boneless pork chops.
Pork Tenderloin
Our pork tenderloin recipes are some of our most popular recipes and all of them use a variation of this pork dry rub! Pork tenderloin is lower in fat, so this dry rub really helps add a ton of flavor!
Pulled Pork
That's right, before you slow cook your pulled pork, rub that piece of meat with an incredible pork rub to really infuse all the flavors. Check out our Instant Pot Pulled Pork and Pork Carnitas recipes.
Recipe Pairings
Whether you're making these Instant Pot pork chops or another meat dry rubbed in this deliciousness, here are some go-to recipe pairings we're always coming back to to flesh out a top notch meal:
Sides
Salads
Desserts
Storage
Store your pork rub in a glass, airtight container in a cool place such as a cabinet. This recipe will last up to 3 months.
More Pork Recipes
More Dry Rubs and Seasonings
Best Pork Rub Recipe
This 7-ingredient Dry Rub for Pork will quickly become your go-to pork rub. Whether you're making chops, ribs, loins or a roast, you'll love this savory and sweet dry rub. Mix up a batch today!
Prep: 10 minutesCook: 0 minutesTotal: 10 minutes
Fat 0 Carbs 17 Protein 1
Yield 1 cup 1x
Ingredients
1/2 cup

brown sugar

2 tablespoons

garlic powder

4 teaspoons

onion powder

2 tablespoons

coarse salt

2 teaspoons

cinnamon

4 teaspoons

dried thyme

2 teaspoons

pepper
Instructions
Place all ingredients for the pork dry rub into a large glass container or mason jar.
Then, stir the spices together to create your rub.
Seal jar and store in a dry, cool place.
Tips & Notes
Per 1 lb. pork: use 2 tablespoons of dry rub.
Nutrition Facts
Serving Size: 2 tablespoons Calories: 69 Sugar: 13 Fat: 0 Carbohydrates: 17 Fiber: 1 Protein: 1
Category:
Dry Rub
Method:
No Bake
Cuisine:
American
Keywords: dry rub for pork