Take your margarita up a notch! This refreshing blood orange margarita recipe is easy to mix up for two or make in a pitcher for a crowd.
To make blood orange margaritas, all you need is fresh blood orange juice, simple syrup, lime juice, and tequila! They will become your new happy hour favorite.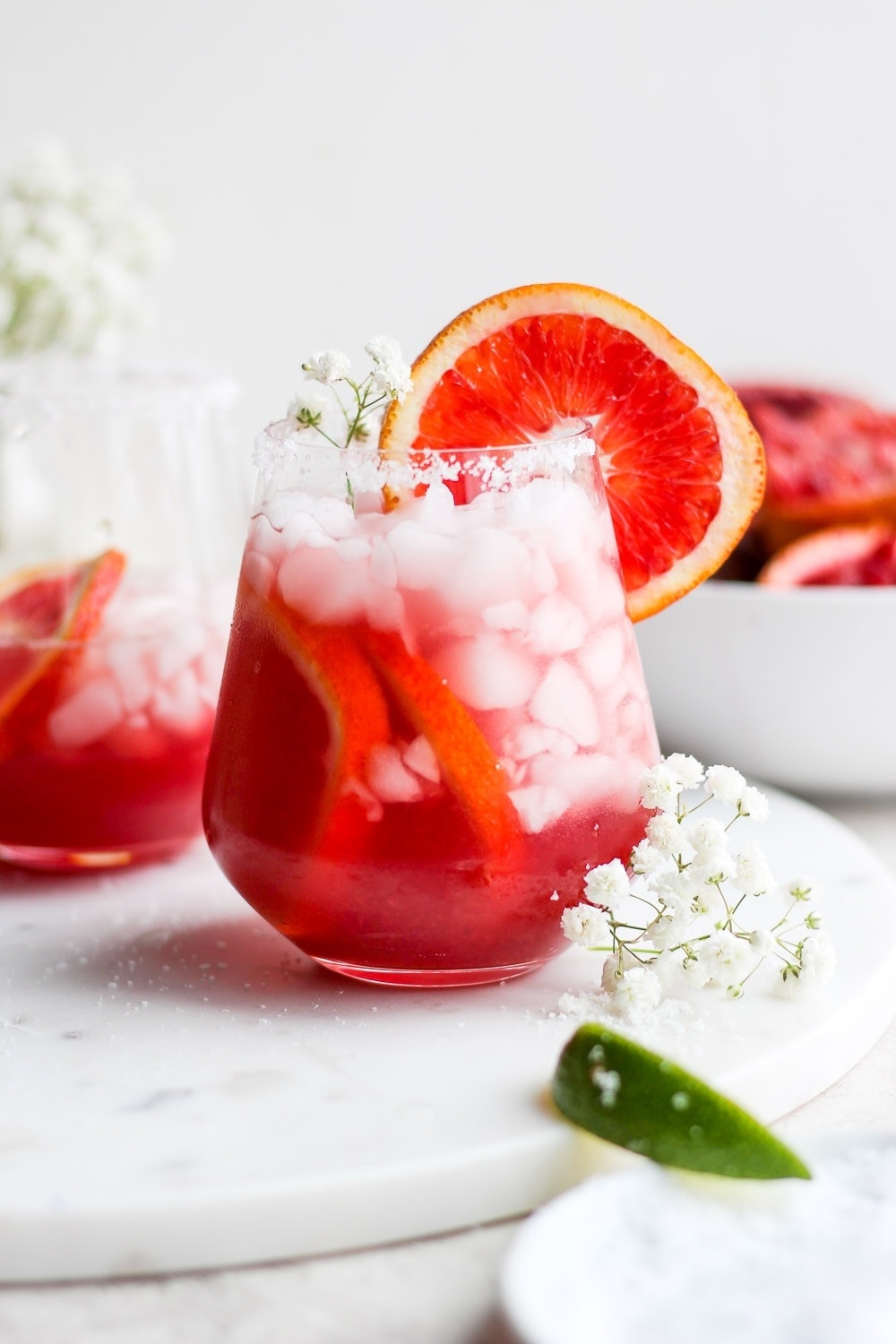 Fav Blood Orange Margarita
If you are a margarita lover like we are, then you've already made these frozen margaritas, grapefruit margaritas, and these skinny fit foodie margaritas and you are looking for a new margarita to mix up for the weekend!
We have you covered! This blood orange margarita recipe is our new favorite margarita to mix up when it is bright and sunny outside. And, when blood oranges are in season 😀
Not only is the blood orange juice perfectly sweet, but it is a gorgeous deep ruby color that will turn the heads of any guests you have over. Have no fear, we haven't mixed this blood orange juice with any artificial sweeteners or cheap tequila. Only the best for the best!
Check out everything we used to mix up these delicious margaritas!
kniMargarita Kitchen Tools
what you need for a blood orange margarita
5 simple ingredients is all you need to whip up one of these gorgeous blood orange margs. Check it out!
Blood orange juice – don't have blood oranges on hand? Simply swap for normal orange juice.
High-quality tequila – do yourself a favor and ditch the rail tequila. Or favorite high-quality, smooth tequila is Epsolon.
Simple syrup – we used a homemade honey simple syrup in this recipe, but any simple syrup works.
Lime juice – a marg isn't a marg without lime juice. Make sure to use fresh limes!
Ice – crush or cubed, your choice.
How to Sweeten a Margarita
Traditional margaritas are sweetened with triple sec and simple syrup made with white sugar! We sweetened this beautiful margarita with honey vanilla simple syrup and MAN is it delicious!
Honey Vanilla Simple Syrup
All you have to do is add the water, honey, and vanilla into a small saucepan and bring it to a boil and allow it to simmer for 10 minutes. After that, let the simple syrup cool and you are all set to mix it into anything!
If you don't have honey, there are a couple of other sweetener options! If you don't have honey you can replace the honey with agave or maple syrup. If you are out of syrup, give triple sec a try!
Try it!
Honey Simple Syrup
Our go-to honey simple syrup recipe is an excellent all-natural simple syrup and so easy to make. It's delicious in cocktails, lemonade, and even in some baking recipes!
Blood Orange Margaritas 101
How do you juice a blood orange?
Just like juicing lemons and limes, you can use your favorite juicer (if you have one). We use a hand held juice like this OXO Citrus Squeezer.
However, the juice from a blood orange is darker and can stain a bit more than lime juice! Here are a couple tips we have for juicing a blood orange!
Be sure to wear an apron when you juice a blood orange.
We like to cut a blood orange into smaller quarters so that they fit better into the juicer.
Sometimes it is easier to juice a blood orange in the sink to avoid juice from getting all over the kitchen!
What kind of tequila should I use in this margarita?
We do prefer certain brands of margaritas, but you can use whatever tequila you have on hand! If you are headed to the store, check out our favorite tequila brands below!
Why do you add lime juice to a blood orange margarita?
Blood orange juice is a bit sweetener and not as tart as a lime margarita. We add lime juice to this blood orange margarita to give it the delicious tartness that you are used to in a classic margarita recipe!
Can I make this recipe into a frozen margarita?
Yes! You can make this a frozen margarita recipe. Add all of the margarita ingredients into a high speed blender with 1 cup of ice and blend until smooth! Add more ice as needed!
Blood Orange Margarita
This refreshing blood orange margarita recipe comes together with just 5 ingredients and is a gorgeous cocktail to make any time of year!
Prep: 20 minutesCook: 0 minutesTotal: 20 minutes
Fat 0 Carbs 27 Protein 1
Yield 2–4 1x
Ingredients
Honey Simple Syrup
¼

cup water

¼

cup honey

½

teaspoon vanilla extract
Blood Orange Margarita
2

-oz. honey simple syrup

4

-oz. blood orange juice (~

4

–

6

medium blood oranges)

4

-oz. high-quality tequila

2

-oz. lime juice (~

6

–

8

medium limes)

1

–

2

cups ice (+ more for serving)
Instructions
First prepare the honey simple syrup. Add the water, honey, and vanilla to a small pot and bring to a boil over high heat. Turn heat to low and let simmer for 10 minutes (stirring periodically). Remove from heat and let cool.
Next, add 1 to 2 cups of ice to a cocktail shaker and then pour in blood orange juice, lime juice, tequila, and simple syrup. Option to add more simple syrup, depending on your preference.*
Give the shaker a good shake so that everything gets mixed together.
Serve over ice with fresh blood orange slices and a salty rim.
Tips & Notes
Blood oranges: be careful when juicing your blood oranges and they tend to be a little messy and might stain your clothes!
Nutrition Facts
Serving Size: 1/4 Calories: 167 Sugar: 23 Sodium: 4 Fat: 0 Carbohydrates: 27 Fiber: 1 Protein: 1
Category:
Drink
Method:
No Bake
Cuisine:
Mexican
Keywords: margarita, blood orange margarita
Photos by The Wooden Skillet.