Make these Blueberry Overnight Oats so that you can have breakfast ready to go tomorrow morning! All the same flavors of a blueberry muffin but 100% better for you!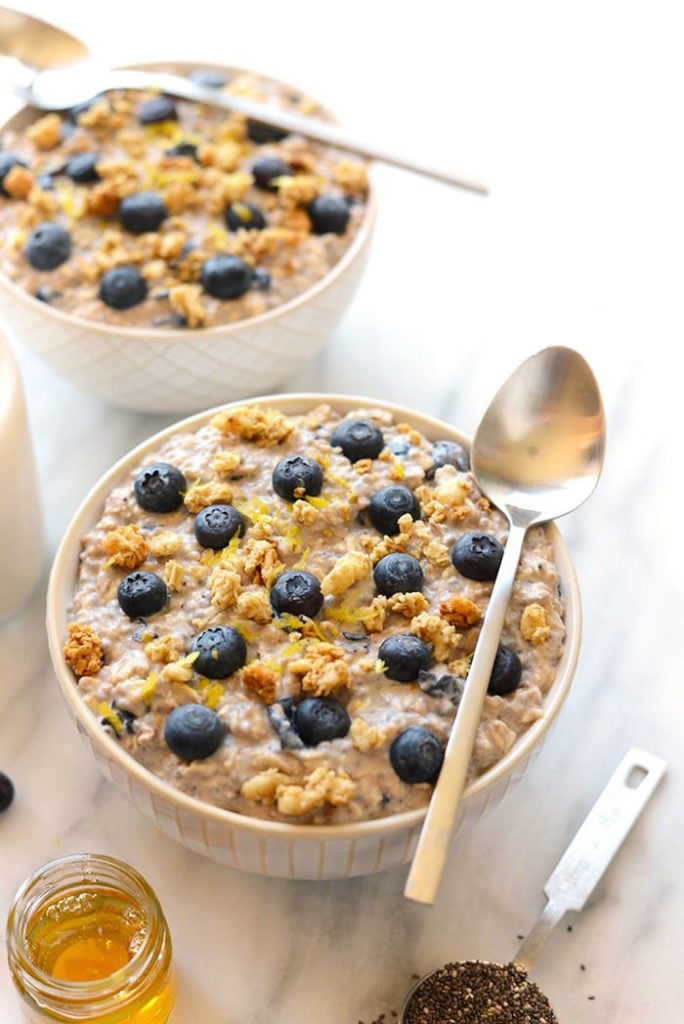 The Best Overnight Oats!
Just when you thought we couldn't come up with another overnight oat recipe this one slaps yah right in the face. These blueberry overnight oats are so delicious I'd bathe in them. Seriously- I bet this stuff would be a great exfoliant. NOTEVENJOKING.
I have been a sucker for fresh blueberries lately. It's been my favorite berry for the past few months…even over strawberries! I top my yogurt with them, I bake them in muffins, I even eat them plain, straight out of the carton.
Blueberries are the star of this overnight oats with Greek yogurt recipe. They are mashed right Into the oats and mixed with creamy Greek yogurt, chia seeds, honey, almond milk, and a little lemon zest to make them taste exactly like a blueberry muffin!
What You Need
This blueberry overnight oats recipe with almond milk is super easy to make, is refined sugar-free, and uses real ingredients. Here's what you need:
Rolled Oats – AKA old fashioned oatmeal (quick-cooking oats work too!)
Almond Milk – almond milk is lower in calories, but any milk works. Try our homemade almond milk recipe!
Fresh Blueberries – The true star of the show! If you can't find fresh blueberries, frozen blueberries work too.
Greek Yogurt – Greek yogurt not only adds protein to this recipe, but also makes it thick, creamy, and dessert-like. Feel free to use plain, vanilla, or even blueberry flavored.
Honey – honey is an all-natural sweetener that adds a beautiful flavor to this blueberry overnight oats recipe.
Vanilla Extract – you can never go wrong with a splash of vanilla!
Chia Seeds – chia seeds are packed with healthy fats. Almost all of our overnight oats recipes call for chia seeds because they really beef up your oatmeal in the best way. Once they soal in liquid, they expand, making your overnight oats much more voluminous.
Lemon Zest – do not skip this part. I repeat, make your blueberry overnight oats with lemon zest!
Overnight Oats Accessories
How to Make Blueberry Overnight Oats Vegan
Want to make this overnight oats recipe 100% plant-based? Here are a few ingredient swaps to help you do so.
Yogurt – if you're looking for overnight oats without yogurt, you've come to the wrong place. When in doubt, swap the Greek yogurt for a plant-based yogurt. The yogurt really helps make this recipe ultra-creamy and filling.
Honey – a few easy swaps for honey are maple syrup and agave nectar, both plant based.
Almond Milk – while almond milk is already vega, feel free to use any kind of milk such as soy or oat milk! PS: try our homemade oat milk here.
More Swaps for Blueberry Overnight Oats
Berries – if you don't have fresh or frozen blueberries, you can use any kind of berry. Try strawberries, raspberries, or even triple berries!
Oats – don't have old fashioned oats? Use quick-cooking instead. You can even modify this recipe to be more similar to our overnight steel cut oats and use quick-cooking steel-cut oatmeal, too.
Can I make a double batch?
Overnight oats are so easy to double or triple. Feel free to make as much of this recipe as you wish. Check out our recipe card for an easy x2 or x3 on the righthand side.
Is this recipe gluten-free?
If you use certified gluten-free rolled oats, this recipe is gluten-free!
How to add more protein to Blueberry Overnight Oats
Hoping to add more protein to this recipe? The best and quickest way to do so is to use protein powder. We suggest about 1 tablespoon per serving so that it doesn't get too chalky.
Storage Suggestions
Store overnight oats in an airtight container such as a glass meal-prep container in the refrigerator for up to 3-5 days.
Should I eat this recipe cold?
Most people eat their overnight oats cold and that's how we recommend eating these. Once the blueberry overnight oats soak overnight, the oatmeal will become chewy and delicious, making them very easy to digest.
Can I heat up my overnight oats?
You can totally heat your overnight oats up in the morning if you wish. We recommend around 60 seconds in the microwave.
Blueberry Overnight Oats
Incredibly creamy blueberry overnight oats that are packed with 14g of protein/serving. Eat them cold or warm, whatever your heart desires!
Prep: 10 minutesCook: 0 minutesTotal: 10 minutes
Fat 8 Carbs 49 Protein 14
Yield 2 1x
Ingredients
Dry
1 cup

rolled oats

1/2 cup

fresh blueberries, mashed with a fork

2 tablespoons

chia seeds

1 teaspoon

vanilla extract

1 tablespoon

honey

1 teaspoon

lemon zest (+more for topping!)
pinch of salt
Wet
1/2 cup

nonfat vanilla Greek yogurt (plain works too!)

3/4 cup

unsweetened almond milk
Instructions
First, mash 1/2 cup blueberries in a large bowl. Then add the rest of the wet ingredients and mix until smooth.
Add in dry ingredients and mix again.
Transfer to a container and cover. Refrigerate for at least 2 hours or, for best results, overnight. Serve cold.
Option to add a splash of almond milk before serving or eat thick and creamy. Top with granola, lemon zest, and fresh blueberries.
Tips & Notes
Option to double tor triple this recipe.
Storage: recipe should last in the refrigerator for up to 3-5 days.
Depending on how thick you like your overnight oats, you may add a splash of almond milk before serving.
Nutrition information is without toppings.
Nutrition Facts
Serving Size: 1/2 Calories: 315 Sugar: 16 Fat: 8 Carbohydrates: 49 Fiber: 6 Protein: 14
Category:
Breakfast
Method:
No-Bake
Cuisine:
American
Diet:
Gluten Free
Keywords: blueberry overnight oats