You had me at cauliflower chicken mac and cheese. That's right, this delicious mac and cheese casserole is lightened up with cauliflower, but packs in so much flavor (and cheese!).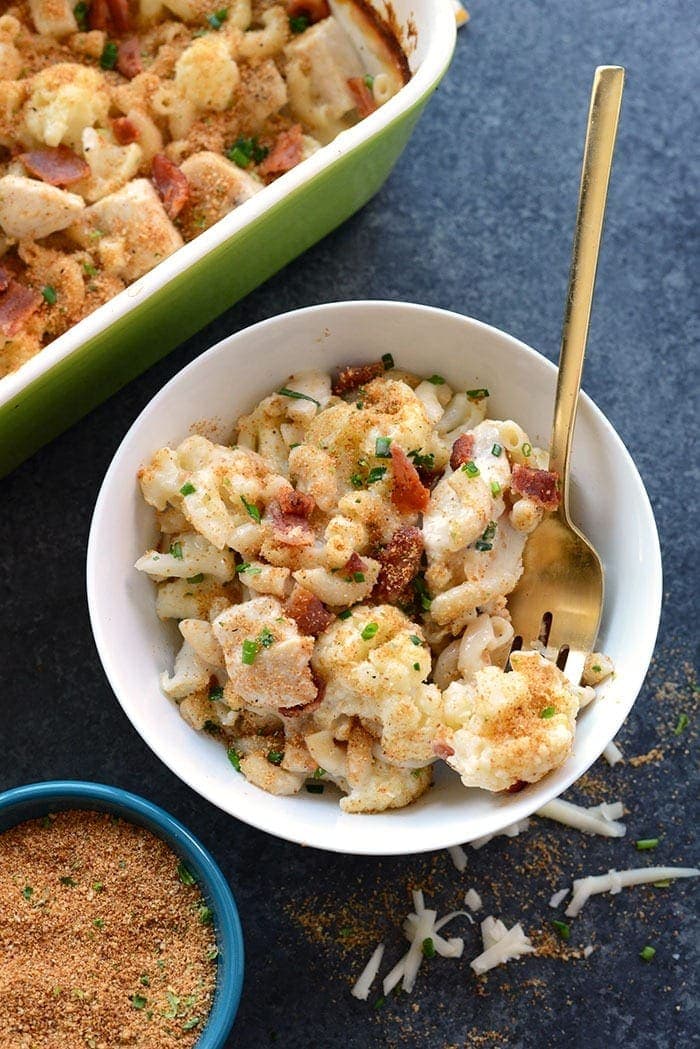 We Love Mac!
We are big mac and cheese fans here at Fit Foodie Finds and we're also big chicken casserole fans. Get excited because this recipe fuses the two and gives it a healthy twist!
Chicken Mac and Cheese is a popular dinner recipe and we're making things a little bit better for you by adding cauliflower! It's also gluten-free, which is a bonus for those that are celiac!
Noodle Time
One thing we really wanted to make sure of when testing this cauliflower chicken mac and cheese was to make the prep as easy as possible. This is why you'll notice the noodles go into the casserole dish completely raw. There is no boiling involved!
Gluten Free Noodles: I also wanted to note the type of noodle we used – gluten-free. We only tested this recipe with one specific noodle. I repeat, one specific noodle and it's the truRoots macaroni elbows. Since these are not made with gluten or white flour, they are going to cook differently than normal elbows.
Note: Just beware that your bake time might vary based on the noodle used!
Casserole Equation
Like the rest of the casseroles on Fit Foodie Finds, we followed our casserole equation: vegetables + protein + whole grains. We do this to make sure we're covering all of our bases and getting all the food groups in one meal.
Other ingredients include:
chicken breast
cauliflower
cheese sauce
optional toppings: whole wheat bread crumbs and BACON
Make sure you follow all of our baking tips and directions in the written recipe. They're essential to make sure your noodles don't come out mushy from over baking!
Can You Make this Vegan?
While you probably can make this vegan, we 100% don't suggest it. You'd not only have to remove the chicken, but also recreate the entire cheese sauce to make it dairy-free.
How to Store Mac and Cheese
Refrigerator: Store in an airtight container, such as a glass pyrex
, for up to 5 days in the refrigerator.
Freezer: If you plan to freeze, we suggest baking this in a disposable/aluminum casserole dish
. Place a piece of plastic wrap on top of cooked, cooled casserole and press out all of the air. Then, wrap the entire casserole in tin foil and place in the freezer. Write the name and date of casserole in the tin foil. Place in the freezer for up to 3 months.
To Reheat: take the frozen casserole out of the freezer and let thaw in the fridge overnight. Either reheat single servings of the casserole in the microwave or reheat the entire thing in the oven (we suggest 375ºF for 20 minutes).
Cauliflower Chicken Mac and Cheese
You had me at cauliflower chicken mac and cheese. That's right, this delicious mac and cheese casserole is lightened up with cauliflower, but packs in so much flavor (and cheese!).
Prep: 20 minutesCook: 40 minutesTotal: 1 hour
Fat 24 Carbs 41 Protein 31
Yield 6 1x
Ingredients
1

lb. boneless, skinless chicken breast

1 tablespoon

olive oil

1/2

a head of cauliflower (

4 cups

florets)

1/4 teaspoon

salt

1/4 teaspoon

ground pepper

1/2 teaspoon

garlic powder

1/2 cup

chicken broth

8 oz

. gluten-free macaroni elbows (we used TruRoots)
For the Sauce
3 cups

1% milk (or any kind, even dairy free)

3 tablespoons

tapioca flour

8 oz

cheddar cheese
Optional Toppings
Bread Crumbs
Bacon
Green Onion
Instructions
Preheat the oven to 375ºF and spray a large casserole dish with non-stick cooking spray. Set aside.
Chop cauliflower into 1.5-inch florets and place in casserole dish.
In a large pan, heat a tablespoon of olive oil over high heat.
Season chicken with salt and pepper, to taste and brown for 1 minute to 1.5 minutes on each side. Then, slice chicken into chunks and place in casserole dish. Set aside.
Make cheese sauce by heating 3 cups of 1% milk over medium/high heat while stirring consistently.
Once simmering, add in tapioca flour one tablespoon at a time and continue whisk so that milk does not burn.
Once milk starts to thicken (8-10 minutes in), turn heat down to low and slowly add in 8 oz. shredded white cheddar cheese. Don't forget to continue whisking!
Add salt, pepper, and garlic powder into cheese sauce.
Pour cheese sauce over the top of chicken/cauliflower and then add 1/2 cup of chicken broth. Mix until everything is combined.
Bake 375ºF, uncovered, for 30 minutes.
Remove casserole from oven and add noodles and stir.
Bake for 5 minutes. Remove and stir. Place back in and bake for 5 more minutes.
Remove casserole from oven and let sit for 5-10 minutes on your stovetop. Continue to to stir often to release heat so that the noodles do not continue to cook.
Once casserole is cooled, top with optional bread crumbs, bacon, and green onions.
Enjoy!
Tips & Notes
Noodles: we've only tested this recipe with truRoots Ancient Grain Elbow Pasta. It cooks quickly and will continue to cook when taken out of the oven. Be conscious of this as you check the noodles after 5 minutes. Everyone's oven is a little bit different, so watch out that your noodles don't turn to mush!
Nutrition Facts
Serving Size: 1/6 Calories: 485 Sugar: 7 Sodium: 446 Fat: 24 Carbohydrates: 41 Fiber: 3 Protein: 31
Category:
Casserole
Method:
Oven
Cuisine:
American
Keywords: chicken mac and cheese