These cheesy scalloped potatoes are rich, creamy, and easy to make! They are made with a healthier cheese sauce made with Greek yogurt, thinly sliced potatoes, and fresh thyme. You'll never use another cheesy potato recipe again.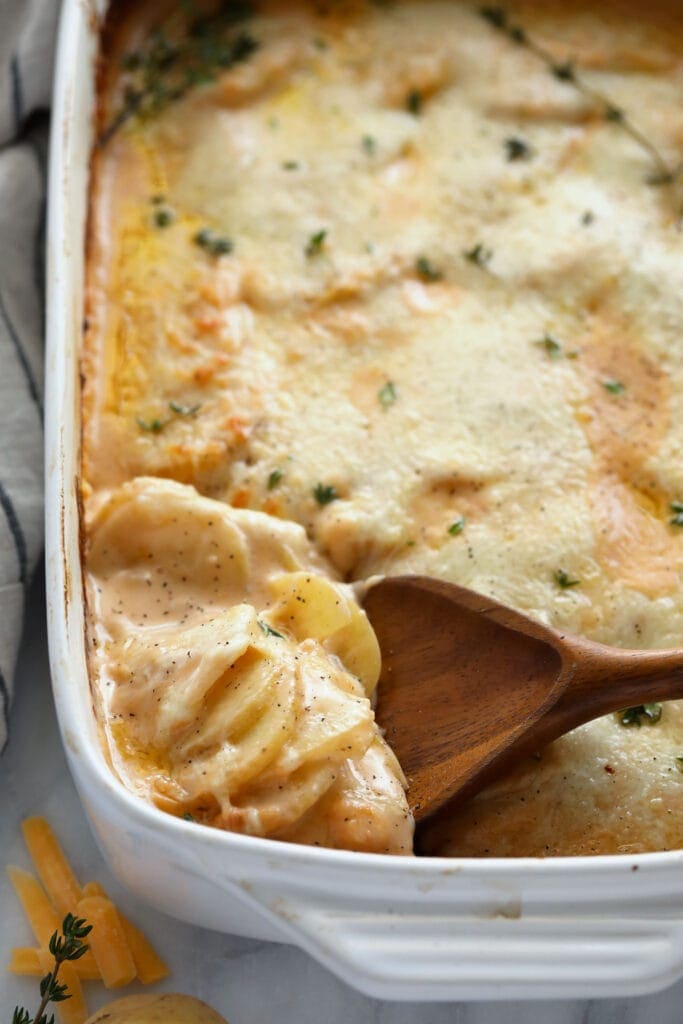 Cheesy Scalloped Potatoes
What is always the side dish with no leftovers? CHEESE POTATOES! Why? Because they are the comfort food that people always come back for. What's better than perfectly cooked potatoes mixed with a cheese sauce? Nothing.
Before we dive into how to make this perfect side dish, let's talk about what you need to make perfectly round and uniform potatoes!
Mandolin or Knife
For perfectly round potatoes you have two options. You can use a mandolin or a super sharp knife. Our preferred method is the mandolin because it creates perfect potato rounds ever time. Let's dig in.
A Mandolin Cutter is a very efficient way to slice things quickly and accurately! There are different mandolins on the internet (like these ones) to choose from and it is a myth that mandolins are too expensive to have as a kitchen appliance.
A Sharp Knife will also work just fine when preparing scalloped potatoes. Just be sure you have a very sharp knife and go slow and try your best to get each potato round to about the same thickness.
How to Make Scalloped Potatoes Healthier
Yes, potatoes and a thick cheese sauce tend not to make the healthiest dish of all time! But we did figure out a way to lighten up these delicious cheesy scalloped potatoes by changing up a few ingredients!
Traditionally, there is cream cheese, a whole lot of cheddar cheese, and butter in traditional scalloped potato recipes. Here are some of the changes we made to make this healthier scalloped potatoes a little different!
We ditched the cream cheese and added greek yogurt instead! The greek yogurt adds a delicious tartness and creaminess. Please note we did test this with cream cheese, too!
Cheddar cheese is a must in any cheesy potato recipe. We just lowered how much cheddar cheese we use.
When you make scalloped potatoes you need to make a cheese sauce (or a roux). We decided to ditch the butter in the cheese sauce and use olive oil!
Ingredients You'll Need
Other than cheese and potatoes, there are only a few more ingredients needed for the BEST scalloped potato recipe! Check out the list below!
Yukon gold potatoes
Olive oil
Minced garlic
Salt and Pepper
White onion
White whole wheat flour
2% milk
Shredded cheddar cheese
Broth
Garlic powder
Greek yogurt
Parmesan cheese
Scalloped Potatoes vs. Au Gratin Potatoes
Ah, the age old question! The main difference between scalloped potatoes and au gratin potatoes is really on main difference —-> CHEESE!
Traditionally scalloped potatoes are made with a heavy cream sauce or a white roux and au gratin potatoes are layered potatoes with lots of cheese!
We combined these two delicious recipes to bring you a super cheesy scalloped potato recipe! YUMO!
How to Make Cheesy Scalloped Potatoes
Though the prep time for this recipe is lengthy for a potato recipe, it is very easy!
First things, first, spray a 9×13 baking dish with cooking spray! Be sure you use a deeper casserole dish!
Rinse and slice those potatoes to about 1/8 inch thick rounds and set them aside. Go slowly! It is VERY common to slice your finger when slicing very thin rounds!
Next, it's time to make your cheese sauce! To make a roux you heat the olive oil in a saucepan until fragrant. From there you add the flour and whisk until the ingredients turn into a thick paste.
Slowly pour in the milk while consistently whisking all the ingredients together!
Now? The waiting game! Whisk the milk, flour, and olive oil together over medium heat until the milk thickens.
Remove the milk from the heat and sprinkle in the cheddar cheese and whisk until the cheddar cheese melts.
The last step to making the cheese sauce is to add in the garlic, spices, and greek yogurt. Mix until all the ingredients are combined!
BOOM. Now all that's left is assembling the scalloped potatoes! To do this, you add a little of the cheese sauce to the bottom of the pan and stack the potatoes on top of the cheese sauce.
Pour the cheeses sauce over all of the potatoes and place the casserole dish in the oven.
Bake covered until for 45 minutes (scraping the sides at 30 minutes) and then sprinkle parmesan cheese on top oft potatoes and bake until the parmesan cheese is melted!
When you take the potatoes out of the oven, be sure to let them sit for 10-15 minutes to let the cheese sauce thicken up.
Tips + Tricks
It's all about the Greek yogurt CHEESE SAUCE.
We are proud of how this Greek yogurt cheese sauce turned out! Feel free to use any kind of plain greek yogurt! We also only use a half cup of greek yogurt in this recipe, but if you want your sauce more tart or thicker, feel free to add an additional 1/2 cup of Greek yogurt.
HOW you stack potatoes, matters.
There are varying opinions on how to stack or pile potatoes when making scalloped potatoes! You can stack or pile them however you would like, the main thing to remember is to get as much cheese sauce between the potatoes as you can!
If you stack them in rows, use a fork to separate the potatoes while you pour in the cheese sauce.
If you pile the potatoes in the casserole dish, be sure to do a few layers of potatoes and cheese.
Fun additions to add!
We kept things pretty dang simple with these scalloped potatoes! We went traditional and stuck with a cheese sauce and potatoes! However, there plenty of fun mix ins you can add in! Below are some fun options!
Partially cook some ground Italian sausage and sprinkle it all over the potatoes before pouring in the cheese sauce.
Sprinkle bacon bits over the top of the cheesy potatoes when you pull them out of the oven.
Sauté some peppers and onions together and toss them with the potatoes before pouring the cheese sauce over the potatoes.
Cook time matters.
Don't skip covering the casserole dish! Potatoes need a longer time to bake. Every oven is different so if you need a little more bake time, take it!
You CAN make these potatoes ahead of time!
This is a potato recipe that you can make ahead of time! Follow steps 1-14 in the recipe card and then store the baking dish (covered) in the refrigerator for up to 3 days.
When you are ready to serve the potatoes, place them in the oven at 350ºF for 20 minutes and then proceed with steps 15-17!
Classic Scalloped Potatoes
These cheesy scalloped potatoes are rich, creamy, and easy to make! They are made with a healthier cheese sauce, thinly sliced potatoes, and fresh thyme! You'll never use another cheesy potato recipe again!
Prep: 25 minutesCook: 60 minutesTotal: 1 hour 25 minutes
Fat 12 Carbs 22 Protein 10
Yield 8–10 1x
Ingredients
4

–

5

lbs. Yukon gold potatoes, rinse

4 tablespoons

olive oil, separated

2 teaspoons

minced garlic

1/2 teaspoon

salt, separated

1/2

medium white onion, minced

1/3 cup

white whole wheat flour

2 cups

2% milk

1.5 cups

shredded cheddar cheese

1/4 cup

broth (we used vegetable)

1 teaspoon

garlic powder

1/2 cup

nonfat Greek yogurt

1 cup

shredded parmesan cheese
Instructions
First, preheat oven to 375ºF and grease a 9×13-inch casserole dish with nonstick cooking spray. Set aside.
Next, use a mandolin* to slice all of the potatoes into 1/8-inch thick rounds. We used size 2.0 on our mandolin.
Prepare the cheese sauce by heating a medium saucepan over medium/high heat. Add one tablespoon of olive oil.
When olive oil is fragrant, add the onion and 1/4 teaspoon salt to the saucepan and sauté for 3 minutes. Add minced garlic and sauté for another 2-3 minutes or until the onion begins to brown.
Add the last three tablespoons of olive oil to the pan and let it heat for 30 seconds.
Next, add the flour to the saucepan and whisk the oil, onion, garlic, and flour together until it turns into a paste.
While continuing to whisk, slowly pour the milk into the saucepan. Continue to whisk the milk over medium heat until the milk begins to thicken.
Remove from heat and then sprinkle the cheddar cheese into the saucepan and whisk them together until the cheese melts.
Lastly, add the vegetable broth, garlic powder, and Greek Yogurt to the sauce and whisk until combined.
Assemble the scalloped potatoes by scooping 1/2 cup of the cheese sauce into the bottom of the casserole dish and spread it around.
Create 3 rows of the sliced potatoes, tightly packing them together. With a 9×13-inch casserole dish, you should be able to fit 4-5 lbs. worth of potatoes.
Carefully, pour the cheese sauce on top of the potatoes working the cheese sauce in between each potato round. You can use a knife or fork for this, but it's important to try and get the cheese in between the potatoes and on top.
Cover the scalloped potatoes and bake them at 375ºF for 30 minutes.
Remove from the oven, scrape the sides and bake (covered) for an additional 15 minutes.
Finally, remove the casserole from the oven one last time and sprinkle the parmesan cheese over the top of the potatoes.
Turn the heat to 450ºF and place the casserole dish, uncovered, back in the oven for 5 minutes or until the parmesan cheese starts to brown.
Let potatoes rest for at least 5 minutes before serving.
Tips & Notes
Mandolin- we recommend using a mandolin for us to get even cuts, but a sharp knife works too.
As the scalloped potatoes rest out of the oven, the sauce will thicken.
Nutrition Facts
Serving Size: 1/10 Calories: 359 Sugar: 4 Fat: 12 Carbohydrates: 22 Fiber: 1 Protein: 10
Category:
Side dish
Method:
Oven
Cuisine:
American