It's Chicken Marsala for dinner tonight! This delicious chicken marsala recipe pairs perfectly pan-seared chicken breasts with a creamy marsala wine and mushroom sauce you're going to love.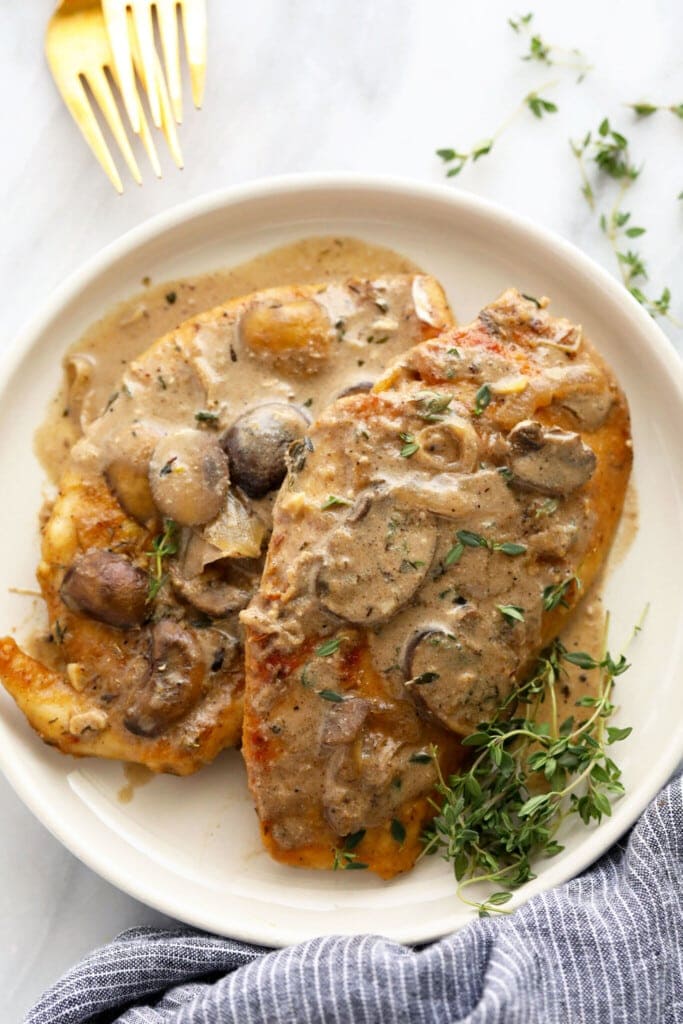 Chicken Marsala for Dinner!
If you've never had chicken marsala, now's your chance! This delicious dish is not only full of flavor, but it also comes together in 45 minutes. Does it get any better!?
What is Chicken Marsala?
Chicken marsala is an Italian dish that combines a marsala wine sauce with mushrooms that is served over pan-fried chicken breasts.
Our chicken marsala recipe is a healthier twist on the traditional chicken marsala that you can either serve as a stand alone, or pair with pasta or rice for a complete meal.
Chicken Marsala — What You Need
This chicken marsala is packed with simple ingredients that come together for a deliciously flavored dish you'll love. You'll need:
For the Chicken Breasts
Boneless skinless chicken breasts
White whole wheat flour
Garlic powder
Onion powder
Dried thyme
Salt
Butter
For the Chicken Marsala Sauce
Sliced crimini mushrooms
Sliced bella mushrooms
Minced white onion
Minced garlic
Marsala wine
Chicken broth
Balsamic vinegar
Fresh thyme
Seasoning for Chicken Marsala
The seasoning for the chicken marsala is a mixture of simple spices and white whole wheat flour (yes, flour!).
Why do you need to dredge the chicken in flour? You do this to form a coating on the chicken that will create the most golden brown crust on the chicken that soaks up the delicious marsala sauce.
How do you make sure the seasoning stays on the chicken? After you have pounded the chicken, you run the chicken in water and then drudge (aka cover) the chicken in the flour mixture until the chicken is fully covered. Getting the chicken wet first ensures that the flour and seasoning mixture sticks to the chicken.
Marsala Wine Alternatives
Can't find marsala wine (we prefer a dry variety for chicken marsala!)? Or don't have any on hand at home and looking to make this chicken marsala tonight? We recommend a dry sherry as an alternative.
How to Make Chicken Marsala
While this chicken marsala looks fancy, it's super straightforward to make! Plus, it's ready to serve in 45 minutes. You'll need to:
Slice the chicken in half.
Pound the chicken until all the chicken is the same thickness.
Dredge the chicken through the spice mixture.
Fry the chicken.
Sauté the mushrooms.
Make the marsala sauce.
Pour the marsala sauce and mushrooms over the chicken.
Serve alone or on top of pasta, rice or mashed taters.
Join the Club!
Fit Foodie Cooking Club
Be the first to know about the recipe of the month + get other Fit Foodie Cooking Club announcements right to your inbox!
How to Serve Chicken Marsala
Chicken marsala is DELICIOUS as a standalone, but can also be paired with pasta, mashed potatoes or rice for a full meal. Some of our favorite pairings:
How Many Does This Recipe Serve?
This recipe serves 4, making it great for serving the whole family, or saving half for leftovers throughout the week.
Storage Instructions
Let the chicken marsala cool completely. Then, transfer it into a large, glass container. Store the sauce and mushrooms in a separate air-tight container for crispier chicken. Cover and refrigerate for up to 3-5 days.
Chicken Marsala
It's Chicken Marsala for dinner tonight! This delicious chicken marsala recipe pairs perfectly pan-seared chicken breasts with a creamy marsala wine and mushroom sauce you're going to love.
Prep: 15 minutesCook: 30 minutesTotal: 45 minutes
Fat 13 Carbs 16 Protein 36
Yield 4 1x
Ingredients
1

-lb. boneless skinless chicken breasts (

2

large chicken breasts)

1/3 cup

white whole wheat flour

2 teaspoons

garlic powder

1 teaspoons

onion powder

2 teaspoons

dried thyme

1/2 teaspoon

salt

4 tablespoons

butter
Sauce
8

-oz. crimini mushrooms, sliced

4

-oz. bella mushrooms, sliced

1/2 teaspoon

salt

1/2

large white onion, minced

4

cloves garlic, minced

1/2 cup

marsala wine

1.5 cups

chicken broth

2 tablespoons

balsamic vinegar

2 tablespoons

fresh thyme, chopped
Instructions
Begin by slicing the chicken breasts lengthwise in half to create 4 cutlets.
Then, place the chicken cutlets on a cutting board and cover them with plastic wrap. Using a meat cleaver, pound the chicken to a ½-inch thickness. Set aside.
Mix chicken breading together in a medium-sized bowl by combining whole wheat flour, granulated garlic, onion powder, dried thyme, and salt.
Dredge the chicken by first rinsing each chicken breast with water and then dredging the chicken through the flour mixture. Make sure the chicken breast is completely covered in the flour mixture.
Next, heat a large skillet over medium/high heat. Add 2 tablespoons of butter.
When butter is melted and fragrant, add the chicken cutlets to the pan.
Sauté each cutlet for 4-5 minutes per side on medium heat, or until golden brown and fully cooked.
When the chicken is golden brown on both sides, remove chicken cutlets from the pan. Set aside.
Next, add 2 more tablespoons of butter to the same pan.
When the butter is melted, scrape the bottom of the pan with a spatula releasing brown bits from the bottom of the pan.
Place all of the sliced mushrooms into the pan and sprinkle them with 1/4 teaspoon salt. Toss the mushrooms with the butter.
Add 2 tablespoons of the chicken broth to pan and sauté the mushrooms over medium heat for 6-8 minutes, only tossing every 2 minutes. Sauté until the mushrooms begin to brown.
Add the onion and garlic to the pan and sauté the mixture for 3 more minutes.
Deglaze the pan with the marsala wine.
Then, add the chicken broth, balsamic vinegar, and fresh thyme to the pan and stir everything together.
Turn heat to high heat and bring the broth to a boil.
When the broth is boiling, turn the heat to medium/low and simmer until the liquid reduces by half. This will take around 10-12 minutes.
Finally, add the chicken cutlets into the pan and carefully spoon mushroom sauce on top of each chicken cutlet.
Let the chicken simmer in the mushroom sauce for 3-5 minutes.
Serve alone or over pasta.
Nutrition Facts
Serving Size: 1/4 Calories: 334 Sugar: 3 Sodium: 685 Fat: 13 Carbohydrates: 16 Fiber: 3 Protein: 36 Cholesterol: 102
Category:
Lunch and Dinner
Method:
Stove Top
Cuisine:
Italian
Keywords: chicken marsala