It's a waffle morning over here! These Cinnamon Roll Waffles taste just like the real thing, but pack healthy simple ingredients. Finish with a Greek yogurt cream cheese drizzle for the most delicious breakfast ever!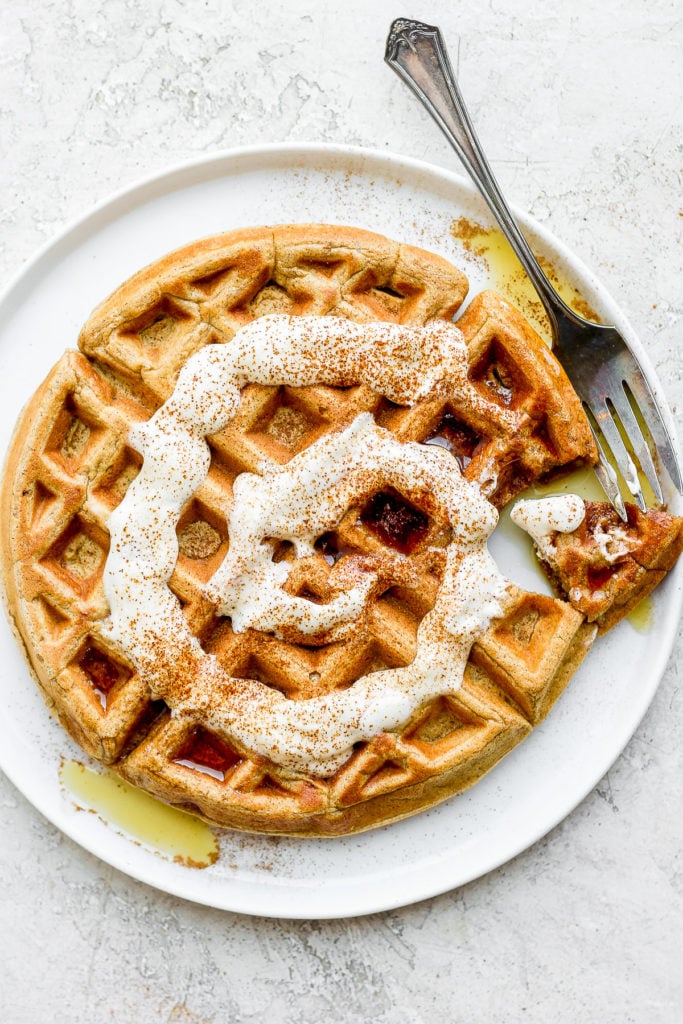 Cinnamon Rolls in Waffle Form
You read that right! These waffles taste just like a cinnamon roll, but pack simple healthy ingredients that make for a delicious and nutritious start to your day. Oh, and there's even a Greek yogurt and cream cheese drizzle involved. Yah welcome!
Healthy Swaps for Delicious Waffles
Fat: instead of canola oil or buttermilk, which many waffle recipes use, we opted for coconut oil. Coconut oil is higher in healthy saturated fats compared most other oils.
Sugar: these cinnamon roll waffles are sweetened mostly with mashed banana. Sugar from fruit is all-natural unlike sugar from white and brown sugar, which are refined. We also use all-natural maple syrup to give these waffles a rich sweet taste. Many waffle recipes call for additional refined sugar such as white or table sugar, but these do not!
Flour: lastly, lots of waffles are made with a refined, white flour, whereas these cinnamon roll waffles use 100% white whole wheat flour.
Milk: there's no need for buttermilk in these waffles — we used an unsweetened almond milk for a healthier swap that still delivers a rich flavor.
Drizzle: Every good cinnamon roll comes with an ooey gooey delicious frosting. These waffles are no exception! But we've lightened it up with Greek yogurt, cream cheese and natural sweetener (read on for more deets!)
Greek Yogurt Cream Cheese Drizzle
Cinnamon rolls aren't complete without a delicious frosting or drizzle, and these waffles are no exception! But we've lightened up a traditional cinnamon roll frosting with the following ingredients that come together to taste even better than the real thing:
Nonfat Greek yogurt
Fat-free cream cheese
All natural maple syrup
Vanilla extract
Storing Cinnamon Roll Waffles
These waffles will keep in an air-tight container in the refrigerator for 3-5 days, and can easily be reheated either in the toaster or microwave. This makes these waffles a great option for a quick breakfast throughout the week!
How to Freeze Waffles
This is a great recipe to either meal prep for the week or whip up a double or triple batch and then store in the freezer to have on hand whenever the healthy waffles mood strikes ya.
So, how do you freeze waffles?
First, let your waffles cool completely. The reason we do this is so that the waffles can come down to room temperature and stop producing so much moisture (steam). This will prevent freezer burn in the freezer and help your waffles stay nice and fresh.
Then, stack 2 servings of waffles (2 waffles) together. Tightly wrap them in a piece of plastic wrap, in a ziploc bag or in a Stasher bag. Make sure to remove as much air as possible, which will also help to prevent freezer burn.
Place waffles in the freezer and freeze for up to 3 months.
How to Reheat Frozen Waffles
Option 1: Thaw waffles in the refrigerator overnight. Then, microwave for 60 seconds in the morning.
Option 2 (recommended): Cut frozen waffles in half and place in the toaster and toast on medium. We recommend this option as it will give you a crispier waffle, and who doesn't like a crispy waffle?!
Cinnamon Roll Waffles
It's a waffle morning over here! These Cinnamon Roll Waffles taste just like the real thing, but pack healthy simple ingredients. Finish with a Greek yogurt cream cheese drizzle for the most delicious breakfast ever!
Prep: 10 minutesCook: 20 minutesTotal: 30 minutes
Fat 7 Carbs 44 Protein 11
Yield 6 waffles 1x
Ingredients
Dry
1.5 cup

white whole wheat flour

1/2 teaspoon

baking powder

1/2 teaspoon

baking soda

1.5 teaspoons

ground cinnamon

⅛ teaspoon

salt
Wet
1 cup

mashed banana

2

large eggs

1 teaspoon

vanilla extract

1/4 cup

maple syrup

2

melted coconut oil

3/4 cup

unsweetened almond milk*
Greek Yogurt Cream Cheese Frosting
1/4 cup

fat-free cream cheese, room temperature

1/4 cup

nonfat, plain Greek yogurt, almost room temperature

1.5 tablespoons

maple syrup

1/2 teaspoon

vanilla extract
Instructions
First, preheat your waffle iron to medium heat.
In a large bowl, mix together all dry ingredients. Then add wet ingredients, minus the coconut oil and mix again.
Finally, add melted coconut oil and mix one more time.
Spray waffle iron with coconut oil cooking spray on both sides. Then, scoop in about 2/3 cup of batter. Close the waffle iron, flip, and let cool for about 1 minute and 30 seconds. Repeat until batter is gone.

For the Greek yogurt cream cheese frosting, place all of the ingredients for the cream cheese frosting into a bowl and use an electric mixer to whip all the ingredients together until the frosting is smooth.

Top your cinnamon waffles with a swirl of frosting to mimic a cinnamon roll. Option to also serve with maple syrup and/or butter.
Tips & Notes
The batter should be a little thicker than pancake batter, but not too thick! Start with 3/4 cup of almond milk and add a tablespoon at a time if it's too thick.
To make pancakes: add about 1/4 cup to 1/3 cup more almond milk to thin the batter out a little bit. Cook over medium heat for about 1.5 minutes per side.
Nutrition Facts
Serving Size: 1 waffle Calories: 289 Sugar: 13 Sodium: 266 Fat: 7 Carbohydrates: 44 Fiber: 5 Protein: 11 Cholesterol: 63
Category:
Breakfast
Method:
Waffle Iron
Cuisine:
American
Keywords: cinnamon roll waffles