We are the queens of stir fry and you are going to love our easy Kung Pao Chicken recipe! It's made with just 10 simple ingredients and in less than 30-minutes!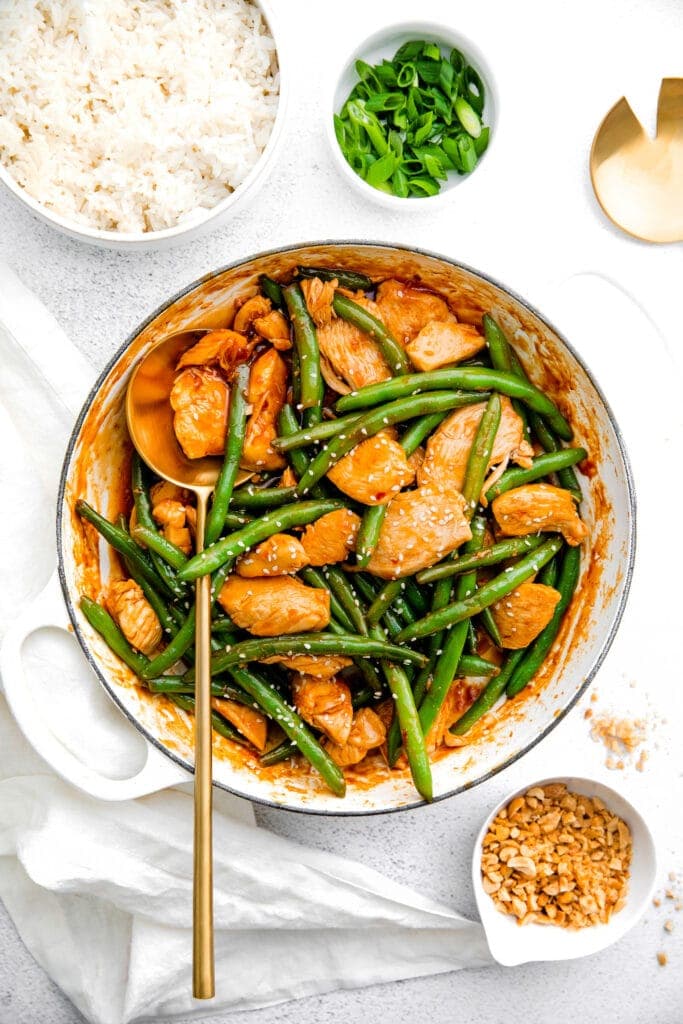 Favorite 30 Minute Meal!
If you are looking for the perfect weeknight meal, you have to try this kung pao chicken recipe. There are only 10 ingredients and it seriously tastes like your favorite kung pao chicken take-out.
All you have to do is cook up your chicken and green beans, mix up your sauce, mix the two together, and you have a kung pao chicken. So easy and so delicious.
What is Kung Pao Chicken?
Kung pao chicken is a spicy stir fry dish that is generally made with chili peppers or paste, some kind of sugar, chicken breast, and vegetables. Kung pao sauce is used with many different proteins like chicken, shrimp, and tofu.
Not a meat-eater? You can also toss just vegetables with kung pao sauce for a vegetarian and vegan option just like our Kung Pao Quinoa Bowls.
What does kung pao sauce taste like? It's spicy (thank you red chiles!) and a tad sweet to tame things down.
Is this Kung Pao Chicken Healthy?
Kung Pao Chicken is a healthy meal idea made with lean protein, tons of veggies, and an easy kung pao sauce. This recipe is:
Gluten Free: Our kung pao chicken recipe is made better for you and with more accessible ingredients! We wanted to keep things gluten free, which is why we used tamari instead of soy sauce.
Clean Ingredient Spices: The heat in this recipe actually comes from sriracha and chili garlic paste (2 very accessible ingredients). Typically kung pao Is made with dried red chili peppers, but we're using pantry staples instead.
Natural Sweetener: Lastly, we're using honey instead of table sugar in order to balance out the heat so your tastebuds can handle swallowing it!
Kung Pao Sauce Ingredients
Lucky for you our staple kung pao sauce is actually made from pantry staples! Check it out:
Minced garlic: Option to use pre-minced garlic or mince your own.
Tamari: Tamari is gluten-free, but soy sauce or coconut aminos work too!
Sesame oil: A little goes a long way.
Sriracha: the more the merrier!
Chili garlic paste: We're using chili garlic paste in place of dried red chile peppers.
Honey: Honey tames the heat in this sauce. The more you use, the less spicy it will be.
We like to add a little sweetness to our kung pao sauce, which is generally pretty spicy. We found that adding a little bit of honey goes a long way!
If you are looking for a vegan option, try adding a little maple syrup or agave nectar. If you are a spicy food fan, try adding extra sriracha or chili paste!
What Else You Need
In addition to the the homemade kung pao sauce, you need just a few more things. Check it out.
Chicken breast: Boneless, skinless chicken breast is best for this recipe, but you can definitely use thighs, too!
Olive oil: Also option to use coconut oil.
Green beans: Pretty much any veggie would work. You could try broccoli, peppers, onions, or whatever you have on hand.
Cornstarch: This is what will thicken your sauce at the very end. Option to skip this part!
Easy Swaps
Another great thing about this kung pao chicken recipe is that you can make changes very easily, depending on what you have on hand:
Chicken: Not a carnivore? Swap with garbanzo beans or tofu!
Veggies: Choose whatever veggies you want for this dish.
Peanuts: Option to use cashews instead of peanuts.
What to Serve with Kung Pao Chicken
Stir fry always deserves to be served next to a grain. There are so many choices out there and here are some of our favs:
Easy Kung Pao Chicken
We are the queens of stir fry and you are going to love our simple Kung Pao Chicken recipe! It's made with just 10 simple ingredients and in less than 30-minutes!
Prep: 10 minutesCook: 15 minutesTotal: 20 minutes
Fat 11 Carbs 20 Protein 34
Yield 4 1x
Ingredients
Kung Pao Sauce
1 tablespoon

minced garlic

1/4

soy sauce or tamari (for gluten-free variation)

1 teaspoon

sesame oil

1 tablespoon

sriracha

1 tablespoon

chili garlic paste

2 tablespoons

honey (or more, to taste)
Kung Pao Chicken
1

lb. boneless skinless chicken breast
pinch of salt

1/8 teaspoon

ground pepper

2 tablespoons

olive oil

1

lb. fresh green beans, ends trimmed
corn starch slurry: 2 teaspoons cornstarch + 1 tablespoon warm water
Optional toppings
Instructions
First, prepare kung pao sauce. Mix together minced garlic, soy sauce, sesame oil, sriracha, chili garlic paste, and honey. Set aside. Then, create a corn starch slurry by whisking together cornstarch and warm water. Whisk until the corn starch has dissolved and set aside.
Next, prepare chicken breast by thinly slicing it into bite-sized pieces. We like to cut ours extra thin so it ends up like take-out style kung pao chicken.
Heat 1 tablespoon of olive oil (or more, if needed) in a large frying pan over medium/high heat. When the olive oil is fragrant, add diced chicken and season with salt and pepper. Saute for 3-4 minutes to partially cook it. Then, remove from heat and set aside.
Add another tablespoon of olive oil to the pan and then add green beans. Saute for 3-4 minutes on medium/high heat. Once green beans are partially cooked, add chicken back in and mix.
Place the lid on the skillet and let steam for 2-3 minutes. You can add a tablespoon or two of water to help this process if needed. Steaming will really help cook the green beans and ensure that the chicken is fully cooked.
Remove the lid and mix. Then, scoot chicken and green beans to one side of the pan and add the sauce to the other. Bring to a simmer. Once simmering, add in corn starch slurry and continue whisking until sauce has thickened.
Finally, mix kung pao sauce with the veggies and chicken until everything is fully coated.
Serve kung pao chicken over your favorite grain with sesame seeds and peanuts.
Tips & Notes
heat: this recipe has been edited to be a bit milder in spice. If you'd like to up the heat, double the sriracha or chili paste.
nutrition information does not include rice.
This recipe was slightly updated on March 29, 2020. We reduced the sesame oil along with making it a little less spicy. Otherwise, it's the same! Get the original recipe HERE.
Photos were updated for this recipe on February 19, 2021.
Nutrition Facts
Serving Size: 1/4 Calories: 282 Sugar: 13 Fat: 11 Carbohydrates: 20 Fiber: 3 Protein: 34
Category:
Stir Fry
Method:
Stove-Top
Cuisine:
Asian
Diet:
Gluten Free
Keywords: kung pao chicken