Wondering how to make a matcha latte? Our signature matcha latte recipe is made with matcha powder, hot water, steamed milk, and maple syrup.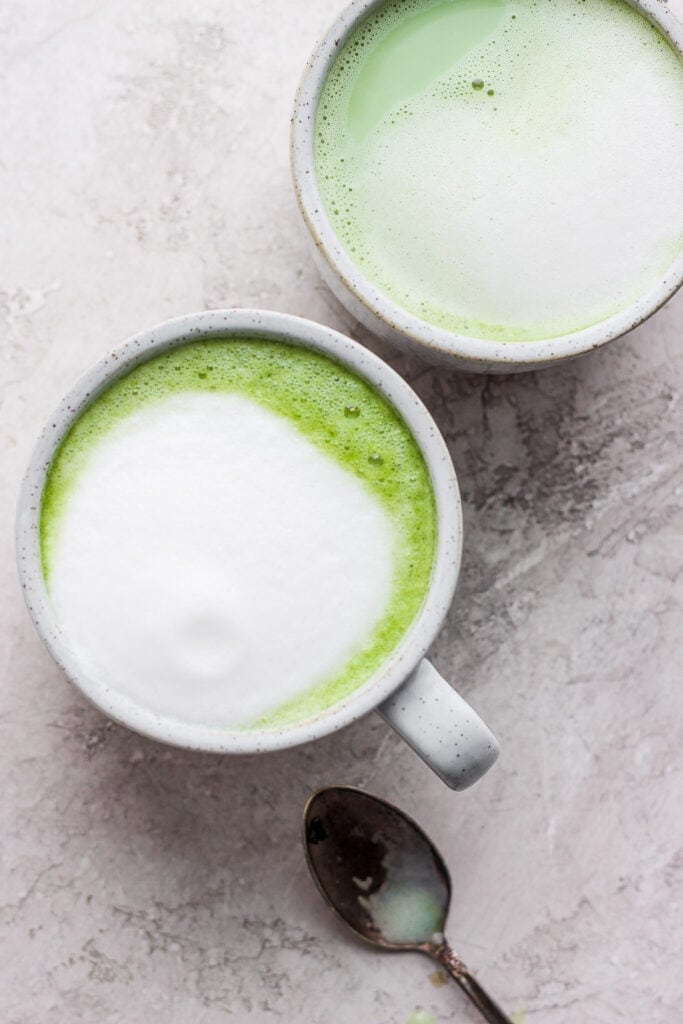 There is nothing better than a little caffeine to start the day and we know you are going to love this creamy matcha green tea latte! This AM drink is naturally sweetened and can easily be made plant-based with your choice of milk.
PS: more of an iced latte kind of person? Try our 4-ingredient Iced Matcha Latte instead!
What is matcha?
Matcha powder is finely ground green tea leaves, thus resulting in a fine, bright green powder. It's high in a catechin called EGCG that is known for having cancer-fighting effects. In addition, it's packed with antioxidants and also contains caffeine, which is why it's commonly drunk in the morning.
Is there caffeine in matcha?
Yes there is caffeine in matcha powder, however coffee has more caffeine than matcha.
caffeine – matcha vs. coffee
Because it's always nice to compare. Here is the caffeine difference between matcha and coffee:
Matcha: Per 1 teaspoon matcha powder, there is about 70 mg. caffeine.
Coffee: Per 8-oz. cup of coffee ,there is about 91 mg. caffeine.
What is a matcha latte?
A matcha latte is made primarily from matcha powder and steamed milk. Typically matcha powder is dissolved in hot water and then combined with steamed milk to make a latte.
What does matcha taste like?
Matcha has a smooth, earthiness to it. It's slightly bitter and slightly sweet.
Best Matcha Powder for Latte
There are lots of matcha powders on the market and our recommendation has thousands of 5-star tried-and-true reviews on Amazon.
Our favorite brand is Matchabar. You can buy it right on their website here or on Amazon here. It's ceremonial grade matcha powder made with green tea from Japan.
the best
Matcha Powder
This is our go-to pure matcha powder that you can use in any recipe that calls for matcha powder.
Ingredients Needed
To make a basic green tea matcha latte, you only need a few plant-based ingredients to get started:
matcha powder – as you know matcha powder is finely ground green tea leaves. When making a matcha latte, a little goes a long way. Per 6 to 8-oz. steamed milk, you need around 1 teaspoon of matcha powder.
hot water – hot water is used to dissolve the matcha so that it can easily mix with the steamed milk.
steamed milk – any kind of milk works, but our favorite milk for steaming is either oat milk or almond milk. Check out our homemade recipes. PS: you can even use steamed cream for this as well.
sweetener – our choice of sweetener is maple syrup because it's warm and plant-based, but you can really use any kind of liquid sweetener such as honey or agave.
Kitchen Tools Needed
Most green tea matcha latte recipes on the internet call for a special matcha whisk (which works wonders by the way), but we wanted to make sure we gave you a household regular that you can use instead!
The answer? A normal whisk! The whole purpose of a matcha whisk is to be able to dissolve the matcha powder in hot liquid so that there are no dry lumps. A normal whisk will accomplish the same thing.
Heck, you can even pour the hot liquid and matcha powder in a mason jar and shake it. Check out other necessary items for perfecting the matcha latte below. You'll also find 2 recommendations for milk frothers. We have both 😀
How to Make Matcha Latte (3 steps)
In just 10 minutes you can whip up (literally :P) a matcha green tea latte. Here's how to do it:
Dissolve matcha: place matcha powder in the bottom of your mug. Then, pour in hot water and use a whisk or electric frother to whisk matcha powder until it dissolves.
Steam Milk: combine your choice of milk and sweetener and steam it until frothy.
Combine: Finally, pour steamed milk into the matcha powder and mix to combine.
try an iced matcha latte!
Treat yourself to an iced matcha latte. Our iced matcha latte recipe uses the same ingredients, but a slightly different method.
How to Make Matcha Latte
Follow this easy tutorial for how to make a matcha latte. Our signature matcha latte recipe calls for 4 ingredients – matcha powder, hot water, steamed milk, and maple syrup. Enjoy!
Prep: 10 minutesCook: 0 minutesTotal: 10 minutes
Fat 2 Carbs 20 Protein 1
Yield 1 1x
Ingredients
1 teaspoon

matcha powder

1 tablespoon

hot water

¾ cup

steamed almond milk (any kind of milk works)

1

–

1.5

tablespoons maple syrup (depending on how sweet you like it)
Instructions
Add matcha powder to the bottom of a mug and then add the hot water. Whisk the two together until there are no lumps.

Next, froth milk and maple syrup together using a milk frother. Follow the directions according to your milk frother. You can also steam your own milk on the stovetop and use a hand frother to froth milk, but make sure not to boil it. Burnt milk is the worst!

Slowly add the steamed milk to the matcha mixture and enjoy!
Tips & Notes
Make sure that the matcha powder fully dissolves in the hot water before combining the matcha and milk. If need be, add more hot water and continue whisking to fully dissolve.
Nutrition Facts
Serving Size: 1 Calories: 103 Sugar: 16 Fat: 2 Carbohydrates: 20 Fiber: 1 Protein: 1
Category:
Drink
Method:
Frother
Cuisine:
Japanese
Diet:
Vegan
Keywords: matcha latte, how to make a matcha latte
Photography: photos taken in this post are by Erin from The Wooden Skillet.