Our favorite salad dressing recipe is a simple vinaigrette made with olive oil, balsamic vinegar, and lemon juice. This salad dressing 5 minutes to whip up and is so flavorful.
Homemade salad dressing is such an easy way to add flavor to not only green salads, but also to grain salads such as quinoa and even meat as a marinade!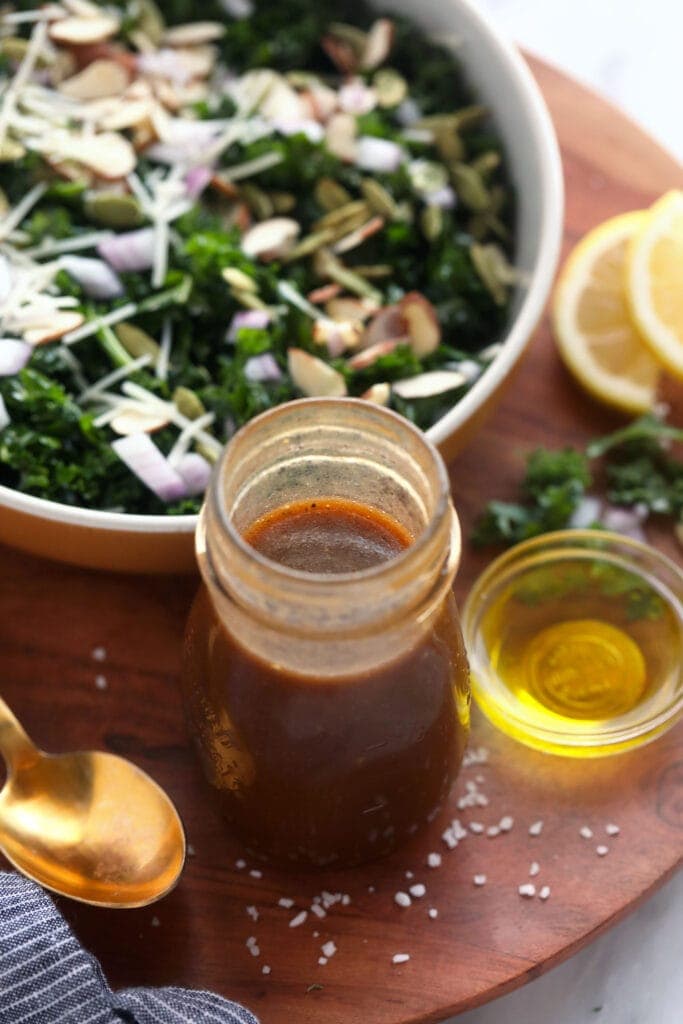 Whether you love oil-based vinaigrette salad dressings or creamy, Greek yogurt-based salad dressings, this is a complete guide to salad dressings.
Why Homemade Salad Dressings?
We get it, store-bought salad dressings are easy and they are delicious, however, we are on team homemade salad dressing and here's why:
Cost – it's likely that you have everything you need to make a homemade salad dressing right now in your kitchen, making homemade salad dressing recipes much more cost effective.
Flavor– homemade salad dressing recipes are more flavorful and made with fresher ingredients, making the flavors more intense.
Types of Salad Dressing
When it comes to salad dressing, there are 2 main types: oil-based and creamy.
oil-based: oil-based dressings are commonly called vinaigrettes. They're made with an oil base such as olive oil, grapeseed oil, or canola oil. Think Italian dressing, Greek dressing, or Poppyseed dressing.
creamy:
Common Salad Dressing Ingredients
When in doubt, you can likely put together a homemade salad dressing with the things you already have in your cubbard. Here is a quick list of common ingredients used in salad dressings!
Oil
Vinegar
Fresh Herbs
Spices
Citrus
Yogurt
Salt and Pepper (always!)
Components of a Salad Dressing
The beauty of making salad dressings at home is that you can make so many different combinations! Do you want an oil-based dressing or creamy? Sweet or savory? Spicy or mild?
Here is an easy step-by-step guide to making your very own dressing at home!
Find A Base
Generally, salad dressings are made from some kind of base such as oil, Greek yogurt, or mayonnaise. As you know, the two types of dressings are oil or creamy, so begin with an ingredient in either of those categories.
Oil
Olive Oil
Grape Seed Oil
Avocado Oil
Sesame Oil
Creamy
Greek yogurt
Hummus
Mayonaisse
Sour cream
Egg yolk
oil swap
Most oils are interchangeable, so if you have to avoid a certain ingredient. Keep in mind that some oils do have different flavor profiles, so the taste of a salad dressing may change slightly if you use a different oil. When in doubt, go olive oil!
Vinegar

and/or citrus

I'm sure you've noticed that most salad dressings have a bit of tang to balance out the oil or creamy base and to create the perfect salad dressing flavor. This is due to one of two things (or both) – vinegar and citrus.

There are more vinegar options on the market than you think. As you are mixing up a salad dressing, keep in mind that all kinds of vinegar are a bit different, so taste test them before using!
Lemon
Lime
Apple Cider Vinegar
Rice Vinegar
White Vinegar
White Wine Vinegar
Balsamic Vinegar
Malt Vinegar
Worcestershire
Hot Sauce
Fresh Herbs & Fruit
One way to give your salad dressing a bit of dimension is to add fresh ingredients! Though it may mean the shelf life for the salad dressing isn't as long, the flavors will be fresh and more complex.
We flavor our avocado dressing with fresh avocado and cilantro and it is out of this world! Feel free to blend any herbs, fruits, or soft veggies into any of your salad dressing.
Avocado
Strawberries
Blueberries
Raspberries
Basil
Cilantro
Parsley
Roasted Pear
Roasted Apple
Other
Flavor

s

Though fresh fruits and herbs do in fact add quite a bit to any salad dressing, don't forget about the power of dried herbs and spices! We have a favorite Italian Seasoning that we keep on hand at all times as well as our favorite garlic powder so we have access to or favorite spices all the time.

Adding a little something sweet to any salad dressing is also SO important and helps to cut the acidity of the vinegar and citrus. We generally stick to natural sweeteners, but you choose your favorite!
Dry Spices: Italian seasoning, garlic powder, basil, and oregano
Sweetener: maple syrup, honey, and agave nectar
Salt and Pepper: (always!)
Easy Preparation
Once you have decided on all of the ingredients for your salad dressing, you have to decide how you are going to mix them all together.
Oil-based: With oil and vinegar-based salad dressing recipes (like our Homemade Italian Dressing), we tend to place all ingredients into a mason jar, close it tight, and shake until all ingredients are combined.
Creamy: For thicker, creamy dressings where herbs, fruits, or veggies need to be blended (like our Avocado Cilantro Lime Dressing, we tend to blend them in our Vitamix!
Keep in mind that the consistency of your salad dressing depends on you and your personal preference. If you like a thicker salad dressing, add less liquid. If you generally like a thinner dressing add a little more oil or water if needed!
Homemade Salad Dressing Q & A
How many types of salad dressings are there? There are two main types of salad dressings – oil-based and creamy.
What can I use instead of salad dressing? If you don't have salad dressing on hand, try drizzling your greens with a little olive oil, lemon juice, and salt and pepper! That is our go-to. Otherwise, a dollop or spoonful or the condiments below would work great as well:
Hummus
Cottage cheese
Tahini
Greek yogurt
Almond/Peanut butter
How long does homemade dressing with garlic last? The shelf life of salad dressing all depends on the ingredients, how you store it, and what container you store it in.
If you have a salad dressing with a fair amount of vinegar and lemon, the shelf life tends to be a bit longer. We like to say our homemade salad dressing recipes will last about 3-5 days in the refrigerator in an airtight container.
Every Salad Dressing Needs a Salad
And because all salad dressings need a salad to to pair it with, we thought we'd share some of our top salad recipes for you to get some inpiration!
Storage
Most homemade salad dressing recipes can be stored in the refrigerator for 3-5 days. Make sure to store them in an airtight container.
Salad Dressing Container Ideas
When it comes to storing salad dressing, the best containers are the ones that are airtight and easily stored in the fridge.
And now, for our absolute favorite salad dressing recipe on Fit Foodie Finds – a simple Balsamic Vinaigrette dressing made with 7 basic ingredients!
We seriously put this dressing on everything from kale salads, to quinoa salads, to even marinating chicken in it!
Simple Vinaigrette Salad Dressing (+15 Best Salad Dressing Recipes)
This simple vinaigrette is one of our favorite salad dressing recipes. It's made with olive oil, balsamic vinegar, lemon, maple syrup, and a little dijon and we literally put it on everything!
Prep: 10 minutesCook: 0 minutesTotal: 10 minutes
Fat 14 Carbs 5 Protein 0
Yield 4 1x
Ingredients
1/4 cup

olive oil

2 tablespoons

balsamic vinegarette

1 tablespoon

maple syrup

1/2 teaspoon

dijon mustard

1

–

2

teaspoons fresh lemon juice
pinch salt
pinch pepper
Instructions
Place all ingredients into a small bowl or Mason jar and mix to combine.
Taste and add more salt and/or pepper, to taste.
Store salad dressing in an airtight container in the refrigerator for up to 3-5 days.
Nutrition Facts
Serving Size: 1/4 Calories: 138 Sugar: 4 Fat: 14 Carbohydrates: 5 Fiber: 0 Protein: 0
Category:
Condiment
Method:
No-Bake
Cuisine:
American
Diet:
Gluten Free
Keywords: salad dressing, salad dressing recipes
Top 3 Healthy Salad Dressings
Greek Salad Dressing
This Greek salad dressing recipe is tangy, sweet, and perfect for Greek salads, marinating meat, and more!
Lemon Vinaigrette Dressing
This Lemon Vinaigrette Dressing will brighten any salad with its fresh flavors! Made from fresh lemon juice, olive oil, white wine vinegar, dijon mustard, minced garlic, and lightly sweetened with maple, this dressing is super easy to make (ready in 10 minutes!) and sure to impress.
Asian Salad Dressing
This Asian Salad Dressing is made with garlic, apple cider vinegar, maple syrup, and a little soy sauce. It's the perfect healthy salad dressing to top on your favorite kale salad or use as a chicken marinade!
More Salad Dressing Recipes