We all need to drink more water! Mix up one of these 4 Fruit Infused Water Recipes to for a refreshing way to stay hydrated.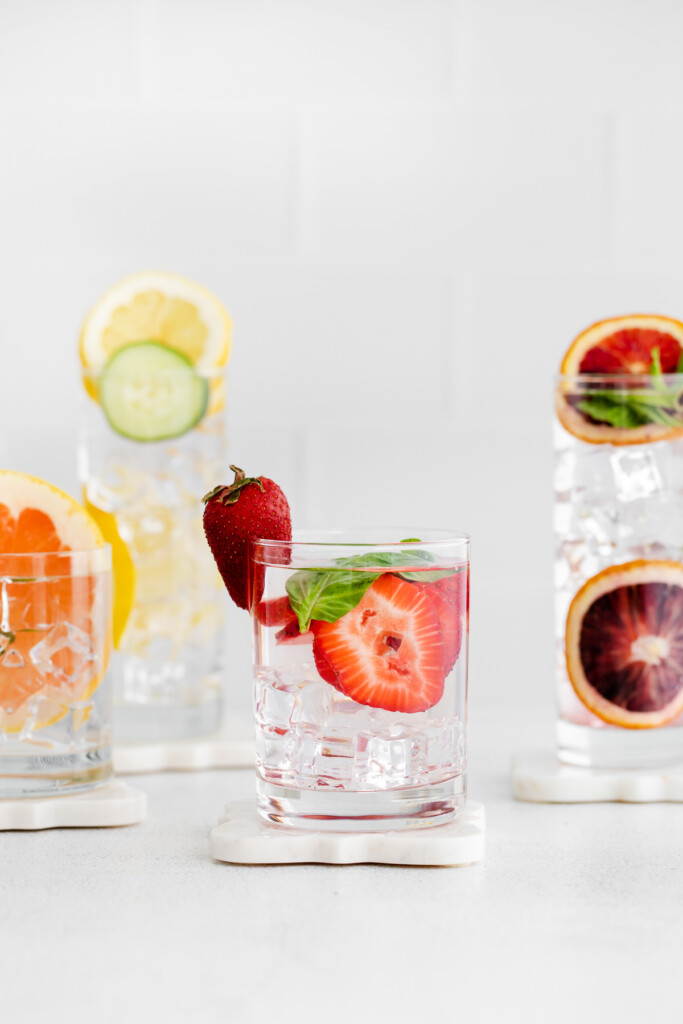 Refreshing Fruit Infused Water
Are you one of those people who needs a little flavor in your water in order to hydrate throughout the day? These refreshing fruit infused water recipes are just the recipe you need!
Fruit infused water keeps you drinking water faster and all day long! Make one of these 4 infused water combinations!
We are all about throwing any combination of fruit, vegetables, and herbs into water, but there are some ingredient combinations that just taste better together!
Tools You'll Need
Here are the tools you need to prepare any flavor of refreshing fruit infused water!
The Best Fruit for Fruit Infused Water
There are so many different fruit and vegetable combinations that you use to make infused water. Here are some guidelines to follow when choosing fruit and veggies for your water.
Bright + Flavorful
When you are choosing ingredients for infused water you want to choose fruits and vegetables that are flavorful on their own. The more flavor your fruits and vegetables have the more flavor they will offer your infused water.
Below are some flavorful ingredients that work every time!
Ingredients that Absorb
Fruits like lemons, oranges, berries, and melons make great fruits because they can both give flavor and absorb water. You don't want to use fruits like bananas or vegetables like cauliflower because they are too dense!
Herbs
No matter what vegetables and fruits you decide to use, don't forget to add fresh herbs to your infused water! They take the flavor up a notch in any recipe.
What Container Should I Use to Infuse Water?
You can mix up a single serving of any of these fruit infused water flavors or you can make infused water for a crowd.
Single Serve: If you are mixing up just one serving of water, feel free to use a mason jar, a pint glass, or even a water bottle.
For a Crowd: If you are making fruit infused water for a crowd feel free to use a large mason jar, a normal pitcher, or get fancy fruit infusion pitcher.
Infuser
Water Bottle
Get yourself a water bottle to infuse water on the go with your favorite fruits, veggies, and fresh herbs.
How to Make Fruit Infused Water
Place all of the ingredients for the fruit infused water into the bottom of a pitcher, glass, or water bottle.
Cover the ingredients in water and stir to combine.
Place the pitcher or the container in the refrigerator and let the water sit for at least 2 hours.
here's a tip
To get the most out of all the ingredients in your infused water, trying muddling the ingredients with a muddler or with the end of a wooden spoon. Then add water to the container.
All the Best Fruit Infused Water Flavors
Here are all of the best fruit infused water flavors! They have the perfect combination of fruit, veggies, and fresh herbs to mix up the most flavorful water that will keep you hydrated all day long!
Blood Orange + Mint
Blood orange and mint are the most amazing and refreshing combination. You get vitamin C from the oranges and a refreshing wave of flavor from the fresh mint.
If you can't find blood oranges, any orange will do just fine, too!
Cucumber + Lemon
The combination of cucumber and lemon are a great detoxifying combination that is great for digestion!
Grapefruit + Rosemary
Grapefruit and rosemary is a delicious combination that is the perfect combination of tart and warm flavors.
Strawberry + Basil
Is there any more classic of a combination than strawberry and basil? This strawberry and basil infused water is the most delicious and refreshing summer infused water.
Infused Water Frequently Asked Questions
Is fruit infused water good for you?
Yes, any water you drink is good for you! Flavored water with some added fruits and vegetables is always a plus!
How long do you leave fruit in infused water?
You can let the water infuse for at least 2 hours but overnight for optimal flavor! We don't recommend leaving the fruit in the water for more than 3 days, the fruit begins to sour if you leave it for too long.
What is the healthiest infused water?
Every combination of infused water is healthy!
4 Fruit Infused Water Recipes
Make one of these refreshing fruit infused water recipes to stay hydrated throughout the day!
Prep: 10 minutesCook: 0 minutesTotal: 10 minutes
Fat Varies
Carbs Varies
Protein Varies
Yield 4 servings 1x
Ingredients
Grapefruit + Rosemary
6

–

8

cups filtered water

1

medium grapefruit, sliced

8

–

10

sprigs fresh rosemary

Ice, for serving
Cucumber + Lemon
6

–

8

cups filtered water

½

medium cucumber, sliced

1

large lemon, sliced

Ice, for serving
Blood Orange + Mint
6

–

8

cups filtered water

1

large blood orange, sliced

10

mint leaves

Ice, for serving



Strawberry + Basil
6

–

8

cups filtered water

1 cup

sliced strawberries

6

basil leaves

Ice, for serving
Instructions
First, choose one of the flavors listed above.

Next, add the water along with the sliced fruit and herbs into a pitcher and mix to combine.

Let sit in the fridge for at least 30 minutes or up to 2 hours to infuse.

Serve fruit infused water over ice.
Tips & Notes
Each of the above recipe flavors serves 4.
Storage: store fruit infused water in the refrigerator for up to 24-48 hours.
Nutrition Facts
Serving Size: 1/4
Calories: Varies
Sugar: Varies
Fat: Varies
Carbohydrates: Varies
Fiber: Varies
Protein: Varies
Keywords: fruit infused water
This post is sponsored by POM. We were compensated and all opinions are our own. Thank you for supporting Fit Foodie Finds and making this website possible.