No need to buy teriyaki sauce when you can make a homemade teriyaki sauce recipe in your own kitchen! Bonus, this teriyaki sauce can also double as a marinade.
Need some inspiration for what to do with this better than store bought teriyaki sauce? Start with our crockpot teriyaki chicken!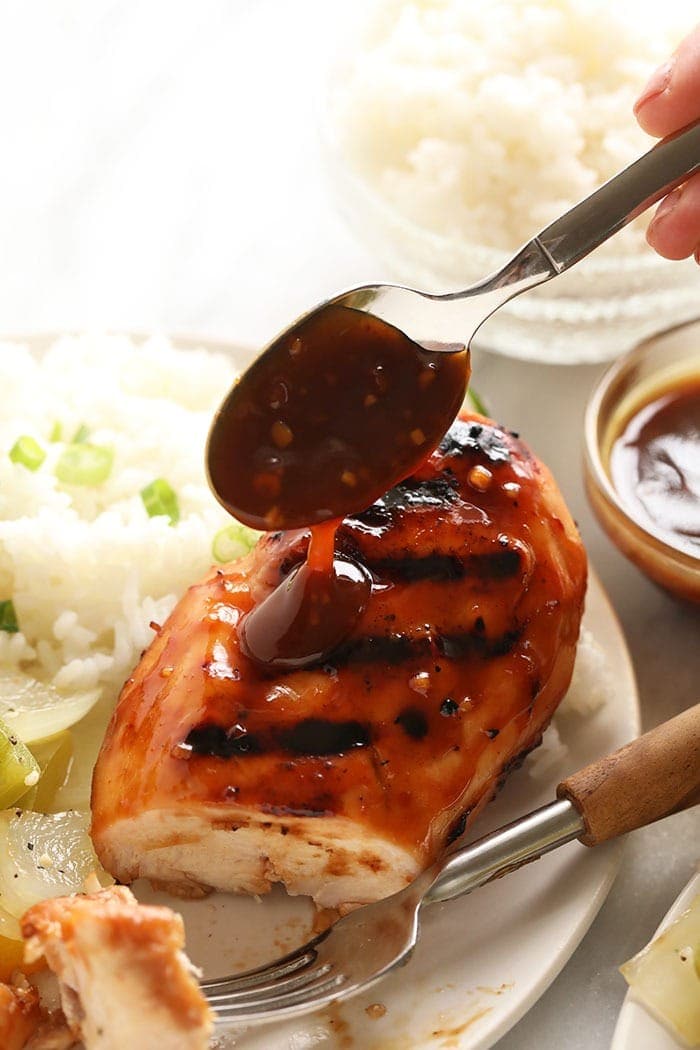 Best Homemade Teriyaki Sauce
We're so glad you landed on this homemade teriyaki sauce because it's truly a fan favorite (and one of our favs, too!). This teriyaki sauce recipe whips together in less than 10 minutes and is the perfect addition to any stir fry, grilled or baked chicken, and more!
the low down
Here's the low-down on this teriyaki sauce recipe:
Made with 5 ingredients
Sweetened with all-natural sugar
Easily gluten-free
Ready in 10 minutes
What does teriyaki sauce taste like?
Teryaki sauce is a thick, sweet, soy sauce-based sauce.
What is teriyaki sauce made of?
Our homemade teriyaki sauce is made with a soy sauce base and garlic base and is sweetened with maple syrup (and honey). It has hints of freshly grated ginger and a zing from sriracha.
How to Make Teriyaki Sauce
Are you wondering how do you make teriyaki sauce from scratch? Whether you're looking for a homemade teriyaki sauce recipe that's better-for-you or just an easy teriyaki sauce to make in your own kitchen, we've got the recipe for you!
Teriyaki sauce is such a yummy sweet and savory sauce to add to stir-frys, grilled chicken, and pretty much any vegetable. Today, we're taking the classic teriyaki sauce and using ingredients that are easy to find and that you probably have on hand in your own kitchen.
Teriyaki Sauce Ingredients
Classic, store-bought teriyaki sauce is made with soy sauce, sake, sugar, and ginger. While our recipe swaps out some of the classic ingredients, it's still delicious and very much-so tastes like classic teriyaki sauce!
This homemade teriyaki sauce recipe calls for 5 basic ingredients and a little bit of cornstarch to thicken things up, so let's get started!
soy sauce or tamari – we suggest using normal soy sauce, but you can also use low-sodium soy sauce if you're hoping to lower the salt content. Additionally, you can use tamari for a gluten-fre option.
maple syrup – we love using maple syrup in homemade teriyaki sauce because the warm sweetness plays with soy sauce and it's better-for-you. Feel free to swap for honey.
minced garlic – you can never use too much garlic!
fresh ginger – fresh ginger is such a bright add to this recipe because it adds depth and another flavor profile.
sriracha – while sriracha is optional, a little bit of heat rounds out this recipe!
You'll notice one outlier in this recipe compared to most and it's maple syrup. Most teriyaki sauce recipes call for brown sugar, however, we've found that maple syrup is equally as delicious, if not better. Plus, it's an all-natural sugar with an amazing caramel flavor.
Mix it all together!
Once you've got all of your ingredients measured out, all you have to do is mix them together and you've got your sauce.
How to Thicken Homemade Teriyaki Sauce
If you're hoping to thicken this sauce for a stir fry or any kind of serving sauce, all you have to do is:
First, create a corn starch slurry. Which together cornstarch and warm water until dissolved. Set aside.
Next, transfer teriyaki sauce into a small saucepan.
Heat it over medium/high heat.
Once the teriyaki sauce begins to simmer, whisk in the cornstarch slurry.
Turn heat down to medium and continue whisking until it thickens.
Quick Q&A
What is teriyaki sauce made of? Store-bought teriyaki sauce is made from a base of soy sauce, sugar, sake (or mirin), and ginger.
What is the difference between soy sauce and teriyaki sauce? Teriyaki sauce has soy sauce in it and is thicker and sweeter than soy sauce.
What is the best teriyaki sauce? We might be biased, but the best teriyaki sauce is homemade teriyaki sauce! Scroll down for our recipe!
Is teriyaki sauce unhealthy? Store-bought teriyaki sauce definitely isn't the best for you because it's high in sodium and sugar. However, homemade teriyaki sauce is better for you because you can make some swaps such as a low-sodium soy sauce and maple syrup to make it better for you.
Is teriyaki sauce the same as marinade? You can use teriyaki sauce and teriyaki marinade interchangeably.
How to Use Teriyaki Sauce
Stir Fry: our favorite thing to make with homemade teriyaki sauce is stir fry. Our chicken stir fry combines this sauce with chicken and veggies for an easy weeknight meal.
Dip/Sauce: looking for something thick and sweet to use as a sauce or dip? This is your answer!
Meat Marinade: Teriyaki is such a great meat marinade. Marinate 1 lb. of chicken breast, salmon, pork chops, shrimp, etc. in 1/2 cup of homemade teriyaki sauce for about 30 minutes.
Try our teriyaki chicken marinade!
Looking for a quick teriyaki chicken marinade? Check out our easy tutorial HERE or simply mix up a batch of this marinade and transfer it into a square casserole dish or gallon-size plastic bag.
Then, submerge your chicken breast in the marinade and let marinate for 30 minutes to 24-hours.
PS: Learn how to make our favorite Grilled Teriyaki Chicken and Crockpot Teriyaki Chicken that use this amazing homemade sauce.
Homemade Teriyaki Sauce Recipe
No need to buy teriyaki sauce when you can make a homemade teriyaki sauce in your own kitchen! Bonus, this teriyaki marinade is healthy and gluten-free!
Prep: 10 minutesCook: 0 minutesTotal: 10 minutes
Fat 0 Carbs 13 Protein 2
Yield 1/2 cup 1x
Ingredients
3 tablespoons

maple syrup

1 tablespoon

minced garlic

2 teaspoons

fresh grated ginger
optional: 1 teaspoon sriracha
optional thickener: 2 teaspoons corn starch + 2 tablespoons warm water
Instructions
Place soy sauce, maple syrup, minced garlic, and ginger into a mason jar.
Close the lid and shake until combined.
Option to add sriracha if you like a little spice. We suggest adding sriracha by the teaspoon.
To thicken: First, make a corn starch slurry. Whisk together 2 teaspoons cornstarch with 2 tablespoons of hot water until dissolved. Next, place teriyaki sauce in a small saucepan and heat over medium/high heat. Once the sauce begins to simmer, add in the cornstarch slurry and whisk until combined. Turn the heat down to medium and continue whisking until it begins to thicken.
Tips & Notes
Nutrition information does not include sriracha or cornstarch.
Nutrition Facts
Serving Size: 2 tablespoons Calories: 56 Sugar: 10 Fat: 0 Carbohydrates: 13 Fiber: 0 Protein: 2
Category:
Sauce
Method:
No Bake
Cuisine:
Asian
Keywords: homemade teriyaki sauce