This Tuscan Turkey Soup is the perfect leftover turkey soup recipe. It's packed with hearty vegetables, leftover turkey meat, a delicious broth, and made completely in the Instant Pot.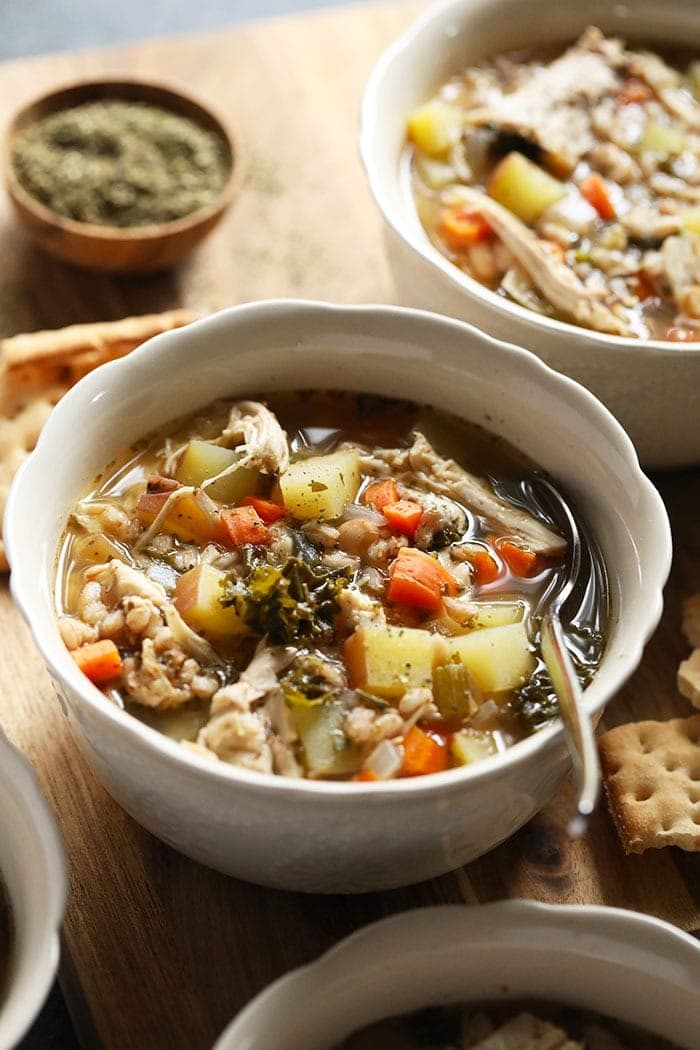 Best Leftover Turkey Soup
Got Thanksgiving leftovers? Us too! That's why we've come up with a super simple way to use up all of your leftover turkey from the big day.
This leftover turkey soup recipe is made with leftover turkey meat, tons of veggies, farro, and Tuscan spices making it the perfect soup to eat all weekend long.
Main Ingredients
Turkey Meat: obviously the star of the show here is leftover Thanksgiving turkey! You can use either white or dark meat and you'll need about 3 cups, shredded.
Veggies: what is soup without all the veg! This recipe is packed full of some of my favorite vegetables. Here's what you need:
carrots
onion
celery
potatoes
kale
white northern beans
Farro: Farro is our grain of choice for this leftover turkey soup and I can't wait for you to try it. Typically farro takes forever to make on the stovetop, but in the Instant Pot, all you need is 10 minutes!
Spices/Broth: Chicken broth, Italian seasoning, garlic, and bay leaf is what gives this recipe a Tuscan flare.
#1 secret ingredient for soup
VINEGAR –> white vinegar, apple cider vinegar, any kind of vinegar is going to give your soup that bit of zing that brings out all of the delicious flavors. A little goes a long way!
PS: if you're a spice person, try adding a vinegar-based hot sauce instead of actual vinegar.
How to Make Turkey Soup from Leftovers
This turkey soup from Thanksgiving leftovers doesn't get any easier than 3 steps. Check it:
Step 1: Cook Farro in the Instant Pot
Since farro takes a bit longer to cook than the veggies in this turkey soup recipe, that's the first thing you'll do. Place uncooked farro and water into your Instant Pot and cook on high for 10 minutes.
10 minutes will get your farro al dente. But, don't worry! You'll be adding a few more minutes onto that cooktime with the rest of the ingredients.
Step 2: Chop & Measure
While your farro is cooking in the Instant Pot, now is a good time to chop your veggies and measure out the rest of the ingredients.
Tip: make sure that all of your veggies are bite-sized and around the same size so that they cook evenly!
Step 3: Add Remaining Ingredients and Pressure Cook
Next, add the rest of your ingredients (minus the leftover turkey) to the Instant Pot and cook on high for 2 minutes. Once the timer goes off, quick release and let the steam pour out.
Add in leftover shredded turkey, and voila! That's seriously it. And now you have the most delicious leftover turkey vegetable soup your tummy has ever experienced.
pressure build
Your Instant Pot will take around 20 minutes to build up enough pressure to start counting down from 2 minutes. This is completely normal!
Recipe Substitutions
Turkey: This turkey soup is perfect for leftover Thanksgiving turkey, but should you not have any extra turkey on hand, you can absolutely use a store-bought rotisserie chicken or shredded chicken breasts instead.
Beans: Don't have white beans? Use whatever kind of beans you have!
Broth: Any kind of broth works, but we prefer chicken.
Leftover Turkey Soup Storage
Store your soup in an air-tight container in either the refrigerator or freezer. This soup will keep for 5-7 days in the fridge, or up to 3 months in the freezer.
How to Freeze Leftover Turkey Soup
After letting the soup cool completely, pour soup into a freezer safe container. Here are a few things to keep in mind when preparing to freeze soup.
Pro Tip –> Liquid expands when you freeze it so do not fill your freezer safe container all the way full. Leave 1-2 inches of space in a bag or container for the liquid to expand.
Pro Tip #2 –> If you are using a glass or plastic container, line the top of the soup with a piece of plastic wrap to reduce the risk fo freezer burn. The less air in the container the better.
Pro Tip #3 –> Don't forget to label the freezer safe container with an "eat by" date! Yes, this is important! You can keep frozen soup in the freezer for up to 3 months.
We suggest labeling the soup with that date to keep track of when you must eat the soup!
check it out!
We have an entire post on How to Freeze Soup that you should totally check out. It shares all of our soup freezing secrets…and then some!
How to Thaw Frozen Soup
When you are ready to reheat your soup, you have a couple of options!
Thaw in the refrigerator: If you have time to thaw the soup in the refrigerator, we suggest taking the soup out of the freezer and letting it thaw out on it's own in the refrigerator for 1-2 days.
Thaw in a water bath: If you need to expedite the thawing process, place your bag or container in a warm water bath until soup loosens from the side of the container. Pour soup (which might still be an ice block) into a large saucepan.
Heat over low/medium heat until soup thaws out completely. Add additional liquid and then bring to a boil and serve.
Best Leftover Turkey Soup
The best way to use up your Thanksgiving leftovers is with this Leftover Turkey Soup recipe! This Tuscan Turkey Soup is packed with farro, tons of veggies, and a delicious broth.
Prep: 20 minutesCook: 1 hourTotal: 1 hour 20 minutes
Fat 12 Carbs 50 Protein 23
Yield 8 1x
Ingredients
1 cup

uncooked farro

2 cups

water

3

celery stalks, diced

4

medium carrots, finely diced

1/2

large yellow onion, finely diced

6

small red potatoes, diced (or

3 cups

diced)

1

15-oz can white northern beans

2

stalks kale, deboned and chopped

2 tablespoons

Italian seasoning

2 teaspoon

garlic powder

2

bay leaves

1 teaspoon

salt

1/2 teaspoon

ground pepper

1 tablespoon

white vinegar

2

–

3

tablespoon hot sauce (or sub more vinegar)

8 cups

chicken broth

3 cups

of leftover turkey, diced or shredded (or rotisserie chicken)
Instructions
First make the farro. Combine water and farro in your Instant Pot and close lid. Turn the valve to seal and cook on high for 10 minutes. Immediately open valve to vent in order to quick release.
Add the rest of the ingredients (minus the turkey) into the Instant Pot and close the lid. Turn the valve to seal and cook on high for 2 minutes. It should take around 20 minutes for the Instant Pot to build enough pressure to start counting down from 20. Once the timer goes off, quick release and open the valve.
After all of the steam has let out of the Instant Pot, open the lid and stir.
Then, add in leftover turkey and stir again. Serve immediately.
Tips & Notes
The second time you turn the Instant Pot on, it will take longer to heat up due to the volume of ingredients in the soup.
Option to sub rotisserie chicken for the leftover turkey.
Nutrition Facts
Serving Size: 1/8 Calories: 319 Sugar: 4 Fat: 12 Carbohydrates: 50 Fiber: 3 Protein: 23
Category:
Dinner
Method:
Instant Pot
Cuisine:
American
Diet:
Gluten Free
Keywords: leftover turkey soup