Whip up a batch of this delicious lemon chicken marinade in 5 minutes with 8 simple ingredients — and no fillers!
This lemon chicken marinade makes for juicy and flavorful chicken every time! Enjoy.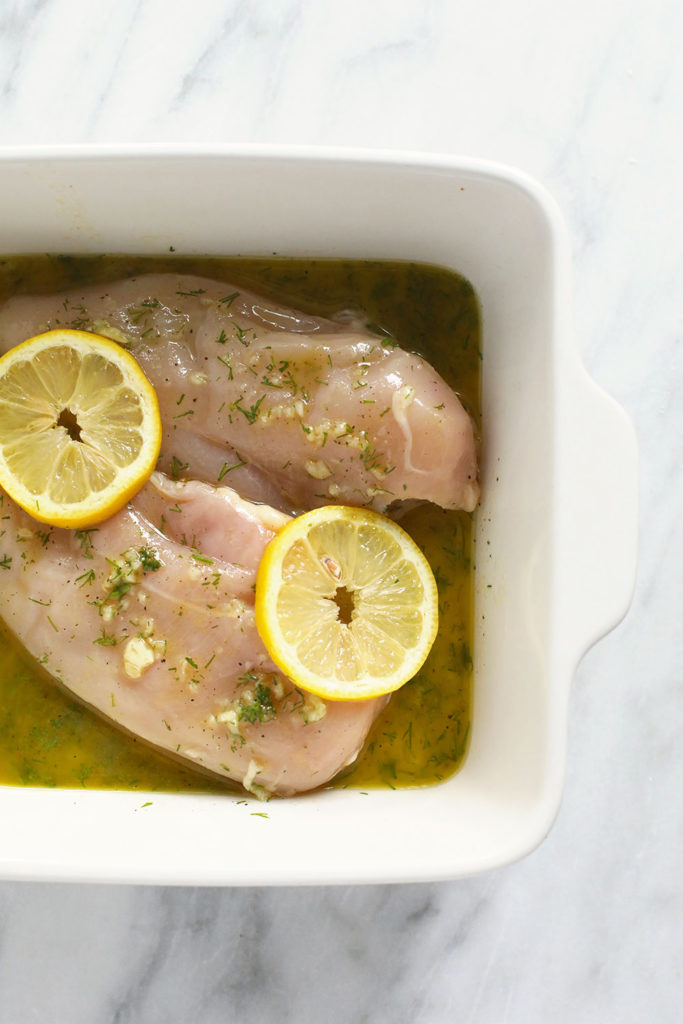 Ultimate Lemon Chicken Marinade
This lemon chicken marinade is perfectly tart and savory, and will quickly become a go-to in your kitchen just like it has in ours!
Whip up this chicken marinade with 8 simple ingredients, and feel good about it being:
kid-friendly
ready in 5 minutes
gluten-free friendly
refined-sugar free
made without fillers
What You Need
Al you need is 8 simple ingredients for this go-to marinade:
Lemon juice: Don't skimp on this! We prefer fresh squeezed lemon juice.
Olive oil: The perfect amount of olive oil will help keep this chicken moist and delicious during the marinating and cooking process.
Fresh dill: We love the flavor profile fresh dill brings to this chicken, but dried dill will also work here!
Garlic cloves: Don't skimp on the garlic, friends! We keep a tube of minced garlic in the fridge at all times.
Ground mustard: Mustard is a great complement to chicken, and we love how it complements the lemon and dill profile of this marinade!
White rice vinegar: This will balance out the citrus and honey, and give your marinade that delicious tang.
Honey: Honey is our preferred sweetener for lemon chicken. It has a delicious sweet flavor and is refined sugar-free!
Salt: So simple, but adds such great flavor!
Easy Ingredient Swaps
Maple instead of honey
Dried dill instead of fresh dill
White wine vinegar instead of white rice vinegar
How Long to Marinate Lemon Chicken
The biggest piece of advice we have when marinating chicken is the longer the better! If you can marinate your chicken for 24-hours, do it! The flavors will be the most infused and delicious this way.
However, if you only have 30 minutes or 2 hours, that's okay, too.
A few tips
Feel free to use either a baking dish or gallon-size plastic bag to marinate your chicken in.
Make sure your chicken is fully submerged in the marinade. If you're using a baking dish, flip your chicken halfway through.
Make sure to marinate your chicken in the fridge and not on the countertop to prevent foodborne illness.
Ways to Cook Lemon Chicken
Oven – follow this easy baked lemon chicken recipe for directions on how to bake the most perfect marinated chicken!
Grill – use our grilled greek lemon chicken recipe as a resource.
Instant Pot – plop your chicken and marinade right into your Instant Pot and in no time, you've got dinner!
Slow Cooker – easily whip up lemon chicken by placing chicken and marinade in your slow cooker for the most tender shredded chicken recipe!
Sous Vide – want super tender chicken? Use your sous vide to get perfect marinated chicken every time.
Lemon Chicken Baking Instructions
Baking marinated lemon chicken breast is super simple. Simply transfer the marinated chicken plus the excess lemon chicken marinade into a baking dish.
Bake at 375ºF for around 20-25 minutes or until the internal temperature reaches 165ºF. We suggest using a meat thermometer to check the internal temperature of your chicken instead of eyeballing it.
Checks out full instructions here on how to bake chicken breast.
Freezing Instructions
One of our favorite things to do with chicken marinades is to batch produce them and freeze for later! For example, you can make 3 or 4 batches of this lemon chicken marinade and freeze it for another time. Here's how to do it:
Place the lemon chicken marinade along with 1 to 1.5 lbs. of raw chicken chicken breast into a freezer-safe gallon-size bag.
Remove as much air as possible and then seal.
Write "Lemon Chicken" on the front of the bag along with the date. Freeze for up to 3 months.
How long does frozen chicken last? Your frozen lemon chicken will last up to 3 months in the freezer.
Lemon Chicken Marinade
Whip up a batch of this delicious lemon chicken marinade in 5 minutes with 8 simple ingredients — and no fillers!
Prep: 5 minutesCook: 0 minutesTotal: 5 minutes
Fat 16 Carbs 4 Protein 27
Yield 4 servings 1x
Ingredients
1

–

1.5

lbs. boneless skinless chicken breast

1/4 cup

olive oil

2

garlic cloves, minced

3 tablespoons

lemon juice

1/2 teaspoon

ground mustard

1 tablespoon

fresh dill

1/2 tablespoon

white rice vinegar

2 teaspoons

honey (or maple syrup)

1/4 teaspoon

salt
Instructions
Place all ingredients for the lemon chicken marinade (minus the chicken breast) into a medium bowl and whisk to combine.
Place chicken breast into a glass container or gallon-size bag. Then, pour the marinade on top of the chicken, making sure it is covered.
Let chicken marinate in the refrigerator for at least 30 minutes, or for best results, overnight.
Tips & Notes
Nutrition is for 1 lb. chicken
Nutrition Facts
Serving Size: 1/4 recipe Calories: 262 Sugar: 3 Sodium: 206 Fat: 16 Carbohydrates: 4 Fiber: 0 Protein: 27 Cholesterol: 71
Category:
Marinades
Method:
No Bake
Cuisine:
American
Keywords: lemon chicken marinade