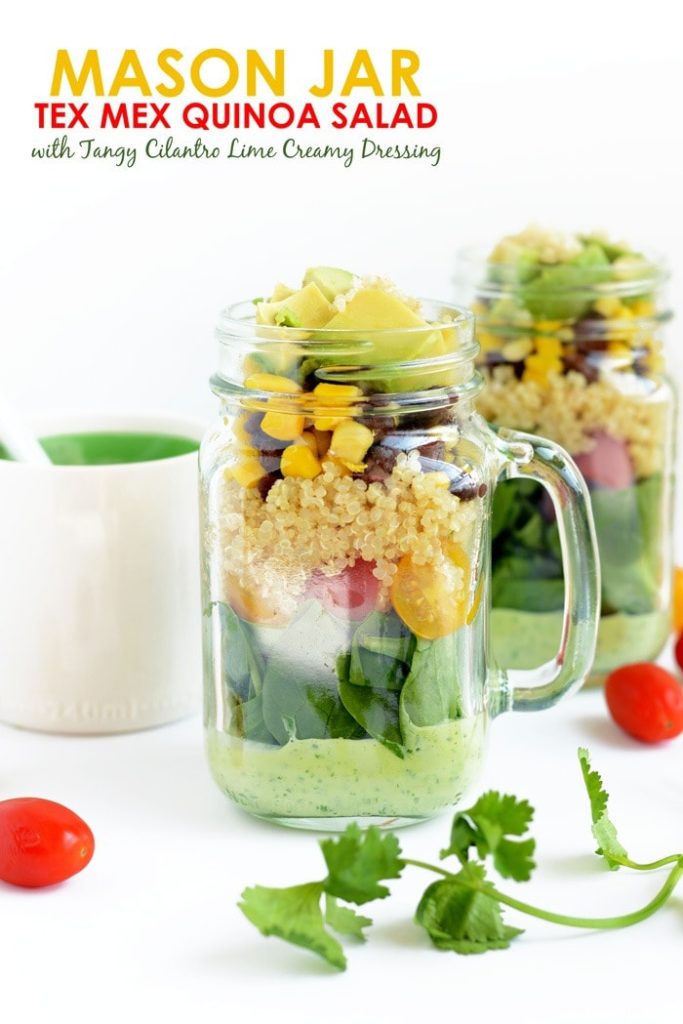 Healthy Mason Jar Recipes
Who else is into mason jars? We love to use mason jars for literally everything. They are great for meal prep, food storage, and even for shaking up protein shakes!
We use mason jars for our overnight oat recipes, salad dressings, and smoothies! Mason jars are also a great vessel for mason jar salads like this Tex Mex Quinoa Mason Jar Salad!
Ingredients You'll Need
In reality you can really put any or our healthy salad recipes in a mason jar. However, this tex mex quinoa jar is the perfect salad for a mason jar because it's made with hearty ingredients that can be stored for a couple of days!
Here's what you need!
Greek yogurt
Rice vinegar
Cilantro
Lime
Salt + pepper
Olive oil
Minced garlic
Ground cumin
Quinoa
Black beans
Corn
Spinach
Tomatoes
Avocados
Meal Prep Salad Tips + Tricks
Layering is Important
When you are making your mason jar salad, where you put each ingredient is important. For example, you want to pour your dressing in first so it sits at the bottom of the jar so it doesn't make all of the ingredients in your salad mushy!
Start with the dressing and go up from there! Check out the image below these tips and tricks for a visual on how to build a mason jar salad!
How do you choose ingredients for your mason jar salad?
You want to choose ingredients that last in a meal prep container in the refrigerator. We chose spinach, quinoa, beans, and corn because they are all hearty ingredients that tend to keep better in the refrigerator!
The only ingredient in this salad that you should wait to add until right before eating is the avocado!
Mason Jar Ingredient Substitution
If you don't have every ingredient you need for this mason jar salad, below are some great substitution options!
black beans –> garbanzo beans
corn–> chopped carrots
spinach–> romaine lettuce
quinoa–> rice
tomatoes–> roasted sweet potatoes
How do I eat a mason jar salad?
You can shake up your mason jar salad in the jar or you can pour it into a bowl, mix and enjoy it that way, too!