This list of healthy oatmeal recipes brings you all the oatmeal flavor combos you could ever imagine. With its high fiber content, oatmeal is sure to keep you full all morning to conquer the day ahead!
Check out the 50 best oatmeal recipes on the planet plus a guide in making the perfect bowl of oats below.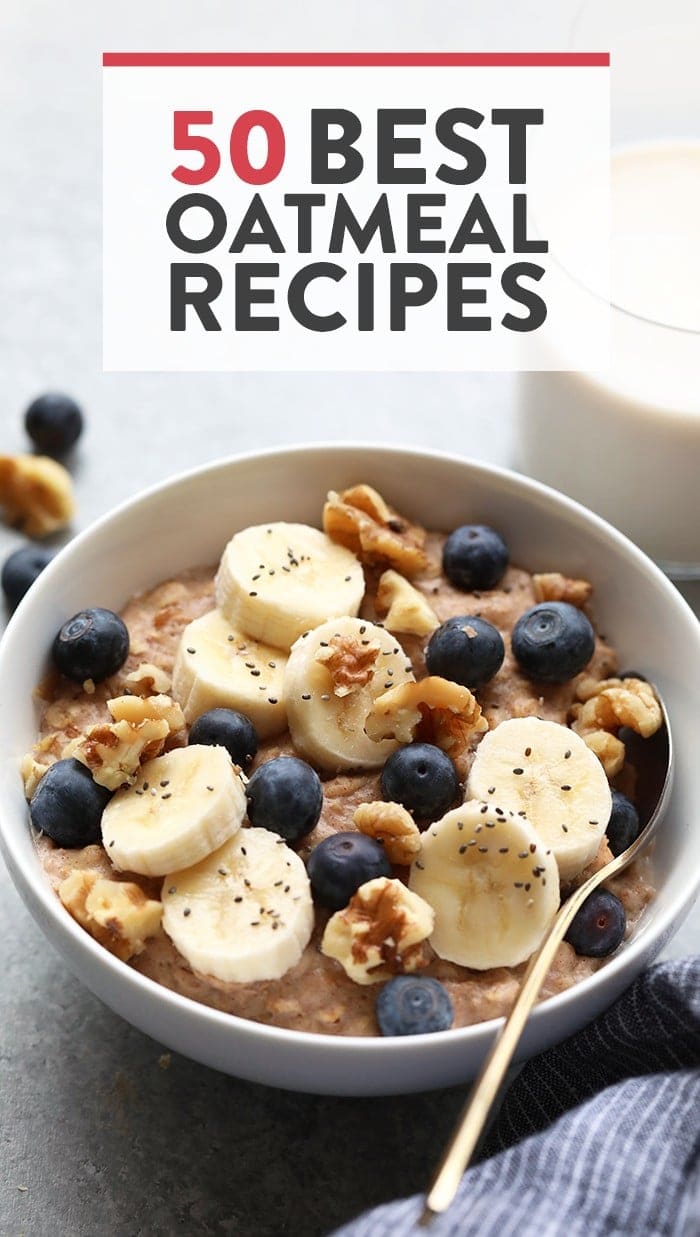 Guess what Thursday calls for?
All Things Oatmeal
I can't wait to talk about all things oatmeal. I've been an oatmeal lover since college and haven't turned back since. From stove-top oats to overnight oats to slower cooker oats to oats in the Instant Pot…oatmeal will forever be my breakfast of choice.
Why do I love oats so much? Well, they're…
High in fiber and antioxidants
Satisfying
100% whole grain
Gluten-free and vegan-friendly
The best healthy breakfast ever
Plus, oatmeal makes you regular…aka it helps you poop. You know I'm all about my morning poop, so that's just another one of the million reasons I love oatmeal.
Oatmeal Kitchen Staples
To get you started on your healthy oatmeal making journey, we've rounded up some kitchen staples. These kitchen appliances and items will make your morning oatmeal a breeze!
Oatmeal Ingredient Staples
Since I am an oatmeal connoisseur (:P) and know all the good stuff that should be included in your very own oatmeal recipe, here are some of our must-have ingredients.
With that said, I thought it would be an excellet idea to share a basic, super simple, 5-minute healthy oatmeal recipe that you could make a staple in your own kitchen. Feel free to add whatever you'd like and get creative with the toppings. Enjoy!
5-Minute Healthy Oatmeal Recipe
With just 5 simple ingredients you can make the most delicious stove-top oatmeal recipe on the planet. This oatmeal recipe is a staple in my home and I often add other flavors and add-ins to make it even more delicious. PS: it's refined sugar-free and naturally gluten-free!
Prep: 5 minutesCook: 5 minutesTotal: 10 minutes
Fat 6 Carbs 43 Protein 7
Yield 2 1x
Ingredients
Instructions
Combine all ingredients into a small saucepan and turn heat to medium/high.
Bring to a boil. Then, turn the heat down to low/medium and continually stir for around 3-5 minutes as the oatmeal cooks and thickens.
Once oatmeal is at the desired consistency, remove from heat, and serve immediately.
Nutrition Facts
Serving Size: 1/2 Calories: 238 Sugar: 9 Fat: 6 Carbohydrates: 43 Fiber: 7 Protein: 7
Category:
Breakfast
Method:
Stove-Top
Cuisine:
American
Diet:
Gluten Free
If you didn't like that oatmeal recipe above, we've got a lot more inspo where that came from! Now check out these 50 delicious oatmeal recipes that will turn you into an absolute oatmeal lover…if you aren't already there 😉
PS: It's National Oatmeal Day and I didn't even know it. #winningatlife.
Stovetop Oatmeal Recipes
Stovetop oatmeal recipes take a little extra effort, but they make your oatmeal extra fluffy and delicious. Check out some of the best stovetop oatmeal recipes on the internet below!
Overnight Oatmeal Recipes
Overnight oats are an easy way to meal-prep your breakfast for the week. You only need a few staple ingredients and then different add-ons to make a breakfast that tastes like dessert, but that's actually healthy!
Baked Oatmeal Recipes
Oatmeal doesn't have to be boring! Make one of these amazing baked oatmeal recipes for a crowd-pleasing breakfast.
Slow Cooker and Instant Pot Oatmeal Recipes
Throw all of your ingredients for one of these slow cooker oatmeal recipes into your crock-pot and you've got a healthy breakfast recipe waiting to be eaten.
Oatmeal FAQ
We've gotten lots of questions over the years about oatmeal and thought we could hopefully answer some questions that you have in case you were wondering!
Is oatmeal good for weight loss? While I am not a registered dietitian, I do know that oatmeal is packed with fiber, antioxidants, and whole grains which are recommended for a healthy lifestyle and weight loss.
Why is oatmeal good for you? Oatmeal is an excellent grain choice because it's whole, naturally gluten-free, vegan, and minimally processed.
How to make oatmeal taste good: There are so many ways to make oatmeal taste good and I suggested using one of the above recipes to do so! For starts, think fresh or dried fruit, nuts, seeds, and more!
How much fiber/carbs/calories are in oatmeal? Per 1/2 cup (dry) serving, there are 3g fiber, 27g carbs, 150 calories, 3g fat in rolled oatmeal. You can find this information HERE.
So…….
I've been meaning to share some personal "news" with you for a couple of months now and I guess there's no better day to do it than today. I'm quitting the blog.
Psych.
I'm single.
While I know that I don't owe it to anyone to share my personal life on FFF, I feel like I owe it to myself to share it with you. FFF is supposed to be a place to inspire you to be the best version of yourself. The best version of YOU or ME doesn't come with just the good. It takes difficult times in life to really make you who you are and this breakup is one of them. After 3.5 years, Blake and I parted ways in May and it wasn't an easy thing for either of us to do. Sometimes when you're running a thousand miles an hour and flying by the seat of your pants, you let that little word called "relationship" slip away. Sometimes two people who were once so in love can grow in different directions and not even realize they're drifting until life happens. I don't and will never regret a single moment from our relationship because I truly believe that every single person comes into your life for a reason, for better or for worse.
I remember when we had just broken up, I felt like I was dying inside and that nothing would ever make me sparkle again. My amazing friends and family kept repeating one thing to me- TIMEEEEE. My response at the time was- FUCK YOU TIME IS BULLSHIT. Seriously though, they were right. Time is my friend and I am happy. While I spared you a lot of details, I wanted to let you know that I am doing great. Heartbreak isn't easy. It sucks, but life is good. I am loving every single second of my new and single life. I've got my own apartment and no one to worry about but my plants (which I kill on a weekly basis). I'm drinking boatloads of coffee, exploring Minnesota's beautiful state parks, going to bed early, taking naps, laughing, and having a LOT of girl time.
Before we shift the mood to OATMEAL
…Just remember, social media can make any person's life seem admirable and PERFECT (even though it most likely isn't) and I know that I am guilty of abusing it in that way.