Grilled BBQ Chicken is hands-down one of my favorite summer meals. Whip up this healthy grilled chicken breast recipe on the grill with your favorite bbq sauce!
Pair this saucy grilled BBQ chicken with your favorite foil pack veggies such as asparagus, corn, or potatoes!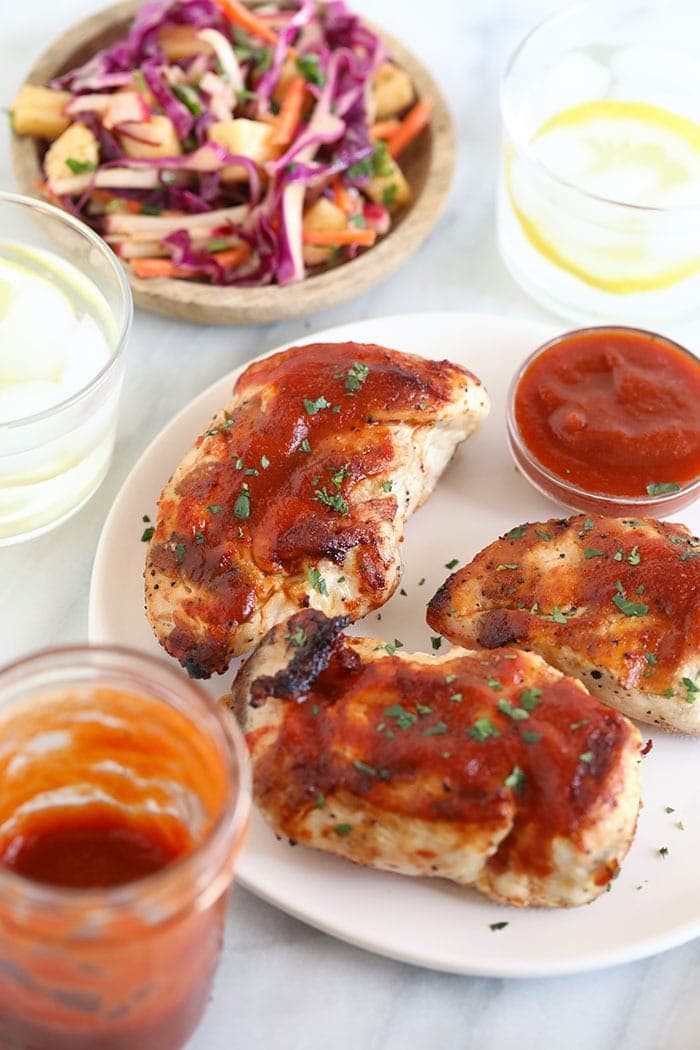 The Best Grilled BBQ Chicken Breast
Grilled chicken is probably my favorite way to eat chicken in general. I love the flavor of grill marks and it's super easy cleanup. Yes please to our Grilled Teriyaki Chicken, grilled chicken thighs, and grilled chicken legs all day every day.
Today we're sharing a just-as-easy grilled chicken recipe and this time it involves BBQ SAUCE. We used our homemade BBQ sauce for this recipe, but feel free to use your favorite!
Tools You Need
Here are a couple tools that you'll need to make prep for this grilled bbq chicken breast recipe a breeze!
Ingredients You Need
This recipe rocks because you only need a few ingredients before you're ready to throw the chicken breasts on the grill.
boneless skinless chicken breast: the goal with grilling chicken breasts is to find breasts that are all relatively the same size and thickness so that they cook evenly!
salt and pepper: we're keeping it simple with salt and pepper, but as always, you can add whatever spices your heart desires or even do a yummy rub underneath such as fajita or a bbq rub.
olive oil: olive oil makes sure your chicken doesn't stick on the grill! A little goes a long way.
BBQ sauce: the star of this recipe is the BBQ sauce. You can use a homemade BBQ sauce like THIS one or use your favorite store-bought sauce.
How to Grill BBQ Chicken
Grilled chicken breast is easier than 1-2-3! You just have to make sure you watch the internal temperature of the chicken so you don't end up with dry chicken. Follow the steps below for perfectly grilled bbq chicken breast.
If you want a few more tips and tricks on how to grill chicken, check out this post!
Season

the chicken breast

Begin by seasoning your chicken breasts with salt and pepper. Then, drizzle with olive oil on both sides to prevent sticking on the grill. This recipe calls for chicken breasts, but will work with legs and thighs as well!
Throw them on the Grill
How long do I grill chicken breast on a gas grill, you ask? Depending on the size of your breasts and how evenly hot your grill is, it should take around 16 minutes total at 400ºF to fully cook your chicken breasts on a gas grill. Make sure to cook your chicken on direct flames and flip every 4 or 5 minutes.
We just purchased a new Webber gas grill and absolutely love it. We got a 3 burner and it heats up so fast and it gives a pretty even cook all around.
Get Saucy + Grill Again
Do you put bbq sauce on chicken breast before grilling? The short answer, NO! Make sure to let your chicken almost fully cook on the grill before getting saucy.
Once your chicken breast is close to 160ºF, you can brush the BBQ sauce onto both sides and let cook for an additional 2-3 minutes. We do this to caramelize the sauce and make it extra flavorful!
Remove the chicken breast from the grill when the internal temperature has reached 165ºF.
BBQ Sauce Options
We used our homemade BBQ sauce for this recipe because we like to control what kind of sugar is involved and reduce additives, which a lot of stores bought BBQ sauces have. You can find our homemade BBQ sauce recipe HERE.
If you don't have time to make homemade BBQ sauce, here are some of our favorite healthier BBQ sauces you can buy at the store.
What to Serve with Grilled BBQ Chicken Breast
Grilled BBQ Chicken Breast Recipe
Make a double batch of grilled bbq chicken breast for dinner and save the rest for meal prep throughout the week.
Prep: 10 minutesCook: 20 minutesTotal: 30 minutes
Fat 7
Carbs 9
Protein 56
Yield 4 1x
Ingredients
1.5

lbs. boneless skinless chicken breast

1 teaspoon

olive oil
salt and pepper, to taste

1/4

–

1/3

cup homemade BBQ sauce (or any kind of BBQ sauce)
Instructions
Preheat grill to 400ºF and spray with non-stick cooking spray.
Next, salt and pepper both sides of each chicken breast and drizzle with olive oil.
Grill chicken breasts at 400ºF for about 14-16 minutes, flipping every 4 or 5 minutes.
Once the internal temperature reaches 160ºF, slather both sides of the chicken breasts with BBQ sauce and grill for 1 more minute on each side so that the sauce caramelizes.
Remove from heat once the chicken breast has reached an internal temperature of 165ºF.
Tips & Notes
The smaller the chicken breasts you use, the quicker the chicken will reach 160ºF.
Nutrition Facts
Serving Size: 1/4
Calories: 342
Sugar: 7
Sodium: 288
Fat: 7
Carbohydrates: 9
Fiber: 0
Protein: 56
Cholesterol: 90
Category:
Chicken
Method:
Grill
Cuisine:
American
Keywords: grilled bbq chicken