Say hello to the most gorgeous lemon bread on the internet. It is swirled with raspberry jam and cream cheese, you are going to adore every bite.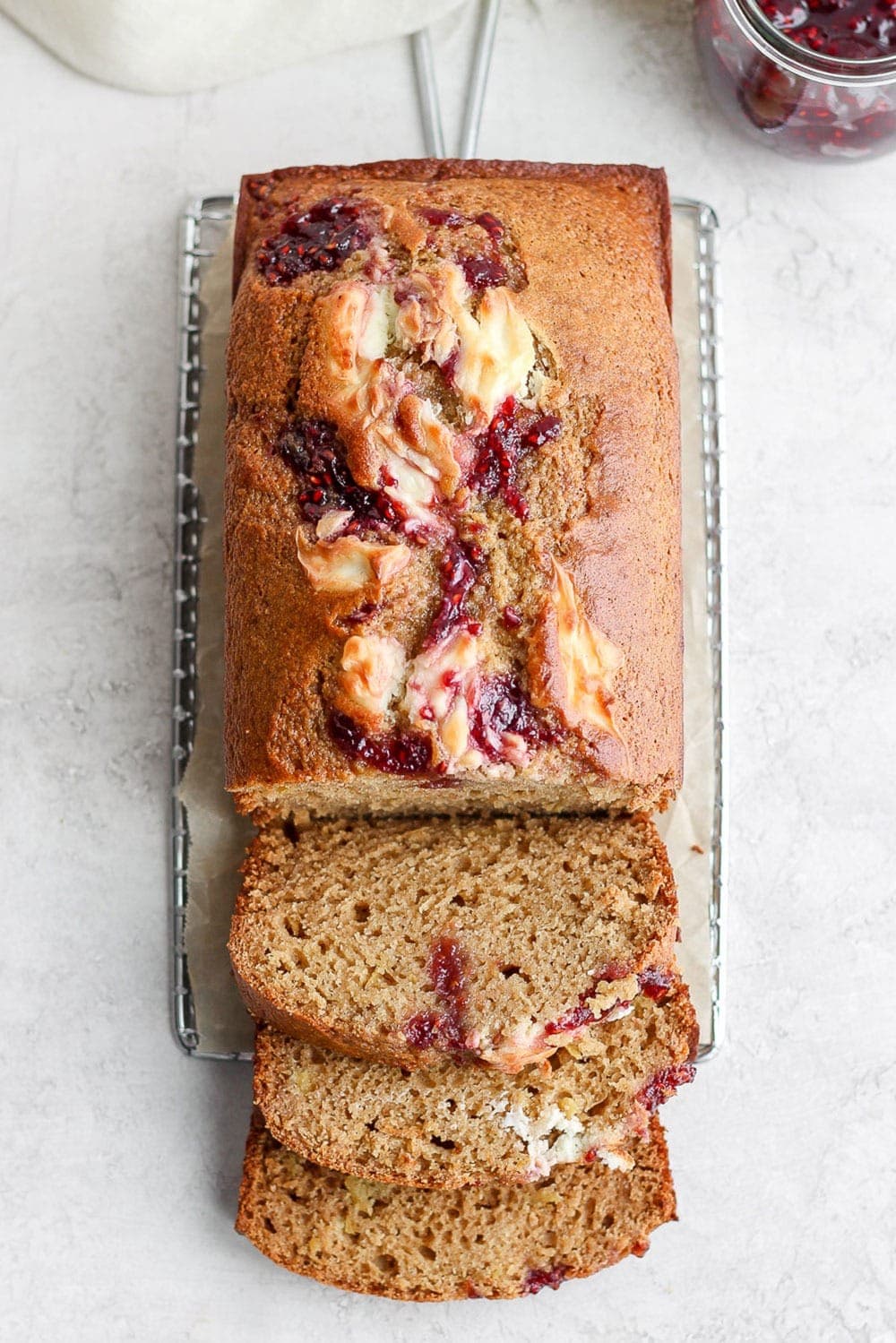 I have truly become the biggest lemon fan over the years. Lemon Bars. Lemon Salmon. Lemon Energy Balls. Lemon Pancakes. If it has lemon, I'll eat it!
This lemon bread recipe is so perfectly flavored, moist, and has a delicious raspberry cream cheese swirl. Bonus, it's made with healthy swaps!
Why Make Lemon Bread?
Like most of our healthy muffin and bread recipes on Fit Foodie Finds, we make healthy swaps without sacrificing things like texture and flavor! This bread is…
ultra moist
lightened-up
easy to freeze
amazing with a hot cup of coffee 😀
How this Lemon Bread is Healthier
Because we know most of you will try and make these swaps anyways, we did it for you! Here's the low down on how this bread is healthier than most other lemon bread recipes.
Flour: This is a 50/50 recipe made with both all-purpose flour and white whole wheat flour. In order to make sure it was fluffy as can be and not so dense, we kept some all-purpose in there. Feel free to try and use all white whole wheat!
Oil: Because we used an entire cup of applesauce, we were able to bring the oil content down to just 2 tablespoons. We also opted to use coconut oil, which is our favorite for baking. You can try and use another fruit puree such as pear sauce or even pumpkin!
Sugar: When it comes to muffins and loaves, there truly isn't anything better than brown sugar, which is what we used. However, we are confident that coconut sugar will work just the same.

What You Need
The ingredient list for this lemon bread is a bit longer than most of our other loaf recipes, but it's totally worth it. The fact that it's naturally sweetened is clutch and combination of flavors are amazing.
Applesauce
Eggs
Honey
Lemon Juice
Coconut Oil
All-Purpose Flour
White Whole Wheat Flour
Brown Sugar
Baking Soda
Salt
Lemon Zest
Incredible Swirl
How could we not add a swirl to this bread? The main goal was to add something that complimented the lemon flavor and let me tell you, this cream cheese swirl is gold.
Cream cheese + raspberry jam is all you need! Don't have raspberry jam? Use any flavor you have in your refrigerator such as blueberry, apricot, or strawberry!

Storage
Let your lemon bread cool completely. Then, store it in a cool, dark place for up to 3-5 days.
Can you freeze lemon bread?
This loaf is extremely easy to freeze. We do recommend, however, that if you are going to freeze it to refrain from adding the swirl. Sometimes dairy doesn't do the best in the freezer!
How to freeze lemon bread: remove bread from the pan and let it cool completely. Once cooled, tightly wrap it with a piece of tin foil, removing as much air as possible. Freeze for up to 3 months.
Quick tip
You can also freeze slices of this bread instead of the entire loaf. Just cut the loaf Into slices and continue freezing as directed.
Delicious Lemon Bread Recipe
Say hello to the most gorgeous lemon bread on the internet. Swirled with raspberry jam and cream cheese, you are going to adore every bite.
Prep: 15 minutesCook: 50 minutesTotal: 1 hour 5 minutes
Fat 8
Carbs 38
Protein 4
Yield 9 1x
Ingredients
Wet
1 cup

unsweetened applesauce

2

large eggs

1/4 cup

honey

1 tablespoon

fresh lemon juice

2 tablespoons

melted coconut oil
Dry
3/4 cup

all-purpose flour

3/4 cup

white whole wheat flour

1/2 cup

light brown sugar, packed

1 teaspoon

baking soda

1/8 teaspoon

salt

2 tablespoons

lemon zest
Swirl Topping
3 tablespoons

raspberry preserves

3 ounces

cream cheese, partially melted
Instructions
First, preheat oven to 350ºF and spray a standard-size loaf pan with nonstick cooking spray.
Next, crack eggs into a large bowl and whisk. Then, add the rest of the wet ingredients to the bowl (minus the melted coconut oil) and mix.
Add all of the dry ingredients to the wet and mix again.
Finally, add melted coconut oil and mix one last time.
Pour the batter into the loaf pan and give the pan a shake to make sure the batter is even in the pan.
For the swirl topping, carefully plop the partially melted cream cheese and raspberry preserves evenly over the top of the loaf. Use a knife to gently swirl so that you spread the topping out. Make sure not to swirl it too much or things will mix together too much and if you swirl it too little, you risk the topping sinking to the bottom as it will be too heavy.
Bake at 350ºF for 45-50 minutes or until a toothpick comes out clean.
Let cool for at least 15 minutes before removing from the loaf pan.
Nutrition Facts
Serving Size: 1/9
Calories: 236
Sugar: 23
Fat: 8
Carbohydrates: 38
Fiber: 2
Protein: 4
Keywords: lemon bread, lemon bread recipe
Photography: photos taken in this post are by Erin from The Wooden Skillet.