You would seriously never know these are HEALTHY sugar cookies. Our almond flour sugar cookies are made with 8 simple ingredients and guess what? There's no white sugar involved!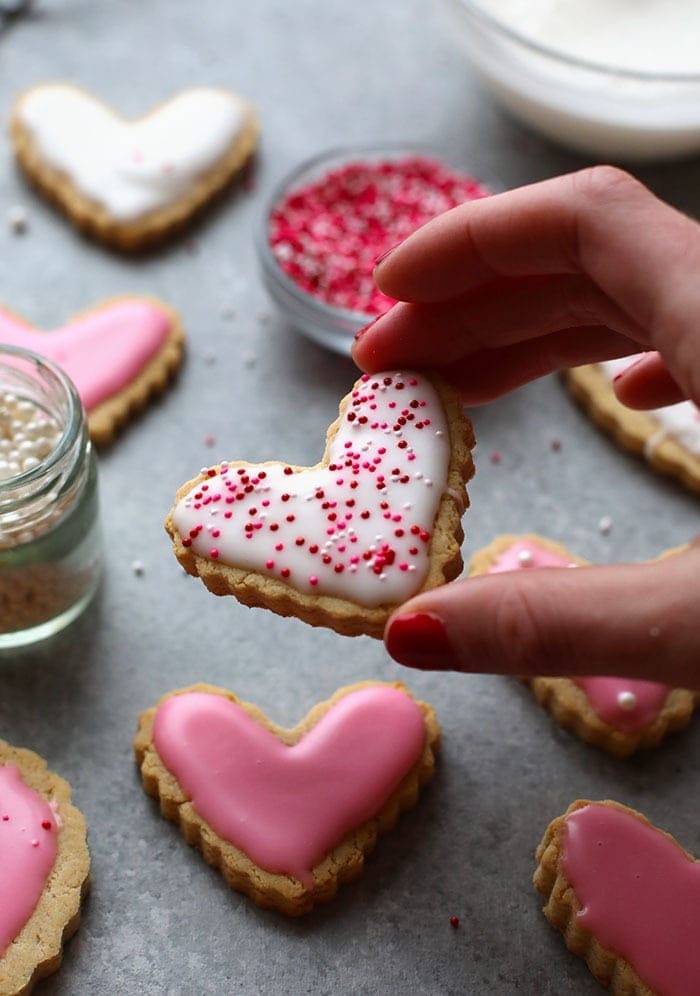 The Best Healthy Sugar Cookies
This healthy sugar cookie recipe is one that we use year-round. From Valentine's day to Christmas cookie cut-outs, these healthy sugar cookies are our go-to!
Here's a few reasons why you need to make these:
Sugar-Free: technically these sugar-free because the only thing they use for sweetness is honey!
8-Ingredients: 8 ingredients is all you need to whip up a batch of these cookies.
Soft on the Inside: These come our soft and perfect on the inside, while holding shape on the outside.
Grain-Free: These almond flour sugar cookies are actually grain-free because the "flour" that they use is almond flour and coconut flour, both grain-free flours.
What you Need
All ingredients listed below are grain-free, gluten-free, and paleo-friendly. Unfortunately we don't recommend making ANY swaps, so please only use the following.
How to Make Healthy Sugar Cookies
These sugar cookies are seriously so easy to make. Here's a quick run-down of how to whip these up.
Make the Dough
First things first, let's make the dough. Combine the wet ingredients, by whisking the honey until it completely dissolves. Then, combine the dry ingredients in a separate bowl.
Slowly add the dry ingredients to the wet ingredients and mix until combined. Use your hands to form the dough into a ball. Then, wrap it in plastic wrap and place the dough in the refrigerator to chill.
pro tip
If the dough is sticky while you're trying to roll it into a ball, slightly wet your hands and try again.
Roll Cookies
First, flour a hard, cool surface with coconut flour.
Then, remove the chilled dough from the fridge. It should be cold and malleable. Remove the plastic wrap and place the dough on your floured surface.
Use a rolling pin to roll the dough out to 1/4-inch thick. If the dough is sticking to your rolling pin, sprinkle on some coconut flour.
Cut Out Cookies
This recipe will make around 20 small/medium cookies. Feel free to use whatever cookie cutters you have for the appropriate holiday.
If you have leftover dough, knead it and roll it out again so you don't waste any dough.
Transfer healthy sugar cookies to your parchment-lined baking sheets.
Bake
Since you're going to get around 20 cookies from this recipe, you will need to use 2 baking sheets. These cookies don't expand much, so don't worry about spacing them out a lot.
Bake almond flour sugar cookies at 350ºF for 8-10 minutes or until golden brown.
Transfer cookies to a wire rack and let cool for at least 30 minutes before frosting.
Quick Q & A
Can I substitute the almond flour or coconut flour?
Short answer, NO! We have only tested these healthy sugar cookies with almond flour and coconut flour. We do not suggest any other subsitutions. Check out more of our cookie recipes for cookies with other flour options.
Can I freeze these cookies?
Yes, you can freeze these cookies! Be sure the cookies and the frosting have cooled completely before placing them in a freezer-safe container. Freeze for up to 3 months.
Can I make these vegan?
Unfortunately, the egg is an important part of this recipe as it binds the ingredients together. We do not recommend subbing or removing the egg.
Healthy Sugar Cookies (Almond Flour Sugar Cookies)
Our healthy sugar cookies are made with the base of almond flour and coconut flour and are sweetened with honey. That's right, no white sugar involved!
Prep: 45 minutesCook: 10 minutesTotal: 55 minutes
Fat 8 Carbs 8 Protein 3
Yield 20 small/medium cookies 1x
Ingredients
Wet
Dry
For the Icing
2 cups

organic powdered sugar

2

–

3

tablespoons water

2

–

3

drops pink/red food coloring
Instructions
Preheat oven to 350ºF and line 2 baking sheets with parchment paper. Set aside.
In a medium-size bowl, mix together dry ingredients and set aside.
In a large bowl, whisk together wet ingredients. Make sure the honey is completely dissolved. Then, slowly add dry ingredients to wet until your dough is formed. The dough may seem crumbly at first, but continue to knead the dough together until it forms a ball. It helps if you use your hands.
Create a ball with your dough and wrap it with plastic wrap and then place it into the refrigerator for 30 minutes to chill.
Once the dough has chilled, remove it from the fridge and sprinkle coconut flour onto a hard, cool surface. Then, use a rolling pin to roll out dough so that it's around 1/4-inch thick. If it's sticking, sprinkle on some more coconut flour.
Use small/medium cookie cutters to create sugar cookie cut outs. Then, transfer cookies to the parchment paper. Don't worry about spacing too much as the cookies will not expand that much.
Bake healthy sugar cookies at 350ºF for 8-10 minutes or until cookies begin to turn golden brown.
Transfer cookies to a wire rack to cool for at least 30 minutes before frosting.
For the Icing
Add water to powdered sugar one tablespoon at a time. Add enough water (by the tablespoon), until you've reached your desired thickness. If you want your icing to be pink/red, add 2-3 drops of food coloring.
Use a knife to ice cookies, or transfer icing into a piping bag and ice that way.
Let icing harden for at least an hour before transferring into an airtight container to store. Will last on the counter for up to 5 days. For best results, freeze for up to 3 months.
Tips & Notes
Nutrition information does not include the frosting.
Nutrition Facts
Serving Size: 1 Calories: 99 Sugar: 4 Fat: 8 Carbohydrates: 8 Fiber: 2 Protein: 3
Category:
Dessert
Method:
Oven
Cuisine:
American
Diet:
Gluten Free
Keywords: healthy sugar cookies