One of the best ways to make soup is in the Instant Pot. These Instant Pot Soup Recipes are some of the best soups on the internet. And? No stove necessary!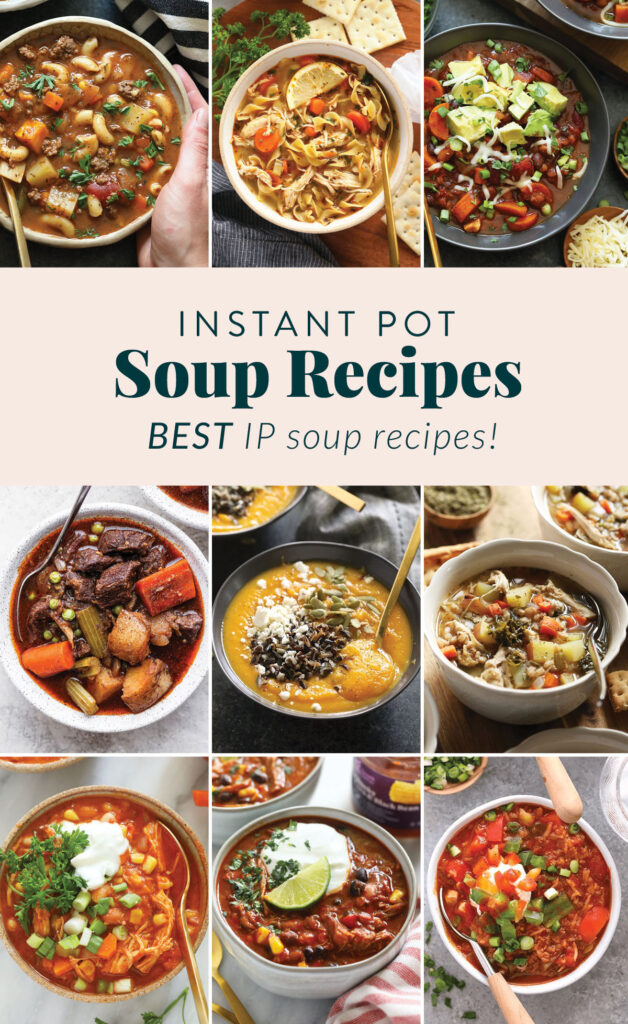 Instant Pot Soup vs. Stove Top Soup
If you don't have an Instant Pot, it's about time that you invest in one. Whether you get a pressure cooker or the branded and popular Instant Pot, we can't recommend pressure cooking enough.
Yes, you can make most of these Instant Pot Soup Recipes on the stove top, but there are so many benefits when it comes to using an Instant Pot instead.
Pressure cooking soup adds so much flavor in half the time.
Clean up is easy peasy with an Instant Pot. You sauté, boil, and simmer all in the same pot.
You can free up to stove and the oven when you make Instant Pot soup.
Cook time for certain soup recipes ready in a fraction of the time!
Everything You Need
There are both tools and ingredients that we recommend having on hand so you can make any of these Instant Pot soup recipes last minute! Here are the tools and ingredients we recommend stocking up on!
Pantry Staples for Instant Pot Soup
When it comes to Instant Pot Soup recipes (or any kind of soup recipe) there are pantry staples that will help you when you're in a pinch! Here are our top recommendations to have stocked in your pantry.
Broth or boullion cubes
Onions
Garlic
Flour
Butter
Garlic Powder
Italian Seasoning
Bay Leaves
Chili Powder
Paprika
Red pepper flakes
Curry paste
Tomato paste
Diced tomatoes
Tomato sauce
Vinegar
Hot sauce
all instant pots are different
Just like all stove tops and ovens, different versions of Instant Pots sometimes work differently from each other. Currently we have the latest Instant Pot Duo and it works a bit differently then the very first Instant Pot we had.
Instant Pots can vary slightly for a few different reasons.
How old your Instant Pot is, matters!
The model of the Instant Pot may be different and work slightly different.
How often the Instant Pot is used could also be a factor. Wear and tear, baby!
So, if you are having any issues with a recipe or something isn't cooking as fast as it should in your Instant Pot, remember that your Instant Pot could work a bit differently and may need to cook a bit longer than someone else's Instant Pot.
Instant Pot Soup 101
What is the soup setting on Instant Pot?
The soup setting on the Instant Pot is a feature that brings things to a slow simmer. We do not recommend using the soup setting for any of our soups, we'd rather you followed the instructions!
The soup setting is a great feature for reheating any soup because it slowly brings things to a simmer. Perfect for reheating.
How long can you leave soup in the Instant Pot?
We recommend following the instructions for whatever soup you are making. After the soup is made, we recommend removing it from the Instant Pot. Whether you are serving the soup or storing the soup.
Why do I get a burn notice on my Instant Pot?
When you get a burn notice on your Instant Pot that could mean one of two things.
You don't have enough liquid in your Instant Pot. It is very rare to get the burn notice with soup recipes because there tends to be so much liquid in the pot.
There is moisture build up between the outside/bottom of the pot and the heating feature of your Instant Pot. If this happens, remove the pot from the Instant Pot and wipe the bottom of the pot dry.
Why pressure takes so long to build up in my Instant Pot?
It takes a while for an Instant Pot to build pressure when there is a lot of liquid in the pot. This is common when making Instant Pot soup! Be patient as your pressure builds, the cook time goes fast!
How to Store Instant Pot Soup
To store Instant Pot Soup recipes, let the soup cool completely and then pour the soup into air-tight containers. Place it in the refrigerator for 5-7 days.
hold the noodles!
If you are making soup with noodles, but know you are going to store some for the week, keep the noodles seperate from the soup!
When noodles are stored in a soup they deteriorate and soak up all the broth, leaving you with a casserole with mushy noodles.
We recommend adding noodles to the soup as you serve it.
Can I freeze Instant Pot Soup?
Yes! You can freeze Instant Pot Soup. Let the soup cool completely before placing it in a freezer safe container. You can then place the soup in the freezer for up to 3 months!
We have a whole post on how to freeze soup, check it out!
Instant Pot Soup Recipes
This Instant Pot Hamburger Soup recipe is a healthy weeknight meal that everyone will love! It is packed with protein, vegetables, and is ready in less than an hour. GF
The most flavorful Instant Pot Chicken Noodle Soup made with tons of veggies, tender chicken, egg noodles, and an incredibly tasty broth!
Instant Pot Vegetarian Chili is an easy weeknight meal packed with fiber from lentils and beans, as well as delicious veggies like carrots and sweet potatoes.
Get out your pressure cooker and make this Instant Pot Stuffed Pepper Soup. This one pot meal is easy to make and packed with flavor! You can make this stuffed pepper soup recipe for the entire week for an easy healthy lunch and/or dinner.
Instant Pot Stuffed Pepper Soup (+More Instant Pot Soup Recipes)
Get out your pressure cooker and make this Instant Pot Stuffed Pepper Soup. This is one of our favorite Instant Pot soup recipes because it's packed with flavor, loaded with veggies, and easy to make.
Prep: 20 minutesCook: 15 minutesTotal: 35 minutes
Fat 10 Carbs 58 Protein 18
Yield 8 1x
Ingredients
2 tablespoons

olive oil

1

lb. ground beef (any kind of ground meat will work)

1

medium onion, diced

1 tablespoon

minced garlic

2 tablespoons

chili powder

1/2 teaspoon

smoked paprika

1 teaspoon

ground cumin

1/2 teaspoon

red pepper flakes

1/4 teaspoon

pepper

1/4 teaspoon

salt

2 tablespoons

hot sauce

1

large red pepper, diced

1

large green pepper, diced

1 cup

uncooked long grain white rice

5 cups

beef broth, divide

1

–

15

oz. can tomato sauce

1

–

15

oz. can diced tomatoes

1

–

4

oz. can green chiles
Instructions
Turn on the Instant Pot's saute function and add olive oil.
When olive oil is fragrant, add onion and garlic. Cook for one minute and then add ground beef.
Saute beef for 3-4 minutes, partially browning.
Turn saute function off and add the rest of the ingredients (only 4 cups of broth) to the Instant Pot and stir until all ingredients are combined.
Cover Instant Pot, seal valve, and cook for 3 minutes on high pressure.
When your Instant Pot beeps, quick release and let out the steam. Then, open Instant Pot.
Add the last cup of broth (or more if desired) and stir.
Serve stuffed pepper soup with Greek yogurt and green onions.
Tips & Notes
Storage: Store soup in the refrigerator in an air-tight container for up to 5 days.
Reheating: The soup will thicken in the fridge, so add a little more beef broth before, heating back up, and serving.
Freezer Directions: Let soup cool completely before transferring into a freezer-safe gallon-size bag. Seal bag tightly and then freeze for up to 3 months.
Nutrition Facts
Serving Size: 1/8 Calories: 413 Sugar: 10 Fat: 10 Carbohydrates: 58 Fiber: 7 Protein: 18
Category:
Dinner
Method:
Instant Pot
Cuisine:
American