Lunch never tasted so good! Make our Southwest Chicken Salad for a colorful, veggie-packed lunch or dinner to keep you full all week long.
This yummy southwest chicken salad recipe is made with a limey southwest Greek yogurt sauce that I know you will adore. Eat this salad on toast, in a bento box, or throw it in a mason jar to go!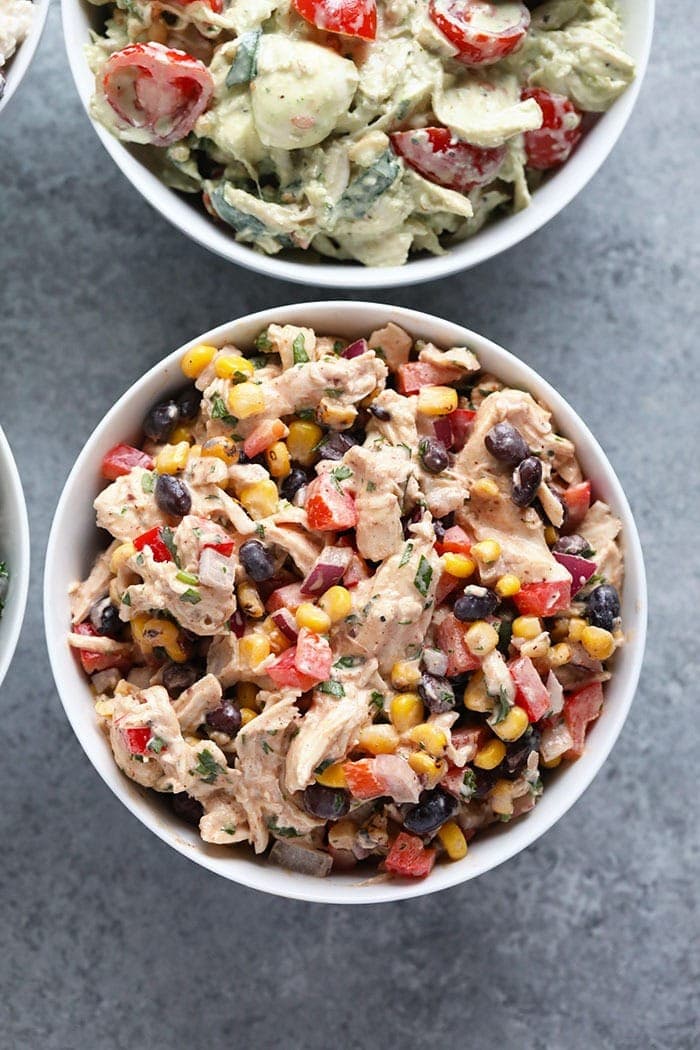 SRSLY how good does this southwest chicken salad look? It's creamy, packed with so many different veggies, loaded with protein, and the sauce is so good.
Our classic Greek yogurt chicken salad recipe is a staple in our house and this chicken salad recipe is a spin-off of that. Keep reading to learn how to make it.
Veggie-Packed Southwest Chicken Salad
Love chicken salad, but wish it had more veggies? You've come to the right place! This southwest chicken salad is truly veggie packed! In addition to shredded chicken you need:
sweet corn
red pepper
black beans
red onion
cilantro
how to make shredded chicken
Looking for an easy shredded chicken recipe? Check out our shredded chicken tutorials in a variety of different methods:
Yummy Southwestern Greek Yogurt Sauce
Once you've got all of your main ingredients together, it's time to create your chicken salad sauce.
Classic chicken salad is usually made with mayonnaise, but we decided to up the protein and lower the fat with Greek yogurt. With the addition of lime juice and spices, I promise you won't miss the mayo! Here's what you need:
Plain Greek yogurt
lime juice
ground cumin
chili powder
Hot sauce
If you don't love heat, feel free to swap the hot sauce for a little bit of apple cider vinegar. In addition, if you don't have Greek yogurt, but you do have plain regular yogurt…you can totally use that too.
Serving Suggestions
There are so many different ways that you can serve this creamy, delicious salad. Check out some of our favs!
On toast: drizzle some olive oil on a piece of whole-grain toasted bread and then top it with this salad. Then, add sliced avocado and a drizzle of hot sauce to the top and you're ready to rock!
In a Jar: place a handful of romaine on the bottom of a mason jar. Then, top that with this southwestern chicken salad. Place the top on and take this lunch to-go!
Bento Box: Turn this southwest chicken salad into a wrap and then serve it with your favorite chips and salsa served inside of a bento box!
Solo: Grab a bowl and a fork and eat it as is. We suggest serving it with a fresh squeeze of lime juice and a half an avocado for #allthehealthyfats.
Storage
To store southwest chicken salad, transfer it into an airtight container and seal. Store in the fridge for up to 3-5 days.
Southwest Chicken Salad
Lunch never tasted so good! Make our Southwest Chicken Salad for a colorful, veggie-packed lunch/dinner idea to keep you full all week long.
Prep: 20 minutesCook: 0 minutesTotal: 20 minutes
Fat 2 Carbs 16 Protein 28
Yield 4 1x
Ingredients
1 cup

sweet corn

1 cup

can black beans, drained and rinsed

1/2 cup

red onion, finely diced

1/4 cup

fresh cilantro, chopped

1

medium red pepper, diced

1/2 cup

nonfat Greek yogurt

2 tablespoon

s lime juice

1/2 teaspoon

ground cumin

1/2 teaspoon

chili powder

1/4 teaspoon

salt

2 teaspoon

s vinegar-based hot sauce
Instructions
Place shredded chicken, sweet corn, black beans, red onion, fresh cilantro, and red pepper into a large bowl. Mix and set aside.
Create the sauce by mixing together Greek yogurt, lime juice, cumin, chili powder, salt, and hot sauce.
Add sauce to the shredded chicken mixture and mix until combined.
Tips & Notes
Nutrition Facts
Serving Size: 1/4 Calories: 254 Sugar: 12 Fat: 2 Carbohydrates: 16 Fiber: 2 Protein: 28
Category:
Salad
Method:
No Bake
Cuisine:
Southwest
Diet:
Gluten Free
Keywords: southwest chicken salad